Streamlined Customer Engagement with Salesforce

Posted by Jake Tuley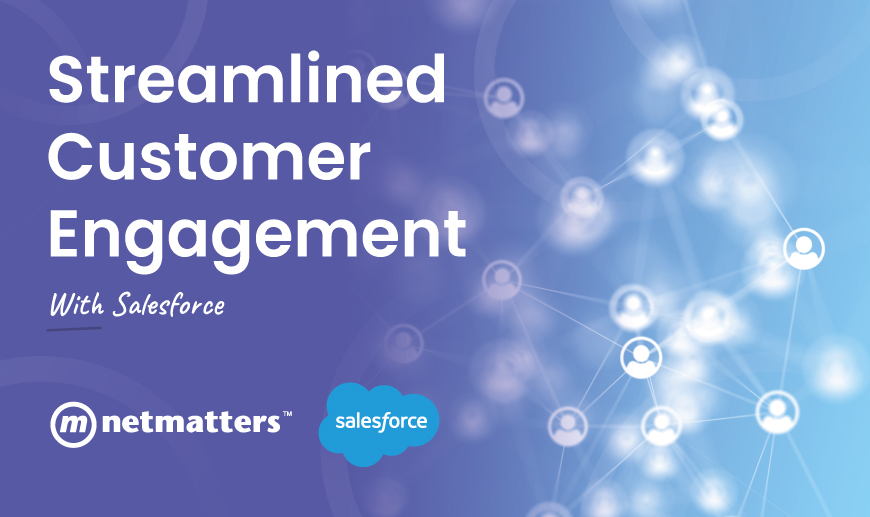 Taking your store online is a big jump for anyone, whether you're launching your new retail idea or turning brick into click, perfecting the art of e-commerce has become an even bigger concern in recent years. For many, basic understanding and analytic awareness of their online customers can be the utmost make or break of their e-commerce success online. This is why you need a customer relationship management (CRM) platform tailored to you.

Benefit From Salesforce
Picture this: you've launched your online store, sales are exceeding targets and there's no sign of slowing down current performance. With many seeing their small commercial ideas become big hits online, it's important to highlight how Salesforce (one of the most popular and performance increasing CRM platforms) can help your business become even more efficient when it comes to e-commerce and interacting with your customers.
Salesforce is used by over 150,000 businesses of all sizes across the world, an all-in-one platform that gives all departments a shared view of every customer. Placing the power of market research, customer satisfaction, and lead generation all in one place, it's easy to see why so many choose Salesforce as their one-stop shop for all e-commerce needs. One of the biggest benefits is the use of highly-desired analytical data, showcasing each and every customer to ensure your business understands the needs, trends, and point of view of each user.
Streamline Your Processes
Streamlining your customer engagement with Salesforce enables you to eliminate manual processes, automating your business for ultimate efficiency. Integrating all of your workflows in one platform will see the efficiency performance of your business grow, meaning you will be able to take advantage of even more valuable time.
Ensuring all of your workflows are integrated together will enable your staff to have access to your business contacts and potential leads, track the interactions your staff has had with them, and use that data to coordinate and deliver more to your customers, across the business.
Netmatters – CRM Experts
Our Salesforce experts here at Netmatters have been helping businesses across Norfolk, Cambridge and beyond make the most of their software solutions in order to help automate their processes. Get in touch with us today and see where our professional software developers can help you exceed targets online. Integrating your workflow platforms to Salesforce all in one place including:
Outlook
MailChimp (read more here)
Shopify
WooCommerce
Xero
Mobile app integration
Best of all, our Salesforce software solutions are entirely bespoke and customised to fit your needs, meaning your workflow is entirely optimised. Make the most of your CRM data with Salesforce, opening the door to infinite opportunities across customer relations, lead generation, and business performance.
Business automation is a big part of Netmatter's operations, join our next Business Automation Seminar held every month for information. Find out more on this here.
Get in touch with our award-winning team today via 01603 704020 or by the contact form below – our software specialists will help you every step of the way in creating a platform integrated and bespoke to your needs.