Missed Calls Cost Money, Switch To VoIP For More Reliable Telecoms
Regardless of the size of your business, communication is everything. Without it, would your business be able to operate effectively? VoIP is now the number one telephone choice for businesses all over the world. The industry-leading service provides tailored solutions to businesses in every industry, including yours.
No matter the size of your business, if you are looking to implement a secure, reliable phone system, as Hosted VoIP providers, Netmatters can implement a system tailored to your business. Find out why opting for a VoIP system is the future for your business.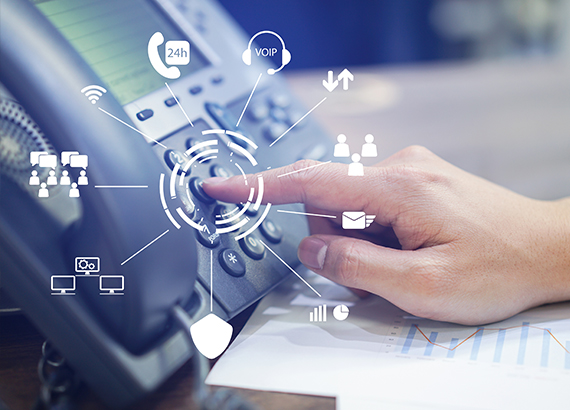 The statistics speak for themselves...
We are one of the leading VoIP providers for businesses in the East of England and beyond, with offices in Cambridge, Wymondham, and Great Yarmouth. We are passionate about what we do, and this overview gives some insight as to why you need VoIP.
90%
VoIP can reduce the cost of international calls by 90%.
£1m+
The cost of connectivity issues annually in the UK.
14%
The amount VoIP industry grows every year.
Additional Features
Host conference calls, send messages and mobile communications following the setup of one seamless VoIP system.
Communicate Effectively
Gain a better understanding of your clients and deliver excellent customer service by connecting your calls to your CRM system.
Scalable Systems
Our VoIP services can be tailored to any workplace structure thanks to its easy integration, scalability and expenditure.
Ongoing Customer Care
As part of our ongoing customer care, we also review the setup on a quarterly basis to ensure you always use the most cost-effective configuration possible. With VoIP, not only will you achieve a constant connection, but you will also reduce your company's phone bills.
Whether your staff are office-based, work-from-home or constantly on the move, our Hosted VoIP Phone Systems provide the solution to ensure your business stays connected.
Along with short term contracts, the Hosted VoIP 3CX system is feature-rich at no additional cost. You are able to integrate applications such as Office 365 or Salesforce, and support your business conferences with the use of remote control/assistance or screensharing. Not only that but you can also include functions such as call reporting which allows the ability to set up automated call-backs if the call queue is full, streamlining your communications centre – plus many more comprehensive features.
Additionally, choosing to switch to a 3CX Phone System could save you up to 80% on line rentals and call charges. There is minimal upfront expenditure, meaning costs for setup and maintenance are considerably reduced when compared to traditional phone systems.
Latest Telecoms Services Case Studies
As the events of the past few years showed us, and anyone with children already knows, smooth contac...
Read More

Posted by Joe Trower

The Client Wildheart Residential Management are industry leaders in residential property management...
Read More

Posted by Netmatters

The Client As the market leaders in manufacturing bathroom accessories, Aqualona have been firmly es...
Read More

Posted by Netmatters

We are very happy with our 3CX phone system installed by Netmatters at the start of August. Joe was fantastic from our initial discussions, and demonstrations, all the way through to the implementation and go-live processes. The migration from our on-premise phone system to 3CX was seamless. Would highly recommend the team and Netmatters and their knowledge of the 3CX product. We are now in a position, for all staff to work remotely, efficiently.
Matt Chrisostomou - Corby+Fellas Retail Systems

Fill in the contact form to book in a conversation and we will:
Connect you with a business communications specialist.
Show you a comprehensive demo of our fully customisable telecoms solutions

.
Schedule a full telecoms audit of your business and put a plan in place.