Do You Want Powerful and Flexible Web Hosting for Your Business?
When it comes to your business, your website needs to be fast, reliable and outperform your competition every time; whatever your needs may be, we at Netmatters have the perfect dedicated server solution for you and your business to succeed.
At Netmatters, we host hundreds of customer websites and systems across the UK, currently handling around 4.1 million requests a day on average. We are focused on helping clients find the right hosting solutions, such as email and web hosting, to manage a fast, reliable digital experience.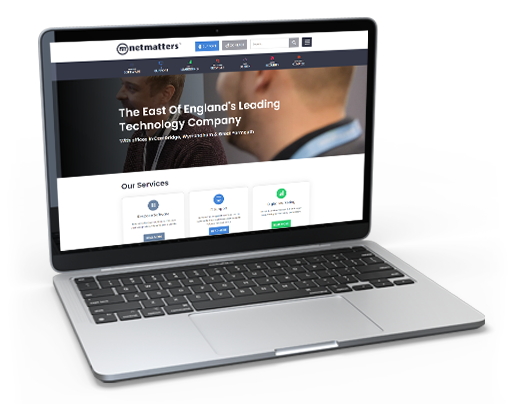 Unrestricted Access
With complete access, you will be able to manage what your website looks like, its functionality, its postings and more with our bespoke web hosting solutions.
Enhancing Experience
Amend your web infrastructure more efficiently than ever before with our secure and reliable website hosting solution - build specifically to your business needs.
Ongoing Support
With access to our in-house support team you will have direct contact with an expert member of our team who will be able to assist and answer any questions.
Does Your Business Need Powerful & Flexible Web Hosting?
We don't believe in the need to log support tickets for assistance, at Netmatters we have fast and efficient service to ensure all problems are resolved as soon as possible. If you are interested in powerful and fully flexible web hosting or email hosting, then get in contact with one of our offices in either Wymondham, Cambridge, Great Yarmouth, or London. We have secured web hosting for multiple businesses across Norfolk, East Anglia and the UK.
Latest Web Design Case Studies
The Client Langley is a co-educational, inclusive, day and boarding school based in Norfolk. Establi...
Read More

Posted by Netmatters
31st October 2023
The Client Busseys, a renowned, family-owned automotive dealership in Norfolk, has a rich heritage a...
Read More

Posted by Netmatters
2nd August 2023
The ClientUP Building Products are a leading supplier of UPVC building materials across the UK. Stoc...
Read More

Posted by Netmatters
11th July 2023
What Makes a Good Web Development Partner?
We approached Netmatters with the requirement of multiple front facing websites, without wanting to have separate control mechanisms for each. Netmatters propositioned a central administration system, with the ability to control limitless websites on standalone domains simultaneously. This has surpassed our expectations, and we have since commissioned them to assess and develop our internal systems as well.
Piers Colby - Saint Vincent Holdings

Fill in the contact form to book in a conversation and we will:
Connect you with a digital performance consultant.
Free consultation to discuss your business, target audience, and online objectives.
Work with you to define a clear roadmap for your web development project.