Helping Your Business Find Its Voice
Our Onsite VoIP system offers all the functionality and benefits of our cloud-based 3CX phone system, run from a dedicated or existing server within your business IT Infrastructure.
Flexible and scalable, the business VoIP operates solely on your site and therefore gives you control over the features you utilise such as call recording, routing, scalability and more.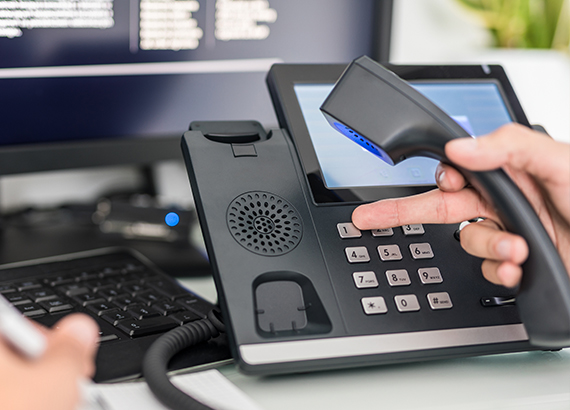 The statistics speak for themselves...
We are one of the leading business VoIP providers in the East of England and beyond, with offices in Cambridge, Wymondham, and Great Yarmouth. We are passionate about what we do, and this overview gives some insight as to why you need VoIP.
90%
VoIP can reduce the cost of international calls by 90%.
£1m+
The cost of connectivity issues annually in the UK.
14%
The amount VoIP industry grows every year.
Additional Services
The feature-rich system allows you to host conference calls, send instant messages and other mobile communications in one seamless VoIP system following its set up.
Controlled Comms
Gain a greater understanding of your clients and deliver excellent customer service throughout your business by connecting your calls to your CRM.
Manageable & Scalable
Whatever size your business, our Onsite VoIP systems are fully manageable and scalable - allowing your business to grow and your phone system to grow with it.
VoIP Alternatives
The Onsite VoIP - along with our Hosted VoIP option – boasts a comprehensive range of additional features to further improve your business communications. This includes the functionality to set up conference calls, record meetings, integrate services such as Office 365 and Salesforce, along with offering real-time system status to ensure you stay online throughout the day.
Onsite is a suitable VoIP alternative as it's completely scalable and a cost-effective long-term investment. All upgrades and advanced features can be configured as and when you need them, meaning you only pay for what is required.
With our vast experience working with large corporations, we have the knowledge required to set up and configure an onsite VoIP system that is inline with your business needs.
Latest Telecoms Services Case Studies
As the events of the past few years showed us, and anyone with children already knows, smooth contac...
Read More

Posted by Joe Trower

The Client Wildheart Residential Management are industry leaders in residential property management...
Read More

Posted by Netmatters

The Client As the market leaders in manufacturing bathroom accessories, Aqualona have been firmly es...
Read More

Posted by Netmatters

We are very happy with our 3CX phone system installed by Netmatters at the start of August. Joe was fantastic from our initial discussions, and demonstrations, all the way through to the implementation and go-live processes. The migration from our on-premise phone system to 3CX was seamless. Would highly recommend the team and Netmatters and their knowledge of the 3CX product. We are now in a position, for all staff to work remotely, efficiently.
Matt Chrisostomou - Corby+Fellas Retail Systems

Fill in the contact form to book in a conversation and we will:
Connect you with a business communications specialist.
Show you a comprehensive demo of our fully customisable telecoms solutions

.
Schedule a full telecoms audit of your business and put a plan in place.