Business Automation: All your business processes in one easy-to-use platform
Spend less time on repetitive tasks and ensure staff have the right access to information when they need it through one easy to use platform. Our bespoke software Sysflow enables you to spend your valuable time and skills on growing your business.
Ensure that key business deadlines and timeframes are met by effectively managing your business through our bespoke software. Our automated solutions ensure you don't lose out on business because of missed deadlines.
Reduce the dependency on individual members of the team by automating your workflows. Bespoke software is not constrained by staff working hours.
Automating your workflows streamlines your business to run in the most cost effective and productive way. Staff can then focus on your businesses KPIs and the strategic aspects of their work, all aiding in helping your business to reach its full potential.
Cloud-based
Store, manage and process data quicker and easier than ever before, with peace of mind knowing that your data will be safe if any hiccups do occur.
Innovative
We take an innovative approach to each individual businesses requirements. Our solutions are designed to be intuitive, allowing users to complete tasks with a user friendly interface.
Support
Dedicated support from our expert in-house team of developers and IT support at Netmatters - we're here when you need us the most.
Our highly experienced development team work with you to ensure that your software and workflows are streamlined, boosting your productivity and aid in helping you to grow your business.
Our systems are all tailored and created with your team who use it on a daily basis in mind, reducing manual time spent on tasks that can be automated. This enables your team to concentrate on increasing sales, generating leads and improving your customer satisfaction.
See how we can increase your businesses productivity and save you time and money.
Contact us via our form or call us today on 01603 515 007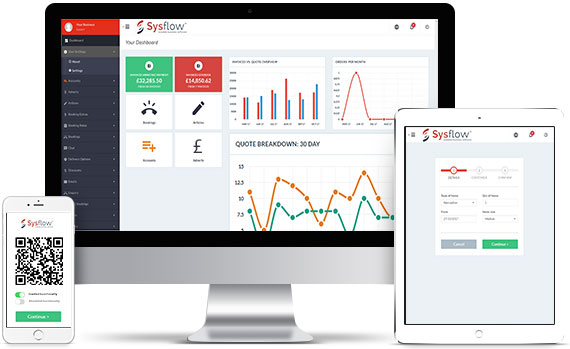 Sysflow is more than just a bespoke business automation software solution - it's your business engine.
FAQS
Question: "What does automation mean in business?"
Answer: Business automation is the process of taking a repetitive or common task and creating a solution to automatically complete that task. Business automation generally comes in the form of a software solution and helps to free up staff time to look at more complex, demanding tasks. Additionally, business automation saves you both time and resource.
Question: "What can I automate in my business?"
Answer: In reality, you can automate anything that you want within your business. Business automation really excels in taking simple, repetitive tasks and removes the need for staff intervention. Your bespoke business automation software will take care of everything. Automation can also assist in gathering data for human decisions, for example pulling in information from 3-4 different platforms to assess that your sales pipeline is optimised. We've seen everything from processing an order from PDFs received, automated quote building, to track and trace deliveries. If you would like to discuss what it is possible to automate in your business, please contact us.
Question: "Why is automation important in my business?"
Answer: By automating tasks within your business you are freeing up staff time to concentrate on more in-depth, complicated tasks. Additionally, your core tasks are no longer reliant on human intervention – they can be carried out exactly when they need to be, even if your workforce is not available. You don't need to train a new system every time you bring in a staff member, instead staff are able to focus on driving your business forward and adding value in every task they carry out.
Question: "My processes are too complex to automate; how can you help?"
Answer: Most complex tasks are made up of a lot of smaller, simpler tasks. We can automate as much as possible to allow you to spend time on the parts that matter. There are many approaches to this, from automated data gathering to alerting staff members when they have an action to complete.
Microsoft SharePoint has become a popular tool for businesses across the UK to collaborate more effe...
Read More

Posted by Netmatters
20th July 2022
We Read a Bold Claim the Other Day That the Employee Intranet Was Dead. We Couldn't Have Disagreed M...
Read More

Posted by Netmatters
12th July 2022
Salary Range £35k+ per annum + Bonus + Benefits Hours 40 hours per week, Mon – Fri Location Wymondha...
Read More

Posted by Elliott Peacock
9th August 2022