All Your Business Processes in One Easy-To-Use Platform
Avoid repetitive tasks to ensure your team can easily access the correct relative information with ease. Our bespoke software Sysflow enables you to spend your valuable time and skills on growing your business.
Bespoke business automation software can increase how effectively you manage your teams and ensure that key business deadlines and timeframes are met. Our automated solutions are specifically catered to you and the way your company is structured. Using business automation, deadlines cannot simply be forgotten and missed, and nothing gets 'lost between the cracks' – everything is in one place, streamlined and able to be tailored to operate the way you need it to.
Find out why you should be adopting business automation and the extraordinary benefits it can have on your business:

Increased Efficiency:
Bespoke software is designed to streamline business processes, which can significantly increase efficiency. It can automate time-consuming tasks, reducing the workload for employees. This means that employees can focus on more important tasks, which can lead to increased productivity and improved customer service.
Cost Savings:
Although bespoke software can be more expensive than off-the-shelf software, it can provide significant cost savings in the long run. Bespoke software can reduce the need for manual labour and increase efficiency, which can lead to cost savings. It can also eliminate the need for multiple software solutions, reducing licensing and maintenance costs.
Competitive Advantage:
Bespoke software can give a business a competitive advantage. It can provide a unique solution that is tailored to the specific needs of the business. This means that the business can operate more efficiently and effectively than its competitors, giving it a competitive edge.
Scalability:
Bespoke software can be designed to grow with the business. As the business expands, the software can be adapted to meet the changing needs of the business. This means that the business does not need to invest in new software solutions as it grows, which can lead to significant cost savings.
Data Management:
Bespoke software can be designed to manage data more effectively. It can be integrated with existing systems and databases, providing a more efficient and streamlined approach to data management. This can lead to improved decision-making and increased productivity.
Cloud-based
Store, manage and process data quicker and easier than ever before, with peace of mind knowing that your data will be safe if any hiccups do occur.
Innovative
We take an innovative approach to each individual businesses requirements. Our solutions are designed to be intuitive, allowing users to complete tasks with a user friendly interface.
Support
Dedicated support from our expert in-house team of developers and IT support at Netmatters - we're here when you need us the most.
Our Software & Workflows
Sysflow is more than just a bespoke business automation software solution - it's your business engine. Reduce the dependency on individual members of the team by automating your workflows. Bespoke software is not constrained by staff working hours.
Our highly experienced development team work with you to ensure that your bespoke software and workflows are streamlined, boosting your productivity and helping you grow your business. Our systems are all tailored and created with your team who use it on a daily basis in mind, reducing manual time spent on tasks that can be automated.
This management system enables your team to concentrate on increasing sales, generating leads, and improving customer satisfaction.
Latest Bespoke Software Case Studies
The Client Spicerhaart is an independent residential sales and lettings organisation, recognised as...
Read More

Posted by Netmatters
9th August 2023
Case Studies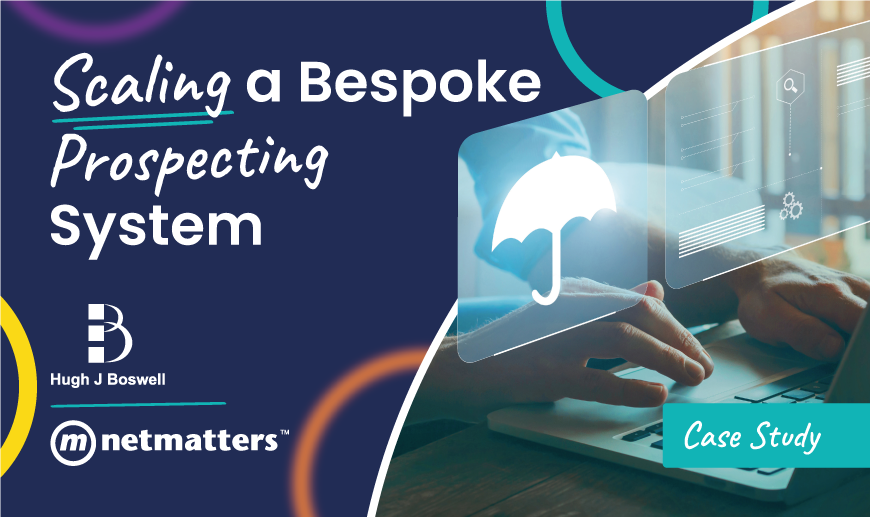 In this case study, we showcase how we were able to scale an existing bespoke software solution that...
Read More

Posted by Netmatters

The Client 1st Choice Insulations are a leading insulation company providing a range of insulation a...
Read More

Posted by Netmatters

Netmatters' system – 1st Choice Portal – (1CP) has quite literally transformed 1st Choice Insulations from an archaic paper-based organisation to a business that can now handle enormous insulation contracts without employing extra admin-based staff. It has quite literally transformed the business - our clients can now log into our portal, look at their insulation programme in its entirety (reducing our email traffic by 75%), answer their own questions/queries, and even download surveys and quotes.
Chris Barber, Director - 1st Choice Insulations
Fill in the contact form to book in a conversation and we will:
Connect you with a Business Software consultant.
Free to discuss your business, processes, and pain points.
Create a bespoke software plan to optimise your business' performance.