Business Automation: All your business processes in one easy-to-use platform
Spend less time on repetitive tasks and ensure staff have the right access to information when they need it through one easy to use platform. Our bespoke software Sysflow enables you to spend your valuable time and skills on growing your business.
Ensure that key business deadlines and timeframes are met by effectively managing your business through our bespoke software. Our automated solutions ensure you don't lose out on business because of missed deadlines.
Reduce the dependency on individual members of the team by automating your workflows. Bespoke software is not constrained by staff working hours.
Automating your workflows streamlines your business to run in the most cost effective and productive way. Staff can then focus on your businesses KPIs and the strategic aspects of their work, all aiding in helping your business to reach its full potential.
Cloud-based
Store, manage and process data quicker and easier than ever before, with peace of mind knowing that your data will be safe if any hiccups do occur.
Innovative
We take an innovative approach to each individual businesses requirements. Our solutions are designed to be intuitive, allowing users to complete tasks with a user friendly interface.
Support
Dedicated support from our expert in-house team of developers and IT support at Netmatters - we're here when you need us the most.
Our highly experienced development team work with you to ensure that your software and workflows are streamlined, boosting your productivity and aid in helping you to grow your business.
Our systems are all tailored and created with your team who use it on a daily basis in mind, reducing manual time spent on tasks that can be automated. This enables your team to concentrate on increasing sales, generating leads and improving your customer satisfaction.
See how we can increase your businesses productivity and save you time and money.
Contact us via our form or call us today on 01603 515 007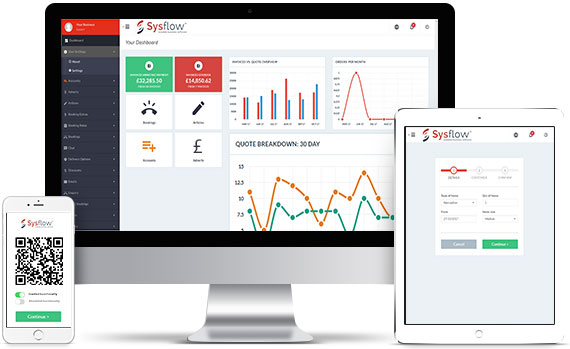 Sysflow is more than just a bespoke business automation software solution - it's your business engine.
Do you feel like you spend your 9-5 working day completing administration tasks ?Are you always ch...
Read More

Posted by Holly Leech
6th March 2020
Are you interested in enquiring about an ecommerce website, we encourage you to get in touch with...
Read More

Posted by James Gulliver
30th March 2020
Happy 25th Birthday Henry! Henry Hardwell joined us in November 2018 as part of our ever grow...
Read More

Posted by Netmatters Ltd
26th March 2020