Mailchimp vs Klaviyo - Which Is Best For You?

Posted by Jake Tuley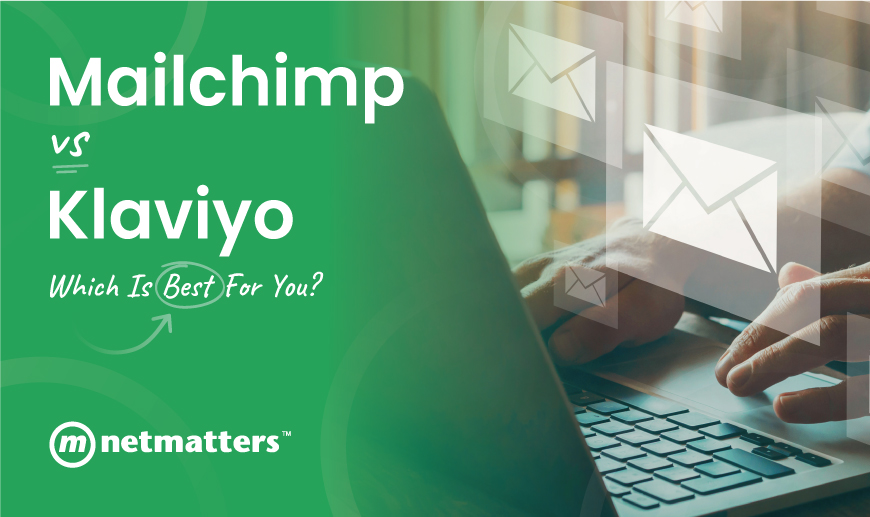 When it comes to digital activity, there is no doubt within the industry that email marketing is one of the most unsung heroes in helping businesses achieve their strategic goals. In 2022, the use of email marketing in many people's eyes is in decline. We all have an inbox, we all have seen the time-wasting junk received, but the fine margin of strategic, expertly developed and re-engaging marketing campaigns have historically been beyond successful.

As a result, there have been some sensational statistics that demonstrate how important email marketing is to businesses. Particularly for e-commerce stores, where those who purchase products through email, spend 138% more than those who don't receive offers. You can find out more on the importance of email marketing here.
If you're looking to take advantage of email marketing and overcome your competitors in the face of potential or existing customers, it's important to find which platform is best for you – Mailchimp or Klaviyo?
Mailchimp
Mailchimp has been the kingpin for email marketing for some time now, the go-to platform for small businesses looking to revolutionise their brand under the thumbs of their clients/customers. Priding their platform on the term "You're More Than Just A Small Business", it's designed as an All-in-One marketing tool.
One of their key USP's is the ability to automate your business. Business automation is one of the most sought-after and profitable methods of making an organisation a well-oiled machine. The ability to save thousands of recipients in one audience, email scheduling and a drag-and-drop system of design, solidifies Mailchimp as the best platform available. Find out more on business automation here.
One of the major benefits to this platform is the accessibility and ease of use within WordPress. WordPress is the world's most popular CMS and therefore makes Mailchimp a universal solution for businesses of all sizes. Streamlining your business operations all in one place, it's no surprise why Mailchimp has become such a popular choice.
Using Mailchimp, as well as the use of all marketing tools, will only output the same quality inserted in the first place. This is where our digital marketing experts at Netmatters are on hand to ensure your email marketing campaigns are effective, growing your loyal customer base and increasing re-engagement with your business.
A bespoke, standout and lead-generating email campaign designed and organised by the Netmatters team will see your business take-off with increased visitors to your website and create opportunities for returning custom.
Klaviyo
Despite being seen as one of the "new kids on the block", Klaviyo has been excelling within the last decade, specialising in email and SMS marketing as a defined 'Customer Growth Platform'. Also identifying itself as a platform to help small businesses grow, there are many similarities between the two tools.
With over 265,00+ businesses relying on Klaviyo, it's important to highlight why so many are choosing the alternative solution.
To put it simply, if you're looking at launching or upgrading your e-commerce store, Klaviyo is the choice for you. Integrating Klaviyo within Shopify, WooCommerce or other leading platforms as part of your marketing strategy could be the difference between hitting your online sales target, or excelling your online sales target.
The big picture is that Klaviyo is designed for e-commerce websites, which have seen major increases in success in the particularly strange start to the 2020's. The platform provides highly-accurate and informative customer data, which our digital marketing team reviews and reports on to ensure your business's performance is going from strength to strength.
Choosing the right platform can be a hot topic for debate, ensuring your business is receiving the most from what you put in. On the other hand, there is no room for debate when it comes to choosing the right team to manage your email marketing strategy.
The team at Netmatters are ready to discuss your needs, whether you're looking to hit the ground running with the launch of your first campaign, or looking to refresh your current email progress, get in touch with us today.