Why You Should Shop Local For Your Corporate Gifts And Incentives

Posted by Netmatters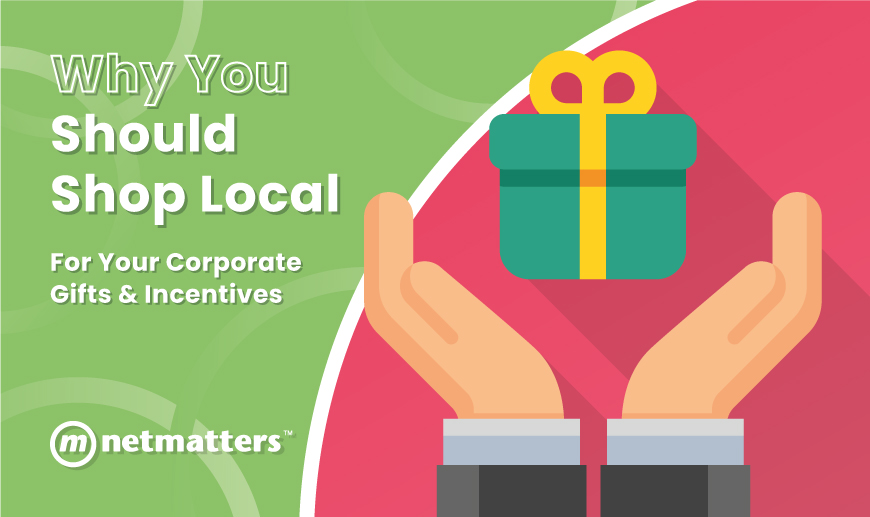 We wanted to start this post by talking about the importance of Christmas here at Netmatters! Traditionally, we reward our staff for a job well done with a month of celebrations and events – everything from food in the office, to guessing games, culminating in a company-wide Christmas night out. It provides us a chance to celebrate as a family before we close down for a few well-earned days off.
Naturally, given the challenges faced in 2020 and the ongoing social distancing things in 2020 will be a little different – but we aren't alone in that. Christmas looks different across the board this year, but that doesn't mean we won't be celebrating – there will just be a lot less socialising together.
Making different work
We have some plans for celebrating with our team, we don't want to spoil the surprise though, so won't go into too much detail! What we can say though is that we have been able to do some shopping on behalf of our team and we've chosen, where possible, to do this through local suppliers.
With limited physical visits to the shops being encouraged most of us will be completing our Christmas shopping online, whether for friends and family, incentives and prizes for staff (our lips are sealed!) or even corporate gifts for your own suppliers and customers. We've talked a lot about the importance of strong eCommerce functionality on your website this year and how it can help keep retail businesses alive.
When making our plans for the festive season, we have actively decided to do what we can for local businesses, and would encourage you if you are in a position to do so, to do the same. We're working with local companies to take care of some of our larger purchases and also buying one off products too. By doing this we are able to spread our Christmas cheer even further. Yes, it takes a little more effort, but we all benefit from a strong, local economy in the long run.
To that end, we thought why no share links to those organisations that are supplying some of our own corporate gifts and incentives to help you with your own Christmas shopping? Whether personally, or for your own corporate gifting. It's never been more important to support the local economy and help these businesses as much as we can!
Whether you are looking for an organisation that can choose and ship products on your behalf:
Or are looking for one-off products for a staff game, or gift:
If you are looking for gifts and treats why not think outside of the amazon box and look at your own network of suppliers – who can you pass a little bit of business to this year?