How Netmatters Positively Impacts The Environment

Posted by Netmatters

#OnlyOneEarth
"In the universe are billions of galaxies, In our galaxy are billions of planets, But there is Only One Earth."
World Environment Day (WED) is an internationally celebrated day to promote environmental awareness on the 5th of June. Created by the United Nations back in 1972, it continues to take place annually.
Our Impact
At Netmatters, we pride ourselves on our environmental impact and we are always trying to better the effects that we have as a business. Our green credentials are very important to us.
Over the years we have hit several different milestones and strive to hit more in the upcoming. As a team of over 100 staff members, collectively we are making a big impact.
Time is crucial – our planet is in emergency mode and every little change is vital. It is all of our responsibilities to ensure that we can offset our footprint in order to protect the world - for not only ourselves, but as well the future generations.
Here are some of the ways that we have helped contribute to the environment…
Carbon Neutral
We're extremely proud to be a completely carbon neutral business.
Carbon neutrality means to have a balance between emitting carbon and absorbing carbon from the atmosphere in carbon sinks (Europarl).
This goal began with us finding different methods of reducing our daily produced carbon, both in and out of the office- from the change of all our office lights to LED, to our recycling initiatives. We have come a long way in the last few years, and we are extremely proud of our contributions. We hit our carbon neutral goal just two months into 2021.
Click here to find out more.
Green Cars & Onsite EV Charging
At Netmatters we are proud to have 100% electric company vehicles! We are taking the steps to reduce our footprint by emitting fewer greenhouse gases and air pollutants in every way possible. Changing all our company vehicles to electric allows us to emit less when visiting clients, day to day use and as well for staff members to use for carpool. This not only allows our staff to be greener when commuting into the office but is also a great way for our teams to build rapport.
The switch to electric cars meant that installing on-site charging points was of course the logical next step. To date we have several on-site charging points across all our offices available for electric cars and wherever possible we are using 100% renewable energy too. This month we will have the team from PES Electricals installing a further two charging points – we are incredibly excited for the new additions, and for more staff members to benefit the ease of charging from the comfort of the office!
There are numerous environmental benefits to going fully electric and we're so pleased to be able to continue to do what we can to reduce our impact as a business. This is just one further step in our carbon reduction plan, but one we are proud to make and continue making.
Equipment Purchasing & Recycling
As a company that provides Bespoke Software, IT Support, Digital Marketing, Telecoms Services, Web Design and Cyber Security – we rely very heavily, if not solely, on technical equipment.
We require a lot of new products regularly and this means that making conscious decisions is of high priority. Our business has implemented several policies that help us reduce our impact for both our equipment and our clients.
Click here to read more about our new processes and services.
Paperless!
We're proud to be a completely paperless office. Not only does this protect the details of our customers, staff, and business – but this also reduces our environmental footprint.
Click here to find out more about our brand culture.
Ecologi
At Netmatters, on a monthly basis we offset a proportion of the carbon we produce by planting trees through Ecologi into our virtual forest. The team at Ecologi then plant trees into the real world on our behalf. To date, we have planted 5,761 trees which has resulted to the following: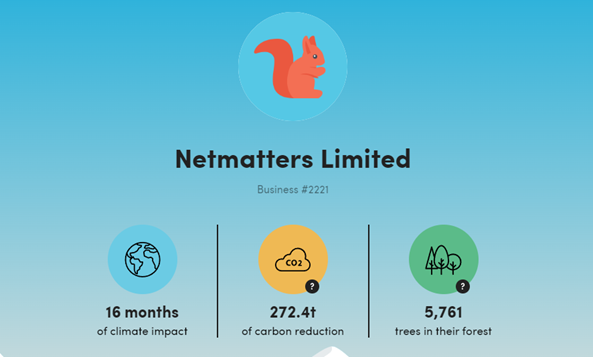 Here are just some of the latest projects that we have been able to support alongside tree planting:

Wind Power project in Mexico
First ever wind power project in Honduras
Improving the efficiency of metro transport in India
Generating clean electricity from hydropower in India
Preserving Amazonian rainforest in Brazil
As a company, the amount of carbon that we have been able to offset to date put into visual perspective:
209 long haul flights (Measured between London to San Francisco, a distance of 8,619.80 km!)
817 metres of sea ice saved
675,824 miles driven in a car
You can find out more about the projects we help support, and the number of trees we have planted to date here.
It is everyone's responsibility to protect our planet, join us this World Environment Day to make even more of an impact. Together, we can make a difference.