Changes to Netmatters Equipment Purchasing and Recycling Processes and Service

Posted by Chris Gulliver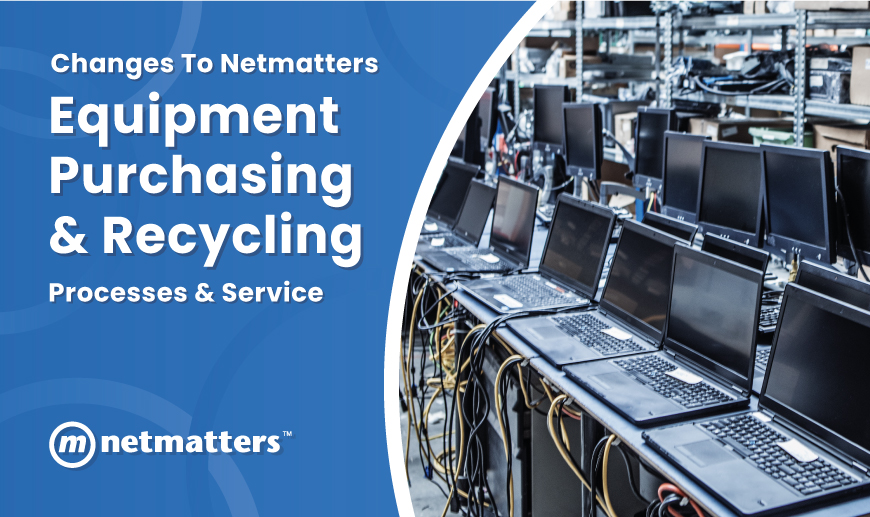 Netmatters is committed to reducing our impact as a business on the environment and we are regularly looking for ways in which we can do our part.
One area that we as both businesses and individuals can make an impact is in the way we purchase, consume and recycle goods – in particular electronic and IT equipment.
As a provider of IT support and equipment, we need to buy new products regularly. However, there are ways that we are able to do this and still minimise the impact that the purchase has. One of these is the way we manage our stock levels. By making larger orders and reducing the number of deliveries that are made to the office we can keep our customers well-stocked with equipment, but also minimse our environmental impact alongside this.
In order to keep your IT equipment problem-free, it is recommended that businesses have a robust replacement schedule in place. This is something we encourage. However, this can mean a high impact on the environment from the disposal of end-of-life equipment.
We have implemented a number of policies to help reduce this impact for both our own equipment and that of our clients. We have engaged a new recycling supplier to ensure that all IT equipment is recycled in an environmentally friendly manner and are now offering an eco disposal service to our IT clients. Alongside, where possible repurposing equipment for charities and other organisations we are doing everything we can to minimise the impact of our IT equipment purchases – and continue to look for new approaches too.
Are you looking for a new IT Support team? Find out more about our Business IT Support services and how we can help your organisation save money and help the environment through our managed IT Support services.