Netmatters Gain Xero Developer Certified Status

Posted by Netmatters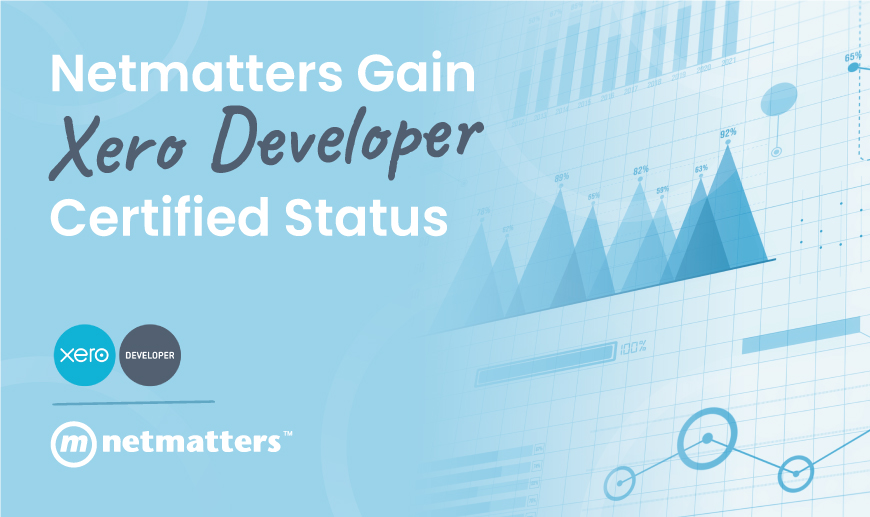 We are happy to announce that here at Netmatters we are now certified Xero developers! This opens the door to a whole host of opportunities for businesses in Norfolk and Cambridge to integrate and customise their accounting software by a trusted supplier.

Xero is a cloud-based online accounting platform designed to help healthy businesses stay connected when it comes to finance. An easy-to-use, sophisticated and modern approach to accounting software, the platform has increased in popularity significantly.
Performing bookkeeping functions such as invoicing, payroll as well as connections to a live bank feed. All finance processes are located in one area, and most importantly integrated into your business's workflow for optimum efficiency. Totalling over 3 million subscribers, it's clear to see that many are turning to Xero for an improved and healthier online business structure.
Making the Difference
Our highly experienced specialists have worked exceptionally to deliver strong results for our clients who work with Xero, making the hardships of time-consuming and frustrating accounting tasks a distant memory from the past.
Our bespoke integrations will reduce or eliminate manual processes, and can be tailored to suit your workflow. This puts us in an ideal place to offer solutions to your individual business needs.
As more and more businesses are beginning to find their success online, in can be very easy to lose track of all the online data in constant communication across the business. By integrating your software uses all in one place, this allows your business to run smoothly, creating a streamlined approach which boosts your productivity.
Find out more in our latest Xero integration case study here.
By becoming a certified Xero developer, this provides us with even more benefits, including:
Custom Connection
Access to a streamlined integration option which is critical for building bespoke solutions for businesses using Xero. Our possibilities for building an improved system have now extended, meaning we can tailor your software needs to even more precise detail.
By integrating with Xero's new App Launcher, this brings new functionality to the Xero navigation, allowing users to find, launch and your app from wherever they are in Xero. In addition, we are now enabled to receive early access to the latest APIs and premium tools to build faster and enhance user experience.
Faster Support
Due to our new development level, any technical support from Xero themselves will be prioritised to us and our clients. Meaning that if and when a client may require further support, we can rely on the technical support team to be there as soon as possible, keeping all of our online businesses safe and secure.
Accelerating Growth
As a certified Xero developer, we now have the capability to expand our knowledge with the platform, which can be applied to your business. We have access to features such as on-demand resources, webinars & guides, Xero App Store Analytics and Developer Centre access.
With this additional information and data, we can provide accurate reporting and leading expert industry knowledge to help transform your business's software use
We couldn't be happier to have achieved official developer status with Xero, the leading online account software. We are looking forward to where these benefits will take us as a company and better our ability to improve our client's workflows and system solutions.
Looking to integrate Xero into your business? Visit here to find out more about our software solutions and how we can look after your online business. Get in touch with us below or give us a call on 01603 704020 today!