How To Gain High Quality Leads with Live Chat

Posted by Netmatters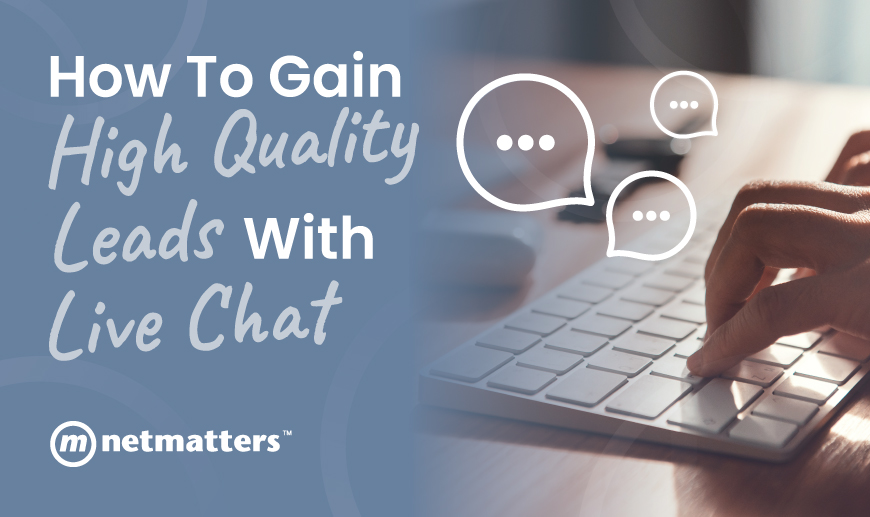 Customer support channels are incredibly important for every business, particularly those who are predominantly online. Allowing a quick communication channel between the business and the client, ensures enquiries and high-quality leads can be actioned quickly.

As each online business grows and adapts, so does the preference of communication channel. Over the last few years, live chat has become utilised more and more across a variety of different businesses – with some even incorporating it within their own teams, not just for clients. Many have opened the debate that live chat is in fact starting to overturn more traditional forms of communication channels such as email.
Looking for a new communication channel that will gain you higher quality leads? Applying a live chat feature might just be your next step.
The Benefits
First, let's examine why live chat has gained in popularity in recent years.
Faster Communication
In today's society, a requirement for everything to be faster is the norm with the likes of instantaneous messaging platforms. It was only a matter of time before this began to apply to online businesses too. The platform feeds the need for instant answers, recipients expect to physically see that someone is typing and that their message is not being ignored, whereas email is not as instant and can take much longer.
Joe Trower, Commercial Head of Telecoms, mentions:
"The 3CX live chat on our website, as well as our internal messaging, has been invaluable in helping us and our customers to manage inbound sales enquiries, increase efficiency with internal communication and ensure a better customer service experience. All whilst still tying into our central phone system & communication solutions"
A Personal Touch

Live chat allows the more human element of your business to shine through, as a real person will take the time to review and answer the query posed as specifically as possible. In fact, live chat tends to see a 73% customer satisfaction rating overall, whereas email support tends to only see a 61% satisfaction rating (2022 Campaign with Freshworks)
Higher Level of Conversions
For many, live chat presents more opportunities to improve their lead generations. By being able to discuss with the user in real-time conversation, an understanding of their needs can be gained with an explanation of how your business can assist. In fact, customers using live chat are 2.8 times more likely to convert than those who don't.
Personal Preference
Whether the user is busy at work, multi-tasking or simply prefers not to call in – this is a great way of giving your users more options. Being able to see virtual queues, unlike when you are calling, means that more users are inclined to get in contact on the spot instead of putting the task to one side, and inevitably forgetting. Even if there is a 10-minute wait on the chat being received by the agent (which is very, very rare as communication is typically quick and snappy!), the user can do other things in the background whilst waiting.
To Take Into Consideration
We definitely don't recommend removing your email support options altogether as there is still an audience who will opt to use this as their preferred communication channel. Not everyone is ready to change their method of contact just yet.
Some users may just be hesitant of using this over email as they like to have a paper trail of their conversations, not knowing that this too can be provided with 3CX live chat too. Essentially, adding instant messaging to your website is simply the faster version of email support.
Providing an email channel alongside a chatbot offers the best of all worlds, tapping into differing audience preferences to guarantee that the best customer service is always on hand from your business.
Leads Via Your Website

Gaining leads through your website is one of the biggest goals all online businesses strive for. A good quality lead can be gained in multiple ways, via a contact form, live chat enquiry, telephone call or email, and the best way to push these is to ensure your site is as well optimised as it can be to promote your services.
Implementing this feature to your website is a fantastic way of doing just that. It provides the opportunity for you to gain a better understanding of what your audience might be looking for. By opening a conversation between you and your clients, this gives opportunity to find out more about the specific details they might be looking for - giving you the edge to become more adaptable to your customers. It also provides a platform where further understanding can be provided from you the business, in more personal explanations.
Live chat is a tailored option that can help with the more bespoke leads generated through your site, finding an option to suit new users.
Our Team Our Experts in 3CX System Solutions
At Netmatters, we have implemented our own 3CX chatbot feature on the site, with our very own team ready to help with your enquiries (check out our chatbot feature found on this page!). We find this aids in clear communication with our customers and enables us to provide further support.
Our team are experts in 3CX systems, and we use this platform ourselves to monitor enquiries via our website. Netmatters are also a 3CX Platinum Partner meaning we can best advise on the benefits of the 3CX live chat, as well as professionally install and support the service.
If you think live chat could be for your business, then get in touch with us today. Our team will be more than happy to talk you through the process of getting this installed on your site, offering assistance on the best practices and use of this.
Get in touch with our team via the contact form below, or contact us instantly via our 3CX live chat on the bottom right for more information.