How to Automate Your Business in 2022

Posted by Jake Tuley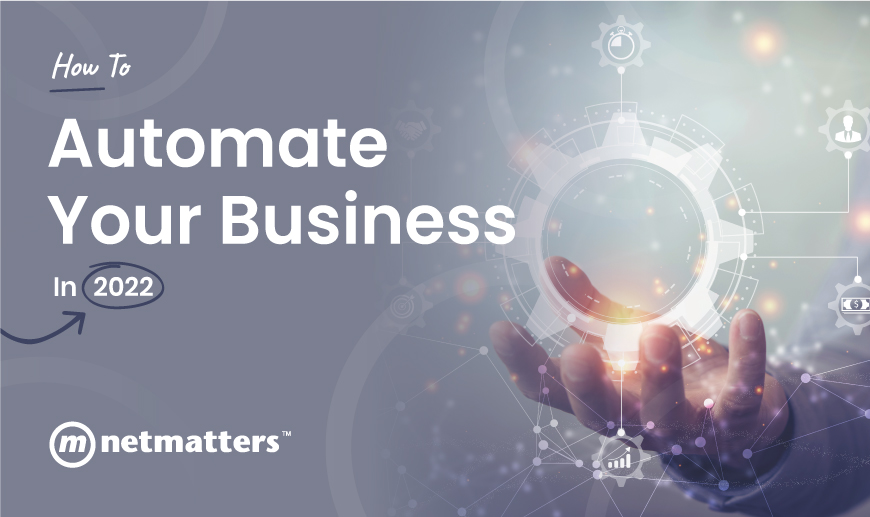 When we talk about business automation, we're not exactly talking about clapping your hands to make the lights switch on. Instead, we mean providing more than just a bespoke business automation software solution, but a business engine that is tailored around your needs and budget.
Here at Netmatters, we understand that a business will fail to grow and expand if it finds itself stuck in repetitive tasks, costing time, effort and money. Business automation is all about creating a workflow that streamlines your organisation to run in the most efficient and productive way.
So why not make 2022 the year your business transforms, evolving and progressing with business automation at the heart of all your operations. Your entire business integrated in one easy-to-use platform.
All of our systems are created with your team - the ones who will be using it on a daily basis, in mind, reducing manual time spent on tasks that could otherwise be automated. This enables your team to concentrate on increasing sales, generating leads and improving your customer satisfaction.
What Can I Automate?
In reality, you can automate anything that you want within your business. Business automation really excels in taking simple, repetitive tasks and removes the need for staff intervention. Your bespoke business automation software will take care of everything. Automation can also assist in gathering data for human decisions, for example pulling in information from 3-4 different platforms to assess that your sales pipeline is optimised.
We've seen everything from processing an order, PDFs received, and automated quote building, to track and trace deliveries. If you would like to discuss what is possible to automate in your business, then please do contact us.
How to Start Automating
The initial stages of automating can seem like an unclear and unfamiliar situation on where to get started. This is why Netmatters is here to help guide you every step of the way in the form of our FREE Business Automation Seminar that occurs every month.
Our expert team provide a personable interactive experience, providing a comfortable environment for you to expand your knowledge on bespoke automation software which includes a detailed question and answer section.
The seminar covers all aspects of bespoke automation including:
What is Business Automation
Why Automate
Understanding the levels of Automation in a business
Examples of business Automation
How to Approach Automation
Technology Selection
Budgeting for automation
Implementation of Automation
Bespoke Vs Off the shelf software
Pitfalls of Automation
How to Start Automating
If you would like to sign up to our next automation seminar, we encourage you to get in touch with us using the contact form so that we can get you on the right list!
Going Bespoke
As part of our on-going growth plan at Netmatters, we've found the benefits of implementing a bespoke automated system have been massive.
Sofia, our AI, works double time to be able to deliver more for our business. The way we have developed her allows her to manage all aspects of our business from invoicing to holiday management. It's such an extensive system that we have been able to go completely paperless in all internal aspects of our company.
Given that Sofia is bespoke to our business, it means that we can add and change processes or features as we deem fit. We are not tied to the limitations of a bought programme which means the sky is the limit for what we can achieve. More can be found out about Sofia here.
It's also been hugely beneficial for a number of businesses that we work with, and it is our aim going in to the New Year to make your 2022 the year of automation.
Find out more about our business automation seminar here or call 01603 704020 to get in touch with one of our expert software team members today.