How Remote Working Can Keep Your Business Open!

Posted by Netmatters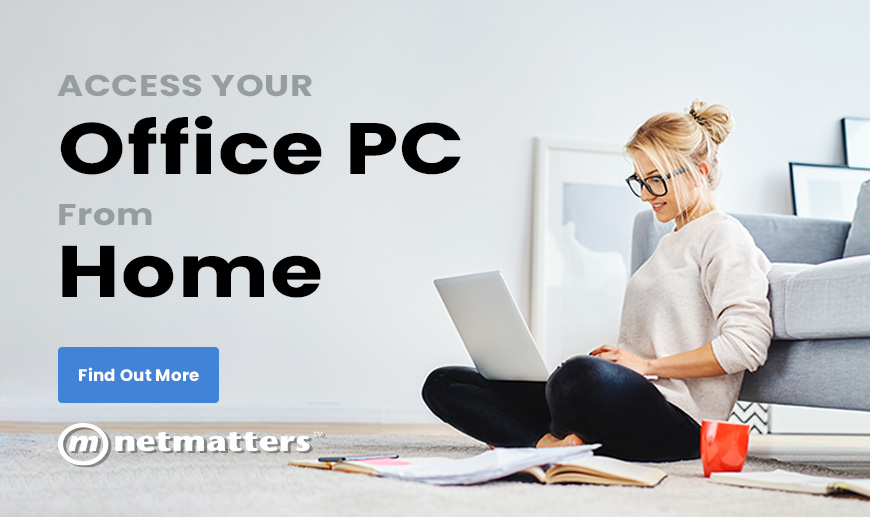 How remote working can keep your business open!
As we enter the fourth week of the Government-imposed lockdown, across the UK it has been inspiring to see how many businesses have adapted to the situation, with a large proportion of them putting the processes in place to make it possible for staff to carry on as normal from the safety of their homes.
However, there are still those who have struggled to make the move, and for some businesses, despite the fact staff have plenty of work to do, they have not found a way to accommodate home-working.
For many service-based businesses, the two problems they have encounted are:
Staff only have desktop computers and they do not have the resources available to purchase laptops for all of them.


There are various pieces of software that are licensed to single machines, and there isn't the time or resource available to move all of the licenses to personal computers.
For some unfortunate businesses, both these issues apply and as a result, they are causing an expensive and inconvenient headache. For many it has raised the question
"How is it possible for us to survive and keep going through this turbulent time?"
Remote working - a new way to grow your business:
Over the last few weeks, continuing to operate as normal as possible has been crucial for organizations, large and small, to weather the storm we are currently facing. We have seen firsthand the numerous benefits that remote working has been able to deliver for our business to keep us in a position of strength during an uncertain time.
As well as keeping our people safe from infection through supported social distancing, we have also been able to offer continued service and advice to all of our customers, continuing to help them achieve the same objectives their business has set out to do – almost as though nothing has changed at all.
We, and those clients we have supported, have been able to continue working with minimal disruption – which has provided some much needed stability for all concerned.
It's important to remain agile in these difficult times and flex to the situation, but the ability to allow staff to continue on as normal is crucial to be able to provide a continued income for them, instill confidence across the board and ultimately allow your business to ride out the storm.
None of which could be achieved, without a remote working solution.
How can my business go remote?
You may have already decided that due to lack of resource or preparation, you have exhausted the options available and as a result, you've accepted that closing the doors and hoping for the best is the only solution.
But it isn't and it's not too late to move your staff toward remote working.
If you are not in the position where staff have laptops and you need an alternative solution, we may be able to help you.
Over the years, operating as an IT support hub, we have been able to develop a bespoke remote-access solution that continues to deliver the most for our clients up and down the country.
This software allows your staff to access their own desktop and carry on working from any computer. So, providing staff have their own computers (and in this digital age, we would assume most do), your business can carry on as normal once the simple set up has been completed.
So, how does it work?
As with anything, there is a small set-up process required.
One of our team of expert IT Technicians will manage the setup of your work PC and remote control account. The set-up process is quick and minimally disruptive, so even if you have had to shut your doors for now, we can have you back up and running within days.
Once the software is installed, staff can be given instructions on how to access the web portal, use their own programs and navigate anything additional they may need. They will then be able to access their computer at will. Staff who need access to more than one computer can be given permission to do that too.
Essentially, when the software is installed, staff can log onto their computers in the morning and continue their day as normal – including accessing files and data required to be able to do their jobs to the same standard they would in the office – easy!
This solution is also available for as little as £5.75 per user, per month, meaning you aren't breaking your budgets.
Of course there are things to take into consideration with this, primarily with security and ensuring you aren't putting sensitive data at risk. Something that we heavily prioritize to ensure there are no holes that could cause fatal business issues further down the line.
By making use of our software you protect your information in the same way that you would from the office. Importantly, because staff are accessing their computers through the same firewall as usual the data is as safe as it is at your premises.
Despite this, it goes without saying that staff should be encouraged to make sure the security protocols they follow are as stringent as you'd expect whilst at work but you can relax in the knowledge that in using this software, security and protection is of the highest priority.
What next?
If you have been searching for something that will get you back up and running, we want to be able to help you.
The software we have created and implemented across multiple businesses, comes fully supported by our IT department, which is still fully operational, allowing us to assist with any questions and/or queries you may have.
Beyond Coronavirus, and there will be a beyond Coronavirus, your business will be in a better position for embracing the agility of remote-working and although it's stopped us in our tracks, it doesn't have to mean the end of your hard work.
There are numerous benefits in the longer term too, from saving money on office space and allowing staff the flexibility that remote-working can bring, a perk you may never have realized you were in a position to offer.
If this has inspired you to get back to business, we encourage you to get in touch with our team today.