Why Social Media Marketing is Valuable

Posted by Jasmin Rusted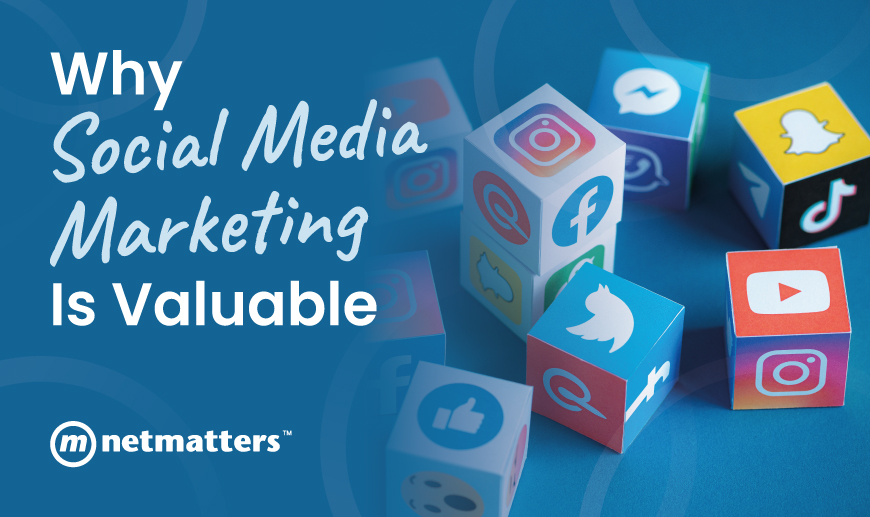 At Netmatters we are a fully rounded digital agency – with a well-developed digital marketing department, and as part of these services, we include social media marketing.
Social media has been an evolving platform and has been gaining in popularity since we saw the launch of Facebook back in 2004. Since then social media has come a long way with roughly 3.8 billion users across the world. With this ever-growing audience it was only natural that digital marketing would expand and tap into this too.
What is the goal of social media marketing?
The first thing to ask yourself is, what is it your business needs out of social media? You will most likely be looking to gain top quality leads to your website as a primary goal. Creating quality content on social media to encourage the user to follow on from this to your website and make an enquiry.
You could however be looking for more exposure for your brand, building a bigger audience to spread the word about your products or services. From this goal, we see content that is more personal rather than promotional.
Or you could be looking to boost your engagement, beginning a conversation with your audience and followers to allow for feedback can be a great way of showing off a more personal side to your business.
By setting out one clearly defined goal, a social media strategy can then be created towards this.
But how can social media marketing be valuable to you as a business?
By building your brand up on social media, this has a number of contributing factors to further website success.
Target Audience
When it comes to advertising with other more traditional forms of marketing, you can make assumptions on who your content is being seen by but it is a lot more difficult to precisely target exactly who it is you want to get your business in front of.
With social media, your profile can really easily reflect who you are as a business and who you want to be targeting, tailoring posts to a younger or older crowd for example. This can also be done through social ads, creating campaigns for a specific audience – down to demographics, language and even online behaviour.
With an established target audience, you are far more likely to gain quality leads and traffic increases to your website.
Drive Traffic and Generate Leads
Social media itself can be a really great advertising platform. Crafting quality content across all social media platforms highlights what your brand has to offer and taps into a very large audience that may not have heard of your business before. With each post, a link to your website, or even better the specific part of your website that the post is referencing, can aid in pushing more traffic to these pages.
This pushes your website out into a medium that otherwise may never previously have come across your business, increasing the likelihood of a new customer getting in touch.
Improve Customer Satisfaction
Putting your business on Facebook, Instagram, Twitter and Linkedin, allows your customers more of a voice and opens up a discussion between both you and your followers. Many new customers like to see this kind of acknowledgement in a brand, however, it also allows access to customer feedback: what do your followers like about your brand, what could you be doing better etc.
When taking the time to acknowledge this type of feedback, you're showing potential new clients that you can put in the time for customer satisfaction.
Competition
With social media at the scale that it is, you can easily assume that your competitors will also be online. By reviewing what they are doing on social media you can stay one step ahead, reviewing their customer feedback is a great way to know what your similar customer bases are and are not happy with.
Social media marketing is a valuable asset that all online businesses should be looking to optimise. With the many benefits discussed, it really is a suitable option for all and can be tailored to suit the individual needs of your business.
Our digital marketing team are well equipped to help you and your business build your profile on social media. Get in touch with us today via the form below, and start planning your social media strategy.