Where to Spend Your Marketing Budget in 2022

Posted by Netmatters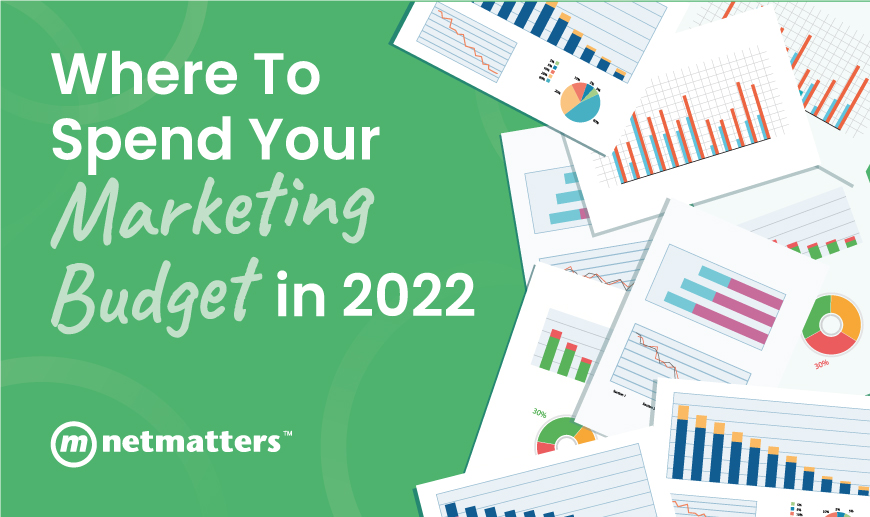 Marketing is an ever-changing part of business, and the consumer landscape has changed considerably over recent years. Within the last three years alone, the world has seen an impact due to the level of world events on society. In turn this has naturally modified the way that people are engaging with products and services. As consumers change in behaviour, your Marketing has to be adaptable to change alongside this, rethinking strategies and ultimately where your marketing budget is going to be spent to gain the best results.

So, let's look at how you can plan for success when allocating your marketing budget…
Align With Your Audience
"When the pandemic hit, there were two trains of thought with Marketing budgets, 'pause', for fear of wasting budget or 'maintain progress and continue marketing'. We continued marketing and saw an increase in business leads, clients, and revenue as a result, and haven't looked back. For the clients that we worked with over this time, we have had plenty of success stories too, purely by focusing on how to best allocate out a marketing budget effectively and not pausing when the times got tough or unclear." – James Gulliver, Managing Director
Despite the pressure the pandemic put on businesses, the team at Netmatters continued to push our marketing capabilities, becoming more versatile in the way we helped our clients. By examining our strategies against the change in behaviour we saw in our target audiences, we could allocate budget more strategically and continue to drive results.
As the world of Marketing has grown, strategies have required a much broader approach than the early days of simple branding and advertising alone. As external factors develop, with competition growing and a change in consumer behaviour, it's crucial that a variety of technology, software and practices are employed to optimise your business in 2022. In turn each of these areas are going to need a practical budget set, that allows room for fantastic results, whilst also fitting the financial needs you or your client have specified.
What Digital Channels Should I Review For 2022 and Beyond?
Visibility online is incredibility important, within your strategic digital marketing strategy you should be focusing on areas of Search Engine Optimisation (SEO), to gain advantage over your competitors by appearing higher up in search rankings - providing a clear cut answer to the search query your targeted users are searching for. By moving up just one place in search results you can increase your click-through rate by 30.8%
We have seen the benefit of results like this with our own clients, for example working alongside our client Sweetzy since 2020, we have optimised their website from an SEO perspective. Within that time we've seen an 87% improvement in the number of sessions through Organic Search as their positioning on google has improved, which in turn has seen a 78% increase in transactions.
A secondary focus area here is PPC. Using Google advertising will really help connect your business with your audience. Ensuring your ad is tied to specific search times that your ideal consumer is searching for pushes the visibility of your website more so.
"We've really started to see the benefit of clients working with us to allow the freedom to create targeted PPC campaigns. Not just being live in PPC, for the sake of being present against brand terms. Getting to the heart of what our client's customer is searching for and their mindset is at the heart of driving the right users to the site and at the right time. This year we've focused our clients services and products into our SEO, PPC and Social to great effect." - Lydia Whitney, Digital Marketing Manager
Understanding that the traffic that comes to your site are people and not just a number that gets reported on month-on-month, is a key point when it comes to making a difference to a strategy. Not only does digital marketing drive traffic towards your website, but it is also a very sustainable approach. Once you've established visibility, it will serve your business for years after.
Drive Your Brand Strategy Across All Channels
"Something that comes up time and time again when clients enter a new financial year is getting your house in order first. Many of my previous clients have spent lots of their budget trying to accumulate new audiences and customers, using the latest release from Facebook for example- and not have any increase in conversion. Take the time, and investment, to ensure that your marketing and site are singing off the same hymn sheet." - Andy Rule, Digital Marketing Consultant
Your Marketing strategy should of course align with your overall brand message. Using budget on a campaign that says one thing, pointing you to a site that says the complete opposite is only going to cause quick exit rates and a lack of trust in Googles eyes. A strong brand alignment throughout your marketing channels is an absolute must, and presents a clear unified message across all marketing channels to potential consumers.
To achieve this some of your marketing budget should be placed on quality outreach marketing, to push your brand name to new users. This message must represent the brand as a whole, delivering a promise that your audience can see will likely be achieved. A few examples of how this can be achieved are:
Link building, creating relationships with other websites who will link back to you.
Social media, pushing content across multiple platforms that your audience are likely to use.
Guest posting, on related websites to show your brand knowledge.
When done right, a mix of quality outreach marketing alongside your internal marketing strategy, can bolster your overall brand message to new audiences, and is therefore well worth the allocation in budget.
Ensuring that a mix of quality Outreach marketing, as well as onsite marketing processes that talk to each other is critical to forward momentum in allocating digital marketing budget.
Jim Palmer, Head of Digital, goes on to say:
"A site that is well-tailored to a) inform the customers of what you do and b) show that you are the right partner, supplier or product to benefit them is far more likely to improve conversions. This will increase the impact of any organic and paid marketing strategy. This year more of our customers are looking at increasing the hours we monitor small tweaks and review development, not just getting a site live and assuming it will look after itself."
Skilled digital marketing management is at the heart of what we do with our clients. How often do you navigate to the second page of Google search results?
We know it is important to make sure campaigns are performing effectively. Our digital marketing strategies help you keep control of your budget with measurable success, as we are always reviewing performance to identify what is already gaining traction and if there are areas that need more focus to produce results.
Want to find out more about how we can assist your marketing budget? Get in touch with our specialist digital marketing team with a proven record of growth, via the contact form below. Or call the team on 01603 704020.