Sweetzy Digital Marketing Case Study

Posted by Netmatters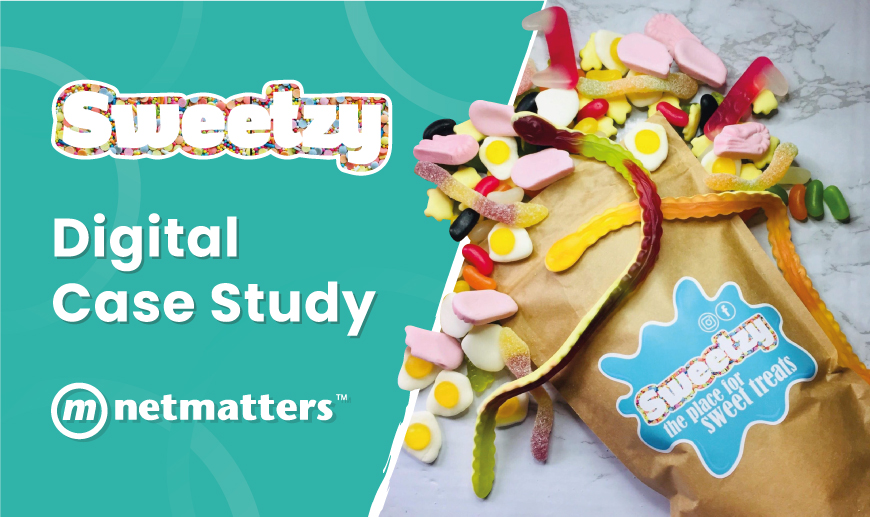 Data driven marketing is at the heart of all we do here at Netmatters. Using tools such as Google Analytics to collect and review data on how customers use your website allows us to create strategies, and provide insight that allows you to make informed marketing decisions.
Our client, Sweetzy, wanted to move towards a multi-channel approach to marketing. They had a good social media presence but didn't want to rely on just a single channel. They wanted to become the authority in search engines and to test the waters for a paid Google campaign, with the overarching aim to drive traffic to the website and for users to make a purchase whilst there.
The Client
Sweetzy are an online sweets retailer, based in Wymondham. The Sweetzy Director, Will, created the company back in January 2019 when trying to get good pick 'n' mix sweets online was either impossible or hugely overpriced. Initially, it started with creating a basic website and selling pick 'n' mix out of a spare room in his parents' home.
Due to growing demand, in early 2020 Sweetzy moved into a 4000sqf warehouse in Dereham. With continued growth throughout 2020 due to popular demand, this success meant they could afford to, again, move to a larger location now based in Wymondham, becoming one of the largest online pick 'n' mix companies in the UK!
The Problem
Having already tried paid social media (which has been, and continues to be a success for the client), they wanted to grow the traffic to the website from Organic and Paid Search channels.
As a company, they wanted to see an improvement in their visibility in search engines, to generate an increase in traffic as well as transactions on their website. They understood how important it is not to rely on a single channel, such as social media, for all of their traffic and instead wanted to ensure their marketing was sustainable.
Our Approach
We set out to define the key objectives of our marketing activity alongside the client. Once we'd defined the objectives, we created a tailored strategy to work towards all marketing activity to ensure everyone was working towards these key objectives.
The first step was to review the client's keyword positions in search engines, primarily Google, and identify where we could make improvements to the core pages to help improve keyword positioning as a whole. We also wanted to improve the user journey across the site and looked to identify key opportunities to streamline the user experience, assisting with driving more traffic through the website and ultimately more transactions.
Alongside this, we created some targeted Google Ads campaigns to help drive further traffic to the website. These campaigns were split by product, complete with targeted keywords and driving users to relevant landing pages. We regularly monitored the campaigns to ensure that these were driving results as expected, making changes where necessary to ensure the campaigns were performing as optimally as possible.
The work we do has become an integral part of Sweetzy's online marketing strategy, regularly reporting against the original objectives and strategy. We also provide a sounding board for the client, offering advice and recommendations about their wider, offsite marketing activity.
The Results
We've been working with Sweetzy on their Digital Marketing since June 2020.
Since we took on the Digital marketing for them, we've seen, year on year, an 87% improvement in the number of sessions through Organic Search, and a 78% improvement (18,000 transactions) on the number of transactions coming from this channel too.
With regards to Paid Advertising through Google Ads, we've seen over 287,000 websites sessions (2707% improvement) and over 28,500 transactions (2037% improvement).
Finally, in terms of revenue generated from both Organic and Paid sources, we've seen an increase of 109% through Organic traffic, and an increase of 2637% through paid traffic.
"We have seen some fantastic results after Netmatters diversified our marketing channels. Our goal was to expand our online presence and visibility, and the team at Netmatters provided ways to do just that. The support on hand made the process smooth and simple, and we are incredibly happy to be able to monitor our new growth" - Will Godfrey, Director
The results we have seen since beginning our work with Sweetzy are a real testament to the hard work put in by our team, the relationship built with the director, and the ability to make strong recommendations based on the data.
If you are looking for a data-driven digital marketing strategy, then contact our experts to see how we can help you put together a strategy that works for your business.
As Netmatters marks its 15-year milestone, we reflect on the incredible journey of the past fifteen...
Read More

Posted by Netmatters
29th November 2023
Salary Range £26,000 - £34,000 (DOE) + Bonus Hours 40 hours per week, Mon - Fri Location Wymondham,...
Read More

Posted by Rebecca Moore
27th November 2023
Today we celebrate the remarkable achievements of Rebecca Brine as she takes centre stage, championi...
Read More

Posted by Netmatters
24th November 2023