What Mental Health Means to Us and Our Team

Posted by Netmatters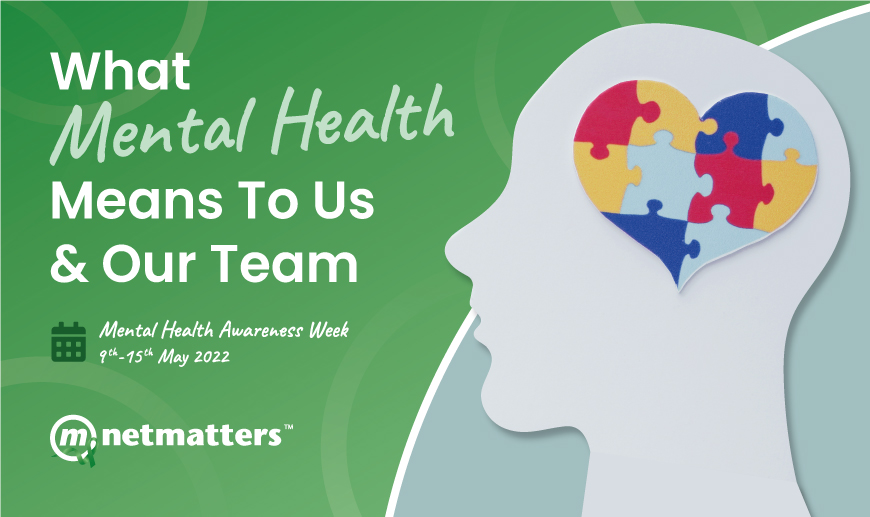 Here at Netmatters, we are committed to the mental well-being of all our employees. Our support ranges from providing and funding professional guidance, to the smaller things such as employee engagement or just a good cup of tea and a chat! In support of Mental Health Week starting today, we feel it is more important than ever to highlight what mental health means to us and our team.

What is Mental Health?

Everybody has mental health; it is not a negative statement. Mental health is a fact, just like having bones in your body, and a healthy heart. You can be having a great mental health day, or you could be having a not-so-great day. Mental health includes our emotional, psychological, and social well-being. Just like we keep our bodies healthy and in tip-top shape, we should treat our mental health as equally important.
Mind, one of the leading mental health charities in the UK, state that "1 in 4 people will experience a mental health problem of some kind each year in England". Bit by bit, the support provided to our team can help, ensuring everyone has a safe place to talk.
What Mental Health Means To Us
Netmatters holds no stigma around mental health. We fully support anybody needing a chat or a little help. You won't be turned away. If you hurt your arm at work, you'd automatically come to find someone to tell so we could help. We feel the same way about mental health.
We want to ensure everybody feels supported and reassured that there is a place to come if you are feeling worried, stressed, or just need some friendly advice - about anything - not just work!
Making the Difference

Netmatters provide Private Medical Insurance through Vitality to all our employees, with enhanced mental health cover. We have an upgraded level of cover which means we have unlimited talking therapies, including items such as out-patient cognitive behavioural therapy or counselling to help with a variety of mental health conditions, such as depression and anxiety. We also have access to 28 days of inpatient recovery if required too. Vitality offer a comprehensive end-to-end approach to mental health – from prevention and maintenance to early intervention, and comprehensive treatment for more severe conditions.

In addition to the above cover, we provide funded support from an external professional life coach, which we have found very beneficial across the years.

We believe that mental health isn't a straight line and what works for one, may not for another. With this in mind we have a variety of smaller ways in which we promote a positive environment. This year's mental health focus is based around Loneliness. Netmatters are keen advocates of employee engagement, team activities, and getting involved. We have activities ranging from football, bowling, ghost walks, escape rooms, bake offs, online gaming, coffee and cake days and many many more!
Our team also have 24/7 access to our very own onsite gym, available to all staff. Exercising promotes the release of endorphins and is therefore a great way to benefit both your physical and mental health! We also offer free fresh fruit to help support immune systems, a healthy, balanced and nutritious diet, and again - health and well-being.
By creating group activities, we hope to help to decrease any feelings of loneliness, and encourage an environment true to our values. Our Work-Life balance is in place to ensure everyone has time to reset and refocus. We know life can sometimes get busy, and not all our spare time is used for the fun things (we all know the feeling of a full clothes wash basket!), but by ensuring a strong work-life balance is in place can help us to achieve a feeling of clarity.
We are always looking at ways to enhance our mental health support, and are always available to help.