What Are The Benefits of Google Analytics 4 Over Universal Analytics

Posted by Netmatters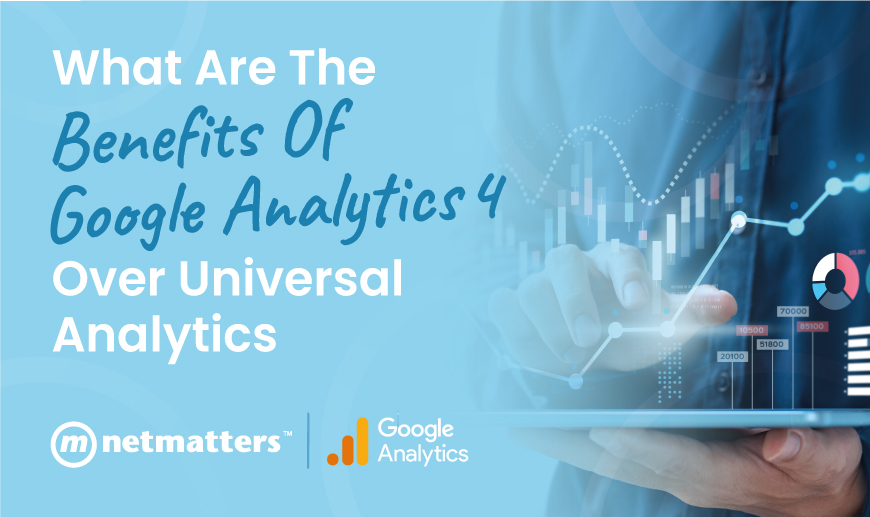 The deadline for switching to GA4 is closing in, with Universal Analytics no longer processing new data in standard properties beginning 1 July 2023.

GA4 is built with the future in mind, along with a wider focus on tracking the complete user journey, as opposed to splitting user interaction into sessions, devices, or platforms like Universal Analytics.
If you aren't sure what Google Analytics 4 is or how it is going to affect your business, read on as we take a closer look at the fundamental differences between GA4 and Universal Analytics.
What does the change mean for your business?
Google Analytics 4 (or GA4) is the updated version of Google Analytics. With the introduction of GDPR, websites require users to consent to cookies to track website performance. As a result, businesses are able to report on their website user's journey across the site. Breaking down essential data both quantitative and qualitative, Google Analytics enables you to understand your audience, identify the site's strengths and weaknesses, and provides key reporting insights. You may already be familiar with the current version of GA, Universal Analytics, but what does GA4 do differently?
Advanced built-in reporting
More accurate cross-device insight
Automatic tracking for certain types of events such as phone call clicks
A new set of metrics for more accurate engagement tracking
Better users' privacy control options
Improved report templates
More focus on user journey tracking
The updated user interface and new design plays a big part in the switch, ensuring the tool is easy to use, quick to access the information you need, and creates a modern approach to business data reporting.
Why should businesses make the switch?
Google Analytics 4's measurement model is based on events and parameters, whereas the previous model was based on sessions and pageviews. Therefore, GA4's new reporting style is much more accurate than the one provided by Universal Analytics, providing more reliable insight into how your business is performing, due to the use of automatically collected custom and user parameters. These parameters are recorded with every event such as: language, page location, page title, or user properties like age, country, gender, and device.
One of the most significant benefits of GA4 is that you can use it for tracking only your website or mobile application, as well as both together, which saves a lot of time that can be used in other areas in terms of marketing activities. With GA4 you now have the option to consolidate data from your websites as well as mobile applications in a single property and you can also have multiple data streams like Android, iOS, and web under one property. Before you would have to use UA for your website and Firebase for mobile applications.
GA4's simple roll-up reporting style helps you to understand the overall performance of all your websites and/or mobile apps through its advanced reporting. For example, you can see the total unique visitor reach of all your websites and apps.
The key benefit to switching to GA4 is that it's flexible to your needs, provides in-depth information on user activity, and creates a new approach to monitoring your audience.
What's our process?
Google Analytics is a fundamental tool when it comes to digital marketing. Without it, it would be near impossible to understand your audience, user trends and to measure volumes of your website's success. Businesses across the world rely on Analytics to understand their strengths and weaknesses, and with an updated version of Analytics, it's never been easier to understand where your website needs to be optimised.
By identifying gaps in the data and stand-out weaknesses, our digital marketing team can help optimise your website for improved user metrics, and most importantly, to generate leads. By developing a bespoke conversion-based plan tailored to your business, our team can utilise the data received in Google Analytics in order to boost performance in each traffic channel, such as PPC, SEO or Social Media.
Our three-step process to review, plan and implement helps us to gain valuable insights to further optimise your online presence, raise brand awareness, and ultimately drive leads/sales via your website.
Regardless of the size or industry of your business, you will need to develop a suitable rollout plan for GA4, to be the primary data tracking platform by June 2023 and ensure the platform is configured correctly to maximise the use of the new enhanced reporting features available.
GA4 is required to be rolled out by June 2023 and we are here to help you make the most of this change. Speak to our expert team to discuss the digital needs of your business today.