Mobile apps to transform your ideas into an engaging, functioning reality for users
The digital landscape is ever-evolving and mobile apps are not only increasing in popularity but revolutionising the way users engage with your brand whether they are at home, in the office or on the move.
Our experts at Netmatters can cover your mobile app development from strategic planning and UX/UI design through to development, testing and delivery.
Our approach aims to create a tailored, user-centric mobile app that will not only work hard to improve how you interact with your customers, but provide a level of value that your customers and prospects won't be able to find anywhere else.

Launching an app and growing your audience is no easy feat. Our in-house marketing team will work with you to ensure that your app is developed to maximise your business goals and provide you with expert advice to engage and grow your audience through your app.
Ongoing Development
We offer ongoing development support before, during and even after your app has gone live to ensure your app continues to work towards driving results.
UX Centric
From sending notifications to creating personalised content, our team of app developers will help you provide that second to none user experience.
Cross Platform
We develop all apps to be compatible on all the main platforms and devices, giving you an added advantage of tapping into a greater market potential.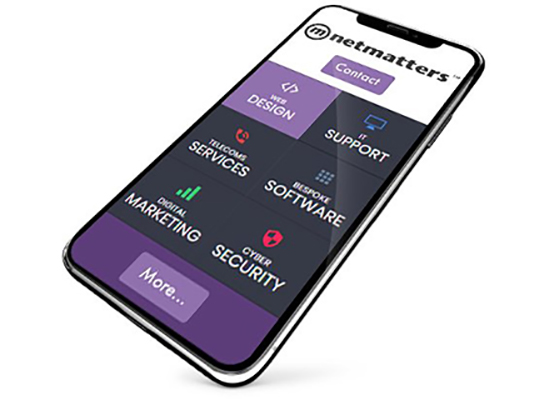 Our goal at Netmatters is to deliver the solutions you need to help you reach your marketing goals and help your business grow.
We provide expert advice from our dedicated in-house development team to any business exploring the possibility of developing an app or who feel their current app is not performing to their expectations.
See how we can help you connect with your customers. Contact our experts via our online form or call us today on 01603 515 007
Our dedicated team work with you to develop a tailored experience for you users, helping your business achieve its potential.
Salary Range: 22-30k (DOE) + Bonus Hours: 40 hours per week, Monday - Friday Location: Wy...
Read More

Posted by Simon Wright
30th July 2020
Here at Netmatters we are continuing to grow and develop our business, and our people. We a...
Read More

Posted by James Gulliver
21st July 2020
It's the beginning of August, which can mean only one thing – it's time to announce the win...
Read More

Posted by Netmatters Ltd
7th August 2020