We've Been Featured in the Norfolk Developers Magazine

Posted by Netmatters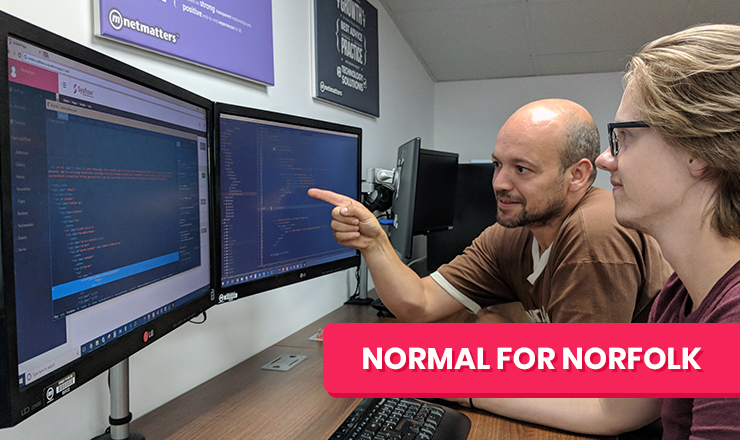 Normal For Norfolk - Scion Coalition Scheme
We are pleased to announce that an article highlighting our Scion Coalition Scheme (SCS) has been published in Norfolk Developers Magazine. We started the scheme in April 2017. Our goal from the outset was to discover people who may not have a wealth of experience or academic qualifications, but have the raw talent and drive it takes to succeed for a future in the tech industry.
You can read the full Norfolk Developers article here, and learn all about our work in building a vibrant, forward-thinking tech community in East Anglia.
The SCS programme is fully funded, meaning no expensive course or university fees for candidates. Each candidate will receive training and introductory development work from our in depth course, but also just as important become part of a 40 hour work week environment where their contribution is both needed and valued.
This helps candidates not only learn how to code but prepares them perfectly for their future career by gaining the vital experience of working in a real world developer environment alongside fully qualified experienced developers.
We originally trialled the scheme in-house, but soon saw other tech companies become interested in sponsorship opportunities. This helped momentously in expanding the scheme and giving more people a springboard into a new career. Since we began we have on-boarded 15 candidates, with those candidates graduating into Junior Developers at an 88% success rate.
Are you passionate about software development and looking for a new direction? The Scion Coalition Scheme will give you the practical experience it takes to succeed, on a strong foundation of support from fellow candidates and skilled senior developers.
Sound good to you? Now's your opportunity to get involved. Just take a minute to fill out the form below, telling us why you think you'd be an excellent candidate for the Scion Coalition Scheme. You can also call us on 01603 515007, if you'd prefer.
We look forward to hearing from you!