Shopify Explained: Why You Should be Building Your e-Commerce Site on Shopify in 2022

Posted by Netmatters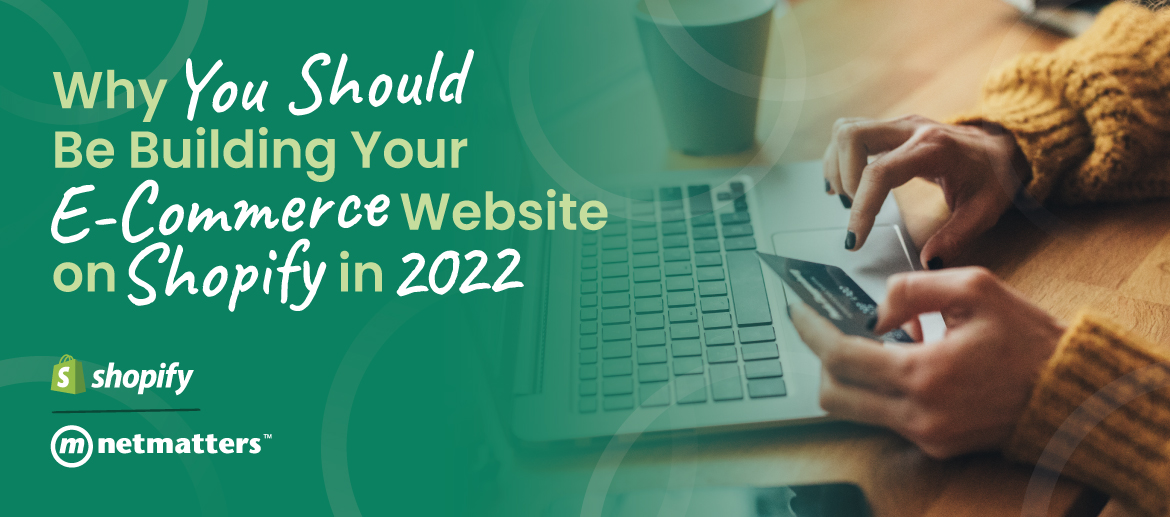 Shopify is an all-in-one eCommerce website-building and design platform that allows users to start, run and grow a business online. Working off of a monthly subscription, it currently powers over 1,700,000 businesses in more than 175 countries. Businesses of all sizes use Shopify, whether they are selling online, in retail stores, or on the go. Since its inception a decade ago, the businesses using Shopify have made over 200 billion dollars in sales, proving that Shopify is an incredibly successful eCommerce platform!

With its simple navigation and easy-to-use platform, Shopify offers an excellent opportunity to take your retail business online. By using one of a wide range of pre-defined themes and customisations you can make your website reflect your brand and look good.
"We believe the future of commerce has more voices, not fewer, so we're reducing the barriers to business ownership to make commerce better for everyone."- Shopify
We look at some of the benefits of using Shopify for your new eCommerce website:
Save on Development Time/Costs With Drag-And-Drop Functionality
Building websites typically requires a developer to custom code the style, formatting, design, and individual elements of the site which is a timely process. Alternatively, Shopify provides users with a range of pre-built custom elements and widgets that can be dragged and dropped to build all the pages on the site. Users also have to pick a top-level theme for their site which will dictate the design and styling of the widgets available.
This is a key USP for Shopify as you can build a fully customised e-commerce site without racking up significant development time building the code.
Your Inventory All in One Place
Shopify's inventory is always synced across all sales channels. When putting your products onto the site, you can allocate a SKU for each product and manage your entire inventory through Shopify whether on desktop or mobile. You can track stock counts and automatically stop selling products when inventory runs out.
SKU (Stock Keeping Unit) is used to identify and track inventory, or stock. A SKU is a unique code, usually seen on a barcode for example, that identify characteristics about each product, such as manufacturer, brand, style, colour, and size.
You can also easily organise the products you are selling on your website by category, type, season, and other variables. You can create collections for these different categories which can then be visible on the shop site. Products can also have multiple variations, such as size, colours, materials, and more, with each variation of a product can have its own price, weight, inventory, and SKU to make tracking inventory easy – both on and offline. This makes Shopify ideal for e-commerce businesses.

Manage Your Shipping Efficiently and Effectively
Shopify makes the process of calculating taxes and worldwide shipping costs as automatic and simple as possible. You are not limited to fixed rates. You can set up shipping rates based on these three tiers: pricing, weight, and location. Based on your location, Shopify will automatically handle major country tax rates.
Through additional plugins, you can also integrate your site with a number of delivery partners which will simplify shipping management significantly by allowing everything to be competed from within Shopify, removing the need to use your partner's site for order fulfilment.
Get Paid Quickly and Securely
There doesn't need to be anything to hold you back from accepting payments. From bitcoin & PayPal to iDEAL & Stripe, Shopify supports over 100+ external payment gateways as well as a range of different credit cards. You can choose to accept Visa, Mastercard, Discover, and American Express with only a low credit card rate and no hidden fees.
Shopify also ensures that your site always has a valid SSL certificate, an important benchmark for a site's security, and something website owners usually need to purchase/renew each year.
Website Performance Automatically Maintained
Shopify is consistently updating their web-building platforms, meaning that your site will continue to perform well for the duration of its life, opposed to custom-built sites that will require regular maintenance to ensure things such as strong load speeds.
Do Business On-the-Go
To make everything even easier for you, Shopify also has an app that you can use as part of managing your online store. You have complete access to orders, fulfilment, analytics, and more all from your Android or iOS device. Order management is made simple by being able to fulfill orders even when you are away. You will have access to all of your products, inventory, orders, and customers as they are automatically synchronised between the app and the online store. Because the storefront is synced across all devices linked to your business, you can also add products & product photos and change prices, or manage inventory on the go.

Do I Need Support for a Shopify Build?
Whilst Shopify might provide a convenient and cost-saving method for building and running an e-commerce site, there are still a number of key challenges that a business owner must consider before embarking on a Shopify project: - How do you ensure that your user journey is optimised for your target audience? - Is the design and layout of the site optimised for usability and readability? - Is the site optimised for different browsers and devices? - Does the site leverage the best possible creative content to maximise conversions? - Does the site utilise the optimal navigation system to direct users to their desired locations?
If you want to ensure that your e-commerce business has a successful and powerful online presence, these are all key questions to consider. Building and designing a website is not just about creating a design and then inputting your products, but about creating an enticing, powerful user experience to encourage purchases, and to keep users coming back.
Building a Shopify Site With Netmatters
Netmatters have dedicated Shopify specialists within our Digital Marketing Department to ensure that all website designs and builds are optimised for target audiences, and always designed with the user experience in mind. With a unique combination of experience in both web design and digital marketing, we have the necessary expertise to work with our clients to ensure that all Shopify builds are not just flashy designs, but are relevant to the target audience, and effective in driving conversions.
If you are interested in more information on how Netmatters can support your web development project, and the costs involved with a Shopify project, get in contact with one of our offices in Wymondham, Cambridge, or Great Yarmouth.