Simon Achieves the Long Service Award

Posted by James Gulliver

Congratulations, Simon Wright!
Netmatters would like to congratulate Senior Web Developer Simon Wright, on gaining the 'Long Service Award'!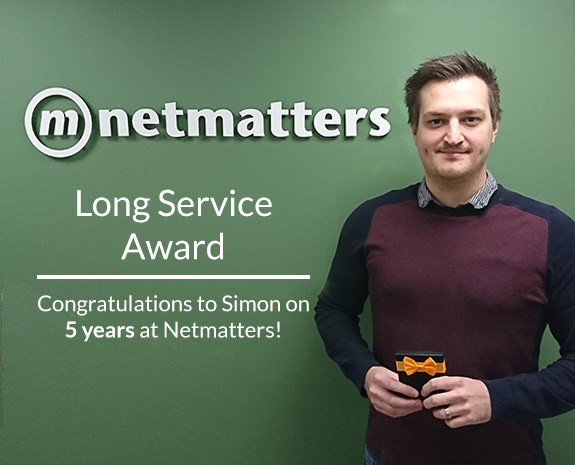 Simon's name will now be added to the ever growing list of employees which have worked for the company for 5 years and November 12th 2017 was the day that Simon achieved this milestone.
Simon is an outstanding member of the team with a wealth of experience and is ever ready to guide and assist fellow members of staff.
Simon joined Netmatters after a brief stint working in retail, fresh from completing his degree in Computer Information Systems at Lincoln University. Since then he's worked his way from Junior to Senior Developer, became team leader for our innovative Developer Training Team and - most recently - has taken on the responsibility of Squad Leader for a team of experienced developers.
Thank you Simon, for your 5 years' service, we are eager to see what you can achieve in the coming years here at Netmatters.
'The Long Service Award' is just one of the ways we ensure that all of our employees feel valued for their hard work and dedication.
Do you want to join a company that can provide you with a great career opportunity? Maybe you could attain the 'Long Service Award', in years to come...
Netmatters are always looking to hire bright and talented individuals, so if you'd like to have an informal chat - even if we're not advertising for your specific role - don't hesitate to send over your CV and cover letter. Find out if you'd be suitable for any current vacancies today!
You can contact us via the form below, or ring us on 01603 515007 today.