Securing a Role in The Tech Industry

Posted by Netmatters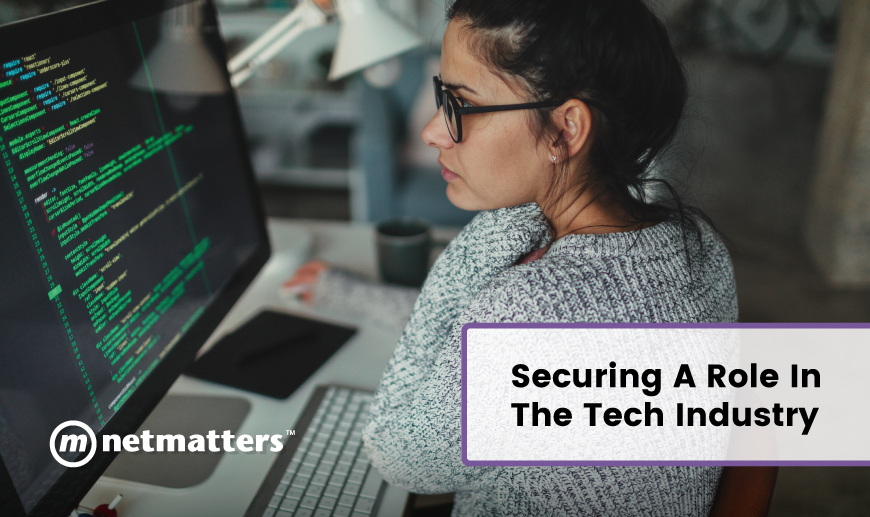 The tech industry is one of the fastest growing in East Anglia. Technology has an impact on every area of our lives and businesses are investing heavily in software to futureproof themselves. That means there is a constant need for excellent software developers all of the time.
For someone who has never had any training as a software developer though, there can be significant barriers to securing one of these roles. Knowing where to start, and what skills are needed to successfully embark on this career is one of them.
Experienced developers are snapped up, they are able to hit the ground running with minimal training – an attractive proposition for smaller businesses with limited budgets or time to get their products to market. However, as a tech enthusiast with a desire to break into this industry how do you do so? If you spend time gaining qualifications you lack the necessary "real-world" experience, and if you enter in a junior role you miss the chance to train for qualifications unless you try and study in your spare time – which becomes difficult if you are working full-time.
Like many regional tech companies, Netmatters had fallen into this same pattern and were struggling to recruit talent at the rate we needed it to grow. It became apparent that we needed to do something to change the way we recruited and trained – we shifted our thinking and the Scion Scheme was born.
"We asked ourselves how can we train developers ourselves without incurring a large burden on our current development resource and make it happen in a short space of time with a reliable output" says James Gulliver MD of Netmatters "we then worked this problem and devised a program that achieves exactly this - which has now developed into the Scion Coalition Scheme "
As well as focusing on the need to provide a structured approach to training – offering a basic understanding of the main programming languages and how to write code etc – we knew that there were other things we could offer to help ensure that our candidates were job ready when they finished their time with us.
Real-world work experience
One of the fundamentally important parts of the Scion Scheme is that trainees attend as if they are at work. We offer a full-time training opportunity; Scions work a 40-hour week with the same expectations as a salaried staff member.
The other, non-software based skills that our Scions gain during their time at Netmatters are what sets them apart, gives them an edge and helps them to prepare for their first job. As well as offering help and support perfecting their CVs, our training team will ensure all Scions are interview-ready. We host mock interviews with senior developers and the senior leadership team. These are mandatory – and realistic! Around half of our developers at the end of 2019 started life as Scions themselves, so there is always that opportunity.
Scions also learn the fundamentals of being a good employee. They work together as teams to deliver projects demonstrating their skills. They have to report their sickness and book holiday in the same way that all Netmatters staff do. Time-keeping, personal interactions and workload management are all assessed and worked on. The goal is always to have someone leave the scheme ready to walk into a job.
And it works! We have a 95% success rate of our Scion members getting a related role when they have completed the course. We've placed junior developers at businesses all over East Anglia and as already mentioned, bolstered our own work force in the process. The course is fully funded through various channels, and allows successful candidates to learn not only the relevant technological requirement but also how to operate in a commercial development environment.
Securing your own role in tech
If you are looking to secure a role in the tech industry, the Scion Scheme is a fantastic opportunity and you can find out more about it on our website. We look for candidates who display:
A "can-do" attitude – attitude is everything in life, and if you come at anything with the right approach you have an excellent chance of succeeding
An open mind – allow yourself to try what is asked, don't close yourself off to possibility
An interest in tech – we are particularly keen to hear from people who want to know more, curiosity is a wonderful thing, especially in the ever changing world of technology
In the growing tech industry, there are numerous routes to securing a role, we happen to believe that ours is a great one! If this sounds like the right opportunity for you please get in touch using the contact form below or call 01603 704020