SCS Graduates February 2022

Posted by Netmatters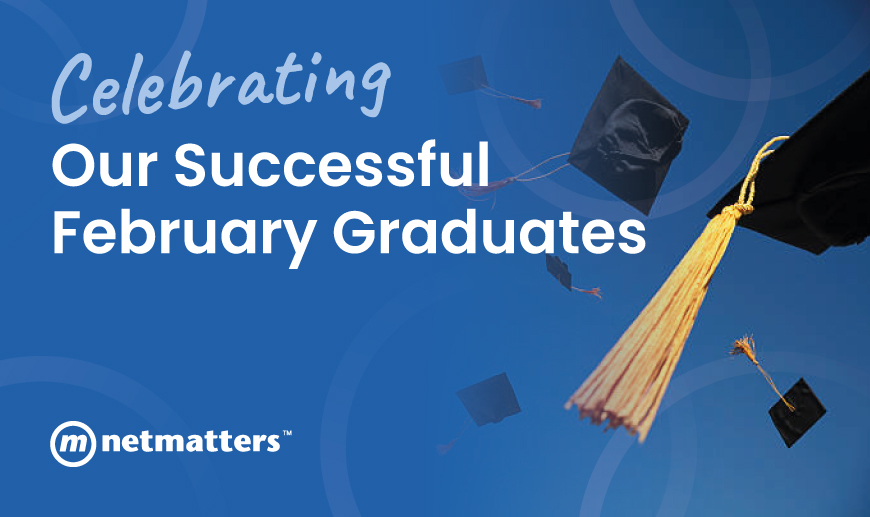 At Netmatters we found that there was a growing gap in the tech industry for talented individuals. We took this as a positive and looked to create opportunities for aspiring web developers, digital marketers, and IT technicians to develop their training and work towards career goals through our SCS scheme. The Scion Coalition Scheme is a quality professional development training program that we have continued to develop over the years. We aim to teach both important technical skills, as well as the skills needed to work well in a professional environment.
Once the course has been completed, the next step is finding new employment opportunities both with Netmatters or with other leading companies. With a big thanks to our sponsors, we partner with a number of varying companies in the East Anglian region such as Engage Health Systems Ltd, Tech East, Modality systems, and of course, Netmatters.
Each month we look to celebrate those who have completed their training with us, and throughout February many talented individuals have graduated from the Scion Scheme, and we wanted to congratulate each of our Scions in today's article.
Our Newest Graduates...
Joseph Whittle
After training with us for 14 months, Joseph has persevered with his training and landed an amazing new employment opportunity at My New Term. Congratulations Joseph!
---
Trafford Fewster
Trafford has been working with the team here at Netmatters for 10 months. Throughout the course, he has been nothing but hard-working, showing a consistently strong performance. Netmatters congratulates his new position at DestinationCore!
---
Wasim Arif
Only with us for two weeks Wasim has rocketed through the program, and with our guided support has got a position working with Cambridge Kinetics. Well done Wasim!
---
Peter Jardine
As part of the Scion course for over 11 months, Peter has been a wonderful trainee that has worked incredibly hard we are very happy to announce that he has landed a position at Insider Media. Congratulations Peter!
---
Samuel Tredgett
After 12 months of hard work here at Netmatters, Sam has gotten a very well-earned position at The Able Group. Congratulations Sam and all the best for the future!
---
Joe Wood
After months of hard work and training with us, we are glad to announce that Joe has decided to pursue a position with the team at Netmatters. We are happy to have you on board with us Joe!
Congratulations to you all, and we wish you the best of luck in your careers!
We are always looking for new Scions to join the team here at Netmatters. If you are looking for a new training opportunity to lead on to top-level careers in tech, then you can find out more about the scheme here. We offer hands-on training opportunities, in Digital Marketing, IT Tech, and Web Development. Training with us can lead to some fantastic opportunities with other leading companies or you may even land a job with us!
For all questions relating to the Scion Coalition Scheme, contact Netmatters today. Call us on 01603 704020 to speak to an expert member of the team. Alternatively, you can contact us on the form below.