Preparing Your Marketing For 2021 - Netmatters' 5 Top Tips To Help You Start The Year On The Right Foot

Posted by Netmatters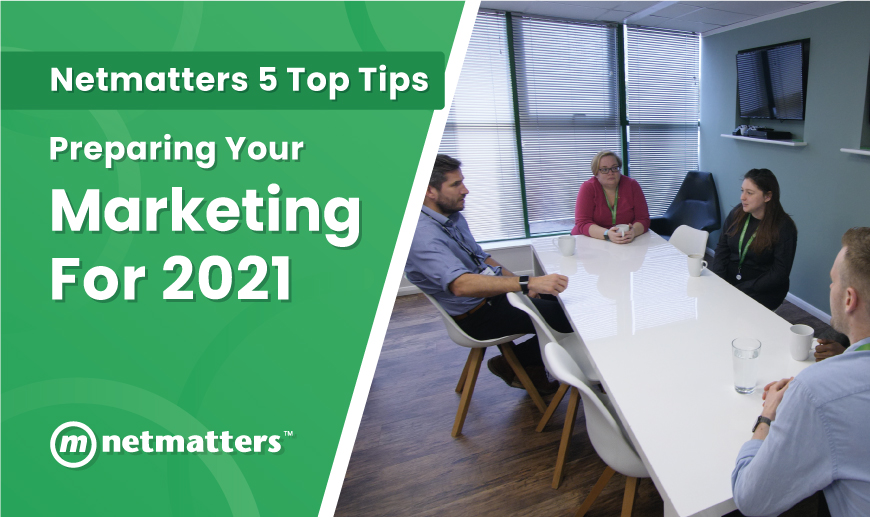 2020 ended up being one of the most disruptive years in recent history for businesses – but we also learned a lot! Here we look at the top 5 marketing learnings we are taking forward for 2021.
As the door opens on a brand new year, we are all desperate to put much of 2020 behind us. It would, however, be remiss of us as business owners if we didn't take a moment to appreciate what we have learned throughout 2020 and what we can do to ensure we do not lose the knowledge and benefits of that information.
Many of our usual business practices were disrupted last year, but disruptions don't all have to be bad. As business owners, we will have learned a lot about our resilience, our adaptability, and the strength of our marketing. We've taken a look back at the top 5 learnings we'll be taking forward into our marketing plans for 2021 and beyond.
1. Never underestimate the power of a good website
A business' online presence has become its shop window, now more than ever before. This is particularly prevalent in the retail sector. Everyone has had to get used to shopping online, carrying out their research on new products via websites and even house-hunting has moved to be almost completely virtual, at least in the research stages.
As a web development company, we've spent a lot of time in recent years talking about the importance of having an online presence. However, the closure of our high streets, restaurants, and hospitality venues in the early part of last year meant that this became more important than ever. Even the most traditional of businesses had to look to find a way of delivering their service virtually.
As well as looking good, there are a number of things you should make sure of when looking for a new website, or upgrading your current one:
Reliable – You need to make sure that your site is secure and robust: that there will be minimal outages and it can handle the traffic that you will be driving to it.
Editable – You will want to have access to an excellent CMS that will allow you to make changes as things happen. The last thing you want with a website is the need to get the content hard-coded every time something changes.
Visible – A well-optimised, visible website is important to help you get the most out of it. There is no point having a beautiful shop front if it is hidden away from the high street and no one can find it.
Designed with users in mind – You need to put your visitors at the front of your mind. How will they navigate the site? What are they looking for? How easy is it for a new visitor to your site to make contact or buy something?
There is so much more to a good website, but these are the first things we would look to improve for many businesses to ensure they get the best out of their web presence.
2. Only speak when you have something to say
It is easy to fall into the habit of writing and posting content purely for the sake of it, and whilst it is good to post online regularly, you should always aim to post high-quality, relevant content. If you are writing something simply because your content calendar says you need to put content out at 3pm on Thursday, then you are missing the point of content writing.
The adage of "Content is King" remains as true today as it ever has before, but it is vital for your business that you are seen to put out great content every time.
Your content should always be of the highest quality - People should want to read your content because they know they are going to learn something or be challenged by it – not skim over it because it doesn't really do anything for them.
Not a box-ticking exercise - Write content, and publish social media posts that will mean something to your audience. Don't be afraid to miss a day if you have nothing to say.
Cut through the noise - Thousands of pieces of content are pumped out across the internet every second. Anyone with a mobile phone can write, film and publish to the web with very little thought. It is imperative, therefore, that what you have to say to your audience can cut through the noise and make them pay attention to you
3. Marketing - take a long term, pragmatic view
It's often said that when things get tough, the marketing budget is one of the first things to be cut, and one of the last things to be reinstated. It's easy enough to see why. When money or time are tight then a quick win is to reduce spend on "extra" activity and marketing often falls into this category.
Naturally, if budgets are tight you will want to review your expenditure and make sure that it is being used as sensibly as possible. However, we strongly believe that, if at all possible, you should take a long-term view of your marketing spend.
Hold the course – If you can keep some normality to your marketing then you will be able to ride out future storms. An added benefit of this is that many of your competitors may well be thinking about cutting their budgets, so if you can keep going you will stay ahead of the curve too.
Think hard before stopping – If you stop all spend on advertising, how will you be able to guarantee the leads you will need in the next few months? In this article last year, we talked about the importance of having a strong, steady, predictable flow of leads into your business and how this can make your business stronger. It is likely that your steady flow of leads into the business will be based on your current level of spend. Whilst making short-term cuts now might help, in the long run, you are effectively going to be causing problems further down the line. Evaluate marketing channels over the longer-term - Instead of slashing budgets, we would suggest a review of your spending to ensure it is as efficient as possible. Look at what changes you can make before reducing your spend.
4. Measure everything important
The reason that you should be able to keep your marketing going is that digital marketing is infinitely measurable. Every action you take through digital marketing should give you measurable results.
If the outcome of an activity is important to you then you should be able to see the results somewhere. Ensure you have your data in place before undertaking or stopping, any marketing work.
Determine your objectives – Every decision should stem from the overarching business objectives. Once you know what you want to achieve then you can formulate your plans and your measurement.
Determine your key measurables – It is easy to get lost in data, you need to be choosy about the information you measure and report on.
Analyse all of your channels – Understand how your channels interact and complement each other as well as how they help you achieve your objectives. This will help you to make informed decisions on everything from budgets to which content works best where.
Understand your audience – It is vital that you know who your ideal customer is, and conversely who it isn't. We wrote about the importance of defining your ideal customer, and how to go about it here:
Don't change everything at once – In order to see exactly what results you get from any changes you make you need to make them slowly. Don't try and change too many things at once. Be methodical to ensure that you track each change and understand the impact before making further changes.
5. Make a plan, but don't be afraid to change it
Finally, if it has shown us nothing else, 2020 has proved that plans sometimes need to change! Your plans should never be so set in stone that making amendments in line with external (or even internal) factors is impossible.
Determine what you need from your marketing – Make your plan A, and ensure you have at least a plan B available too.
Set your budgets for the year – Knowing how much you have to spend in both financial and resource terms will allow you to layout the clear options that are open to you.
Set realistic, measurable targets – You need to understand what each marketing channel is going to bring you and make sure that you are working each channel to meet those targets.
Set a plan for creating content – We've talked already about the importance of creating great content and now is the time to think about when you are going to write this. Make a plan based on the needs of your customers and clients.
Measure and adapt – By regularly reviewing your data, you can make small incremental changes to your plan based on a true reflection of the situation rather than needing to make wholesale knee-jerk changes. You remain in control.
These were our big marketing learnings from 2020 – of course, there was much more besides!
If you want to make a change to your marketing in 2021, then we can help you. Contact us to arrange a call from one of our team to discuss your needs and how we might be able to help you reach your objectives.