High-quality leads are the life-blood of any business, are you investing enough to keep yours flowing?

Posted by James Gulliver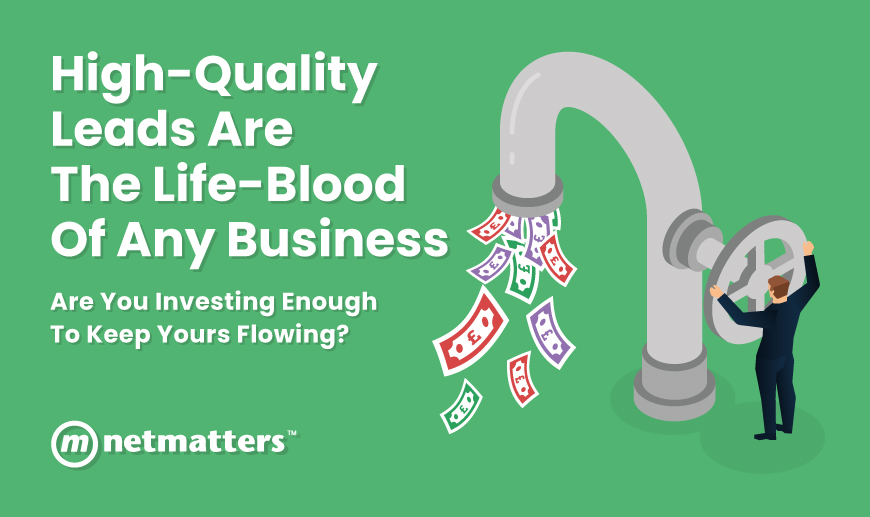 Having a good, regular supply of leads into your business can solve all kinds of problems that you might not have even considered. Having a consistent flow of leads coming into a business builds confidence and allows management to act accordingly. As a business you will be able to be confident in your pricing, you won't need to discount work in order to win it, so work carried out will be more profitable. There is no need to take on work that isn't a good fit for your brand.
Consistency allows your management team the time and space to make deliberate plans for the future. You can invest in both staff and new equipment to facilitate growth, safe in the knowledge that you know how many high-quality leads you are bringing into the business. Even in boom times business owners are wary to invest in growth because of the nagging concern that the flow of work could dry up and leave them stranded. The cyclical business model of feast and famine is etched into the business owners' memory, so there is always an element of caution.
So how do you secure consistent quality leads for your business? The answer is to embrace these four statements and make a plan:
My expectation of the budget I have set for lead generation proportionate to turnover is too low.
My expectation on what I should pay for a lead is based on the wrong paradigm
I cannot achieve a consistent amount of quality leads overnight
There will be some effort required from all concerned
Making changes to the way that you have always done business is hard. It is time-consuming and costly – but what is it worth to a business to be able to address the points discussed in the opening paragraph?
Being able to select only the type of work you really want, at the price you want to charge from the customers you want to work with must be worth investing in.
In fact, if you can get yourself to this utopian position you can afford to spend more on the leads you need, because they will be more profitable in the long run. The advice around how much you should be spending on your marketing can fluctuate massively, but a figure around 5% of turnover is a good starting point. That's a bitter pill to swallow that would have all finance directors not used to these kind of costs feeling very uncomfortable. If you've found yourself thinking "that is half our profit margin" or "that cost comes straight off the bottom line" then keep reading, because the costs of marketing can't be looked at in isolation.
In order to get to that point of as consistent level of quality leads, you need to make an investment. Time and money need to be spent in understanding what that lead looks like, and then you must be prepared to pay a reasonable cost to secure that lead. A lead comes before a secured Purchase Order and that in turn comes before an invoice so it will always be an upfront investment.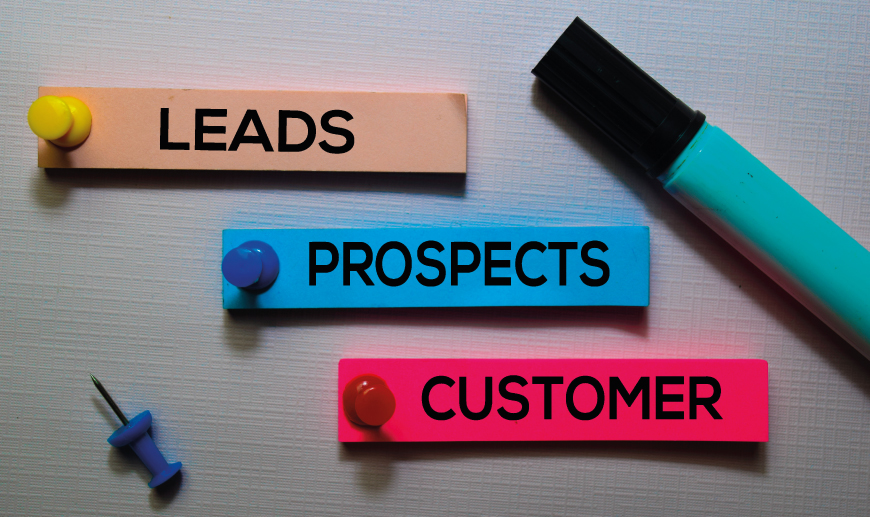 The second point is the cost per lead. It is a given that you are mostly not operating in a vacuum so the cost of a lead is basically the maximum you and your competitors are willing to pay to get it. You also need to think about more than just the initial purchase that your potential customer is likely to make. You should be factoring in the full lifetime value of that lead, not just the profit on this single transaction. You need to ask yourself how much business they will refer, how much repeat business they will bring and what cross-selling and upselling opportunities there are. Factor all of this in and you can start to understand why a percentage of turnover is a better measure than profit on that one transaction.
By keeping a track of your cost per lead you can maximise the effectiveness of your lead generation, but again, this is not something to be looked at in isolation.
The third and fourth point go hand in hand really. A consistent supply of quality leads does not happen overnight. You may embark on some marketing and have some early success but you are looking for consistency. The process to achieve this requires patience, effort and investment. You are aiming to solicit a base level of leads a month, so you have to iron out the vagaries of single channel marketing.
Everyone has heard the term "marketing mix" which translates to multichannel marketing. Marketing using any one mechanism is subject to variances in performance on a monthly basis. If you market through enough channels at a decent level you can effectively reduce the collective variances and deliver consistency.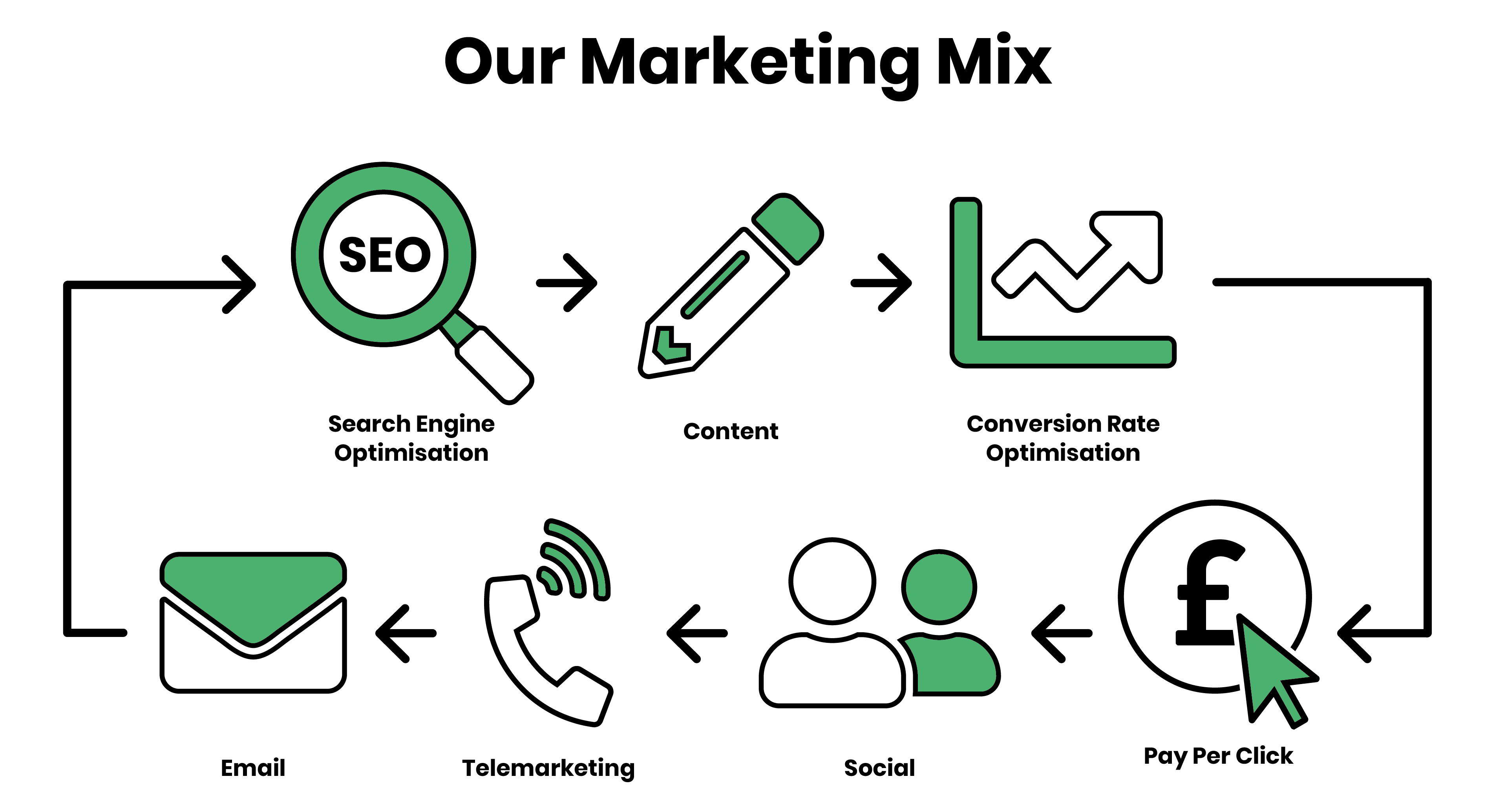 Strategic Digital marketing offers you this opportunity with some very clear benefits. Firstly, its easy to embark upon as the barrier to entry is minimal and the results are relatively quick to see and secondly it is very easy to analyse the effectiveness of each channel and individual initiatives. By creating a planned and well-funded blend of marketing across Pay Per Click (PPC), Search Engine Optimisation (SEO), Social Media Marketing, (SMM), Telemarketing and thought leadership content generation you will be able to secure that flow of consistent leads. It won't be instantaneous and will take a good few months to get right. But by constantly evaluating performance and making adjustments, the blend can be refined to deliver the desired results.
Once you have removed the impact of seasonality and external factors, at least to a point, and you have built the ideal marketing mix for your brand, you have a collection of levers that you can pull to dial up or dial down the leads as your resource demands. You, as a business owner are able to take back control of your own destiny and can make real, long-term plans, and drive significant, sustained growth.
This process does require input from you as well, and patience, but the results are readily achievable and can be demonstrated through case studies of the experience of our clients.
If you have an interest in learning more about how we would approach marketing for your business then we would be happy to entertain a no strings discussion. Contact us by filling in the form below or calling our team on 01603 515007.