Posted by Netmatters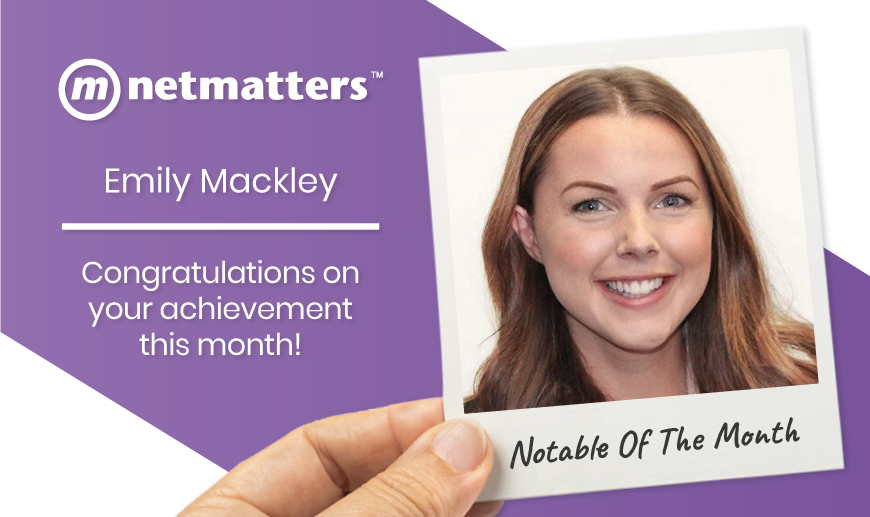 Every month we celebrate the most notable of employees here at Netmatters. Each department head is asked to nominate the individuals that they feel have gone above and beyond in the previous month. We have continued to see some fantastic examples of notable worthy behavior again this month with staff doing their utmost to continue to deliver at every turn.
We saw some fantastic work in October and particularly from our most notable of employees who have had an amazing 2021 so far.
Emily Mackley
Emily delivers consistently quality projects, thinks about things strategically, ensuring the client is always prioritised. In addition to this has recently had to manage a fairly key changeover and pod restructure, and has done so superbly, picking up new client works with no disruption and getting really good feedback in the process. – Elliott Peacock
Emily Mackley – Working hard and consistently to deliver for clients. Well done Emily! – James Gulliver
Congratulations on your achievement Emily!
This month's other notable employees are:
Luke Youngman - Luke has been doing a great job on the projects he is currently working on for me, he's had a fantastic attitude towards taking on anything new I've been putting his way and has also had some great ideas that have helped the wider team on the project. – Tom Lancaster
Rebecca Wyatt - Rebecca has done a great job on the first project I've worked together with her on, she's been really clear in the way she has communicated updates on tasks to me and has made some good suggestions about amendments to a design to make it more user friendly. – Tom Lancaster
Jaz Brewer - Jaz has recently joined the team and is really hitting the ground running, she's been very quick to get up to speed on the way we work and is really settling in with the team. – Tom Lancaster
Drew Halls – Handling everything thrown at him regarding hosting and owning it, taking a proactive approach, and being a safe pair of hands. – Simon Wright
Jordan McDowall – Continuing to own handle an ever-growing list of websites for a large retainer, managing cross Squad communications and updates to the team to help manage the load. – Simon Wright
Chris Waldie - Chris has been going above and beyond with his new role as Technical Manager and assisting in issues with our backup suppliers. I'm looking forward to seeing what he'll bring to the role! – Adam Greer
Drew Halls - It's been a difficult month in regards to hosting, but Drew has leaned into each issue and handled them excellently. The whole hosting team has done a great job, and with Drew pushing the platform forward we should have a stable year ahead. – Adam Greer
Chris Gulliver - For being a legend! - Chris Gulliver
Gary Cullen - Every interaction I have had with Gary has been professional and a positive experience, genuinely a nice guy and a great person to have represented the company to our clients. - Chris Gulliver
Amanda Sharp - Good team player, is exceeding in her role with stock and project logistics and expanding her knowledge and skills into wider technical work. Amanda consistently raises issues with procedures and is showing she is fully on board with our in-built process of constant improvement. Amanda joined us via the scion scheme and has transitioned over to the IT department to become a much liked and integral part of the IT team. Brilliant stuff Amanda. - Chris Gulliver
Lisa Pollard - I really like Lisa and her can-do attitude, it feels as if she has been part of the company for many years whereas it's only a few months. She is well-liked by all who come into contact with her and is a solid team member that is happy to help with anything that is asked of her. Well done Lisa :) - Chris Gulliver
Jasmin Rusted – Since joining Netmatters Jasmin has provided invaluable support to the wider digital team and provided the excellence needed to each client account where possible. – Lydia Whitney
Gary Cullen – Doing a fantastic job achieving targets across both his Digital and Web responsibility, starting to manage bigger opportunities and showcasing a real desire and can-do attitude. – Elliott Peacock
Dominic Slater – Receiving glowing feedback and praise in a client meeting – clients expressed how much they enjoy working with him, the quality of his work, and how they really wish to retain him on the project. – Elliott Peacock
Michael Grimshaw – I was really impressed with the manner in which he assisted in a recent new business meeting. He added considerable expertise and value and was a real asset to have involved. The solution he created has been well received and I am hopeful that we can secure a great new client, off the back of his work. Top effort! – Elliott Peacock
Matt Wastell – Working hard to grow the Cambridge office, has some really good opportunities which he has nurtured hopefully coming to fruition. Getting out to lots of events to give excellent exposure to the business. Setting standards and proactively looking for improvements and learnings. – Elliott Peacock
Lewis Wilby – Instrumental in helping progress a key client project. His grasp and understanding of any client's requirements always really impresses me, he's able to use this and his considerable experience to clearly demonstrate and purvey our approach, ensuring the customer always has confidence in what we're doing. A pleasure to work with! – Elliott Peacock
Kayleigh Hall – For being an all-around good egg and being nominated for the Inspiration Award at the DevelopHer Awards. – James Gulliver
Aaron Cook – Doing a great job in the Telecoms work and getting great feedback from clients. - Robert George
Andrew Murphy – Being really diligent in the work he is doing providing detailed notes on tasks with great customer service. - Robert George.
Jordan Newton / Sean Fulcher / Chris Waldie / Dieter Harper / Gabriel Hamilton / Jake Seaman / Cory Rogers / Richard Phillips - All for offering to help assist with office relocations for clients that have occurred out of hours helping a smooth relocation for our clients. - Robert George
We would like to show our appreciation to all nominees of this month's Notables award! A huge congratulations to all of those nominated for October, keep up the brilliant standard of work! The Notable Employee Scheme is just one of a range of benefits here at Netmatters, available to all employees.
If you would like to be a part of our fantastic team and be in the running for some extra treats each month, view our open job vacancies today; We're always on the lookout for intelligent, motivated individuals to join our ever-increasing team! You can always contact us via the form below, or ring us on 01603 704020 today.