Posted by Netmatters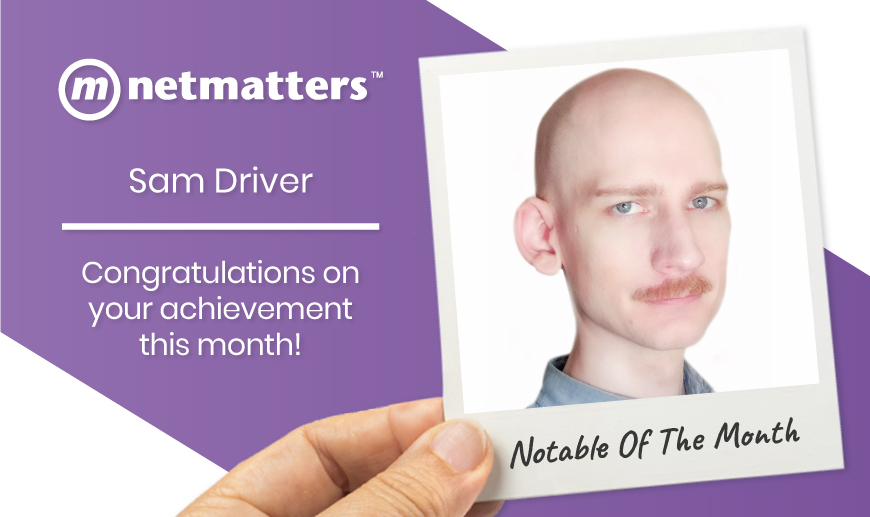 November saw some fantastic work from the Netmatters team, and we are always proud to share our thoughts on the most notable team members every month. Every department recognises those who have gone above and beyond to deliver excellence within their work and helping Netmatters deliver the best services for our clients. Join us in celebrating another fantastic month of top-tier teamwork, all with our T.R.U.E values in mind.
We've seen some fantastic feedback from each department head throughout the entirety of 2021, see our November notables below.
Sam Driver
Conscientious, helpful, his skillset growing incredibly quickly. Sam has been integral to progressing several projects in the short time he's been with us. Really great work! – Simon Wright
Sam Driver - He is doing a great job working on the ConnectWise integration project, we are switching to a new system for device monitoring and ASH self-healing, Sam is completing the dev work on the new API. We are making good progress, Sam is clear and concise in the way he communicates either verbally or in written format. This is a large project for Netmatters, there is a lot of hooks into the NM DB and so needs to be well managed and methodically approached. We are also running a transition period between the 2 systems so it not only needs to work on the new platform but the existing API needs to remain live during the transition period where we will have some clients on one system and the rest on the other. Well done Sam great work, you are the man for the Job! – Chris Gulliver
Sam Driver & Matthew Chapman - Both doing an excellent job with their work in migrating our monitoring platform from Solarwinds to ConnectWise. Both just get on with the job in hand, provide detailed updates and solutions to any challenges that are presented to them. Really impressed – Robert George
Congratulations on your achievement this month Sam!
This month's other notable employees are:
Rob Edmunds - Has been very helpful so far while working on the SAP Product CMS works. He's helping and collaborating with the team and communicating anything relevant with the team as required. He's picked up the Natures codebase quickly and is doing great work on it! – Simon Wright
---
Sebastian Galoch – Is starting to really find his stride in the team, helping out others and generally being a great team player – not to mention making the long trip down just to attend the Web Christmas meal! – Simon Wright
---
Dylan Stevenson - Has settled in brilliantly and has been getting on really well with everything that's been thrown at him so far! – Simon Wright
---
Matthew Wastell – Doing an excellent job of developing our foothold in Cambridge. Working hard and overcoming problems with good grace and a "can do" attitude. Well done Matt. – James Gulliver
---
Lisa Pollard – A very positive person who brightens people's days and gets stuff done effectively with little fuss. A pleasure to work with and a true team player. – James Gulliver
---
Jim Palmer – For achieving a record month in Digital – Elliott Peacock
---
Lydia Whitney – For delivering a record month in Digital – Elliott Peacock
---
Chris Gulliver – Delivering the ISO9001 project and certification with incredible speed and effectiveness – Elliott Peacock
---
Chris Waldie – Receiving glowing customer feedback having delivered a key office move project – Elliott Peacock
---
Matthew Chapman - Is notable every month! But I am nominating him today based on the work he has completed on the ConnectWise Project, he has a great approach to anything technical- breaks it down and works through the complexities. We have made massive progress on this project and are already seeing additional areas which the new solution can be expanded into. Great work Matt, really excited to see this implementation go live and eager to see the additional benefits this will bring to our client base. – Chris Gulliver
---
Ho Kyung Hoebeke - Really started hitting his stride since joining us providing excellent customer service and technical resolutions. This has been reflected in the feedback he has been having from clients across the board. – Robert George
---
Sophie Maxam - Doing really well in managing her projects and workload in a methodical manner. Anything I pass across to her to action just gets done. Nice work! – Robert George
---
Luke Youngman, Jordan McDowall, and Rob Edmonds - All of them have been absolutely stellar in the work they're doing for me on our Pure project, they're smashing their individual tasks and have all at one point or another in the last few months stayed late and helped me out of some situations with some challenging deadlines or quick turnarounds needed on amendments. Really grateful to be working with such a strong team on this project, keep up the good work! – Tom Lancaster
---
Matt Hurst - Really stepping up to assist the bus dev team. Been instrumental in helping to secure new business. – Robert George
We would like to show our appreciation to all the nominees of this month's Notables award! A huge congratulations to all of those nominated for November, keep up the brilliant standard of work! The Notable Employee Scheme is just one of a range of benefits here at Netmatters, available to all employees.
If you would like to be a part of our fantastic team and be in the running for some extra treats each month, view our open job vacancies today; We're always on the lookout for intelligent, motivated individuals to join our ever-increasing team! You can always contact us via the form below, or ring us on 01603 704020 today.