Netmatters: Norfolk Business Awards 2020 Finalists

Posted by Netmatters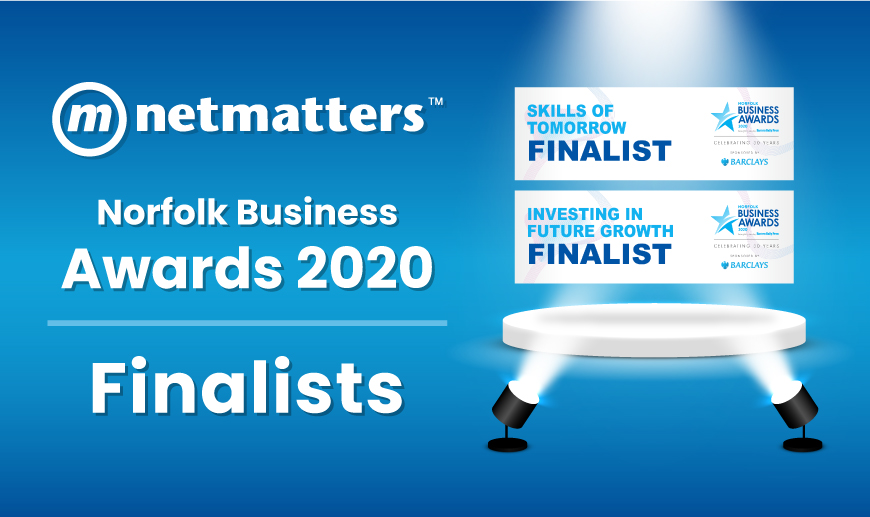 Announced today, 11th November 2020, Netmatters have made it as finalists in both the Skills of Tomorrow and Investing in Future Growth categories at the prestigious Norfolk Business Awards!
The 2020 Norfolk Business Awards mark 30 years of celebrating the best and brightest businesses in Norfolk, over the years these awards have become a huge highlight in the business calendar. Despite the challenges faced by everyone this year, some amazing stories of resilience, innovation and hard work have been shared within our region. So, whilst the awards ceremony itself will look a little different this year, the awards are still going ahead – and we are thrilled to announce that we have been shortlisted for not one, but two awards!
Skills of Tomorrow
The first category that we have been shortlisted in is the Skills of Tomorrow.
The award this year is sponsored by Norwich Research Park and celebrates organisations that are doing what they can to equip the next generation with the right skills and attitudes to the meet the challenges of tomorrow. We were lucky enough to win this category in 2018 – and we felt that our Scion Scheme deserved another mention this year!
Our Scion Scheme is designed to do exactly what this award celebrates – help give people both the technical expertise and some of the interpersonal skills they need to secure a role in the growing tech industry. What started as a way of helping to fill a recruitment gap internally has grown to see us support multiple graduates towards finding a role in tech companies across the county and further afield. This year also saw us roll out the scheme to Suffolk alongside moving from 100% classroom-based learning to being 100% remote.
We are so proud of everything that the Scion Scheme stands for, and the team internally that work tirelessly to support our Scions to achieve their dreams. To reach the list of finalists again for this category is a testament to their hard work and commitment.

Investing in Future Growth
The second category that we have made as a finalist in this year is Investing in Future Growth.
Sponsored by Lovell, this award is designed to celebrate those businesses that are making investments for the future, whether that is in people or technology – we think that we do both.
Our people are our biggest asset and part of our plan for growth. We take pride in investing in their future as much as that of the business, whether financially through training, team building and technology or by supporting them through mentoring and mental health coaching should they need it.
Additionally, we are regularly making changes to our AI, Sofia, to help free up our people's time from repetitive tasks. By doing this we improve efficiency, but also allow our team to focus on the more fulfilling work on a day-to-day basis.
Again, this award nomination is testament to the work carried out by the team to ensure our people are fulfilled, and fulfilling their potential – as they grow, so do we.

We are so proud to have made the finalists in both of these categories, there are some amazing businesses in Norfolk and to see our name alongside theirs is a fantastic achievement. James Gulliver, our managing director says:
"It is rare as a business owner to take a beat and look back at what you have achieved, we're usually so busy looking forward and planning the next step. Undertaking the application process for the Norfolk Business Awards was a fantastic opportunity to remind ourselves of how much our business has grown and changed over the last 12 years, and a chance to thank our people for their hard work in helping us to get where we are today".
We have everything crossed that we come away with some more silverware for the cabinet, but we'll still be celebrating our team, whatever the outcome!
To work with us on anything tech related, call us on 01603 515007 or send us an enquiry using the form below.