Posted by Netmatters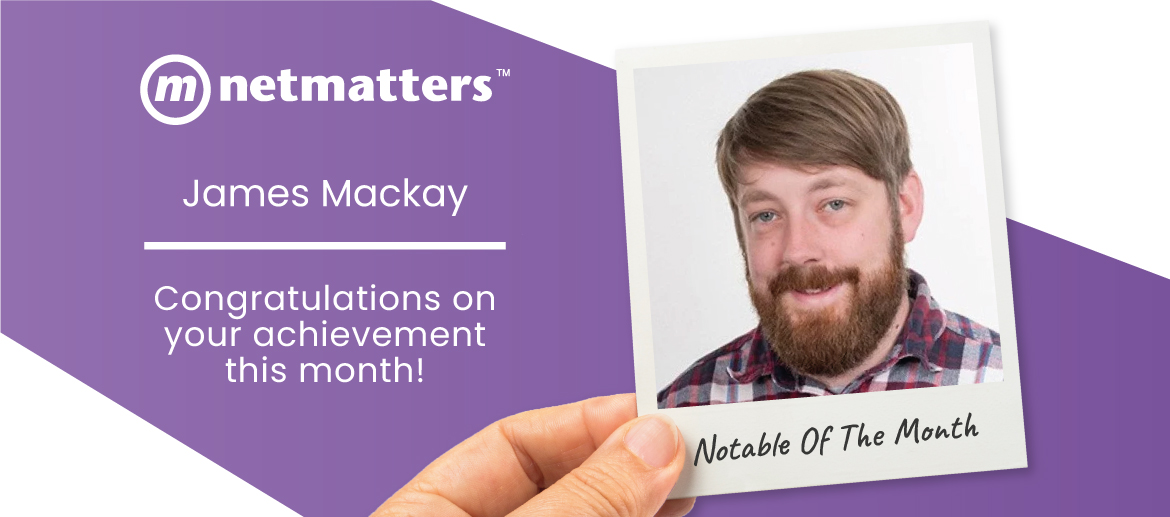 Each month, various departments recognise those employees who have excelled in their work and helped Netmatters deliver an excellent service to our clients. Our T.R.U.E values are how we started as a company, and we continue to strive to uphold these values as we grow. September was another busy month for Netmatters, with some great contributions from team members along the way.
Our teams have continued to meet and exceed our expectations, driving results both internally and externally. As a company, we love to celebrate each success to ensure that every employee gets the recognition they deserve.
Congratulations James Mackay
For anyone who didn't know, James is digital's SEO technical consultant, someone we reach out to when we need a 2nd opinion or someone with years of technical experience to give us a steer or advice on work we're doing. James is often the unsung hero but he's really helped me and my department in recent months on various pieces, including the GA4 rollout for clients. He's also building some new exciting development within the admin to manage keywords that are location specific, a change I can't wait to see live. Thanks for your help! - Jim Palmer
Getting stuff done and being a solid technical escalation point for the Digital team. – James Gulliver
Our September 2022 Notables
Veronika Simonova - Veronika is doing exceptionally well at the moment. We have had some fantastic feedback both internally and from customers on how well she is managing accounts. In particular, Carolyn from Searles Leisure have left us a glowing review on Google and Trustpilot, and wouldn't let their review meeting start until she had thanks Veronika for the great work she is doing on their account. Veronika has also done a great job in improving our social media management process. Until this year, if we took on a social media client there was a high chance they wouldn't have stayed on board for very long. Now this is very different, we have social media clients who have been with us for a while and have expanded the services they have with us. Great work Veronika, keep it up. – Jim Palmer

---
Jake Tuley - Although Jake isn't within the account management team, he does account management exceptionally well and it's great to hear him on the phone to clients. Two of Jake's account have increased their retainers this month which is due to their trust in Jake and the digital team to meet their expectations and delivery on their objectives and results. Jake is also doing a great job as squad leader and is helping me develop the department and improve our PPC offering through his product specialist role. – Jim Palmer
---
Sean Spallen - Owning his project work and understanding what the customers are trying to achieve. Performed incredibly well in recent demo of a customer project, giving an excellent overview and clarity on progress. – Simon Wright
---
Rebecca Wyatt - Attention to detail and stepping up to help other team members when they need it. – Simon Wright

---
Mark Reilly – Delivering the results and responding to feedback well. Not shying away from challenging situations and accepting responsibility. – James Gulliver
---
Joe Trower – Working very hard to deliver the results and not getting disheartened by challenging times. Always a force of positivity within the department. – James Gulliver

---
Oliver Thompson – Very impressed with Oliver's ability to get initiatives completed efficiently whilst keeping a firm eye on the top-level objectives. – James Gulliver
---
Rebecca Moore – Becky has been a star the past few months taking on lots of roles and tasks throughout the company. She has provided an invaluable resource to James and Courtney covering Annual Leave within their department. This week, Becky joined the HR department though on a permanent basis and is already shining. Netmatters TRUE values are at the core of Becky's work ethic, and she is willing to get stuck into anything. I am excited to have her on board and watch her HR journey grow! – Bethany Shakespeare
---
Luke Keable – Providing support to the Operations team on a number of different projects over the past few weeks, Luke is always willing to help despite having his own busy workload. – James Street
---
Aaron Cook – Aaron is genuinely one of the nicest people you will meet. He always makes a point of saying hello when you see him around the office and will always ask if he can lend a hand in anyway. A great asset to the company. – James Street

---
Elliot Norman – managing a very high work load with a positive can do attitude, stepping up and taking on more responsibilities. Has helped architect the GA4 project was is generating some good revenue. – Elliott Peacock

---
Gary Cullen – his work ethic and attitude is second to none, puts a shift in every day. Is taking on feedback well and delivery a solid autonomous performance consistently. Is doing a great job rolling out the GA4 project. – Elliott Peacock
---
Sam Driver – was fortunate to attend a client meeting with Sam recently, the client was absolutely full of praise for the work he does and the keen understanding for their business he has. He is able to take on their problems and convert them into viable solutions – great to see and hear first hand, keep up the good work. – Elliott Peacock

---
Liam Spence - confidence is growing in the role he often handles some tricky situations/people very well. He is always willing to help, and always takes on feedback well. – Robert George

---
Amanda Sharp – Provided some really detailed information to our Bus Dev team for a 3CX opportunity which the team are already working on. – Robert George

---
Sophie Maxam – True advocate of process and is doing a great job in managing numerous projects which have their own logistical challenges. – Robert George

---
Aaron Holdsworth – Settled in well and already getting to grips with the client base in his new POD. – Robert George

---
A huge congratulations to all of those nominated for our September notables - keep up the brilliant standard of work! The Notable Employee Scheme is just one of a range of benefits here at Netmatters, available to all employees.

If you would like to be a part of our fantastic team and be in the running for some extra treats each month, view our open job vacancies today. We're currently on the lookout for intelligent, motivated individuals to join our ever-growing team!
You can always contact us via the form below, or ring us on 01603 704020 today.