Netmatters Finalist for 3 Awards at the South Norfolk Business Awards

Posted by Netmatters

We are excited to announce that we are finalists for no less than 3 awards at the 2019 South Norfolk Business Awards! The categories we've been recognised for are Business in the Community, Business Growth, and Excellence in Digital Creative and ICT.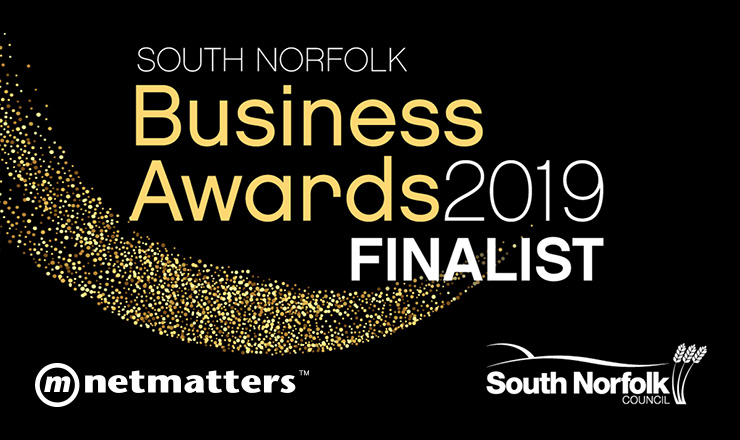 To be nominated for a category, businesses have to tick certain boxes. Business in the Community describes the nominees as 'real team players' and focuses on businesses that make a significant contribution to the South Norfolk community, ensure sustainability in the work place, and advocate staff development. The Business Growth Award is all about those that are demonstrating strong, measurable growth and have a plan in place to continue this way - there are many elements for judges to consider here, for example growth in premises and measurable increase in customer base and market share.
There are a plethora of digital creative companies in South Norfolk, so it is particularly rewarding to be nominated for Excellence in Digital Creative and ICT. This award requires the business to showcase the use of innovative technology, improvements in day to day operations for the company and its clients with a digital approach, and effectively applying technology to solving business issues among other specifications.

In order to be recognised for these categories we have to be established as true market leaders in our field. As a company we consistently champion the importance of our 'TRUE' values: Teamwork, Responsibility, Unity, Experience. Using this ethos, the business as a unit can internally empower the community and nurture and develop our successful Scion Coalition Scheme. The scheme gives aspiring software developers a platform to release their potential and therefore pursue a rewarding career. Hence our submission to the Business in the Community Award.
We are equally proud of our year-on-year growth - a testament to our dedication to results for our clients, and our desire for improvement. Particularly this year, our growth has been impressive in terms of employees, premises, and turnover, which is why we have applied for the Business Growth category. Our peak in performance backs up our reasoning for our application to the Excellence in Digital Creative and ICT award. Our top priority is always the client and we use our digital expertise to ensure we are working towards their goals as efficiently as possible. We do this using an internal admin system (which is overseen by an AI system) allowing us to organise projects for each client and ensuring complete accessibility of information and resources within the company. We also create workflow solutions tailored to the client dependant on their individual needs.
The South Norfolk Business Awards champions outstanding businesses in the area and it's an honour to be a finalist for 1 category, let alone 3! We are thoroughly looking forward to the awards ceremony in February.
We aim to combine exceptional personal service with technology and transparency, to create lasting relationships and deliver beyond expectations - contact us via the form below or give us a call today on 01603 515007, to speak to one of our expert team. You can also find out more about the Scion Coalition Scheme on our website.