Posted by Netmatters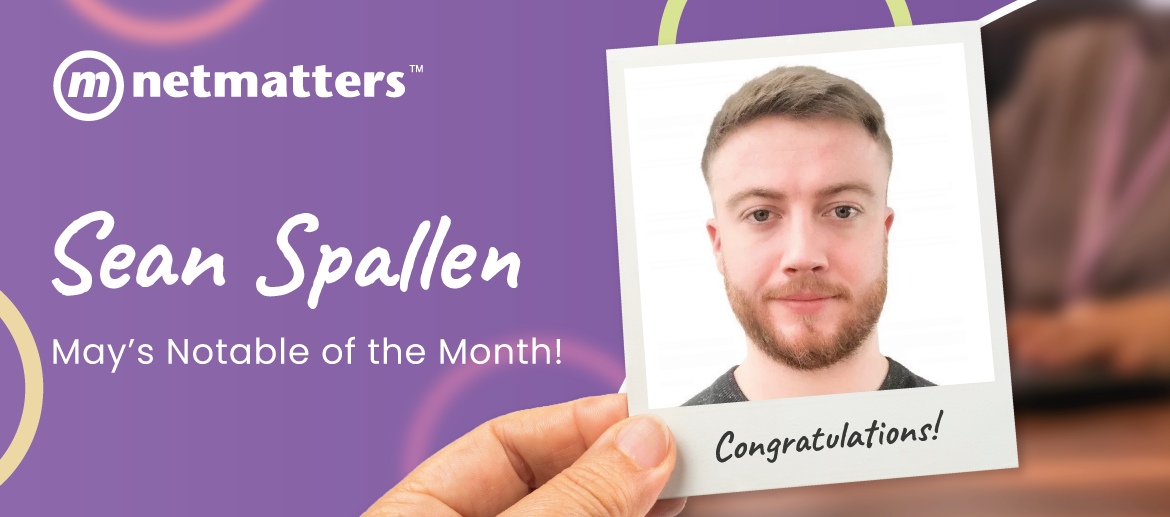 Each month, various departments recognise those employees who have excelled in their work and helped Netmatters deliver excellent service to our clients. Our T.R.U.E values are how we started as a company, and we continue to strive to uphold these as we grow. May was another busy month for Netmatters, with some fantastic contributions from each of our team members along the way.
Each department has continued to meet and exceed our expectations, driving results both internally and externally. As a company, we love to celebrate each success to ensure that every employee gets the recognition they deserve.
Congratulations Sean Spallen
Sean Spallen – Sean has done a fantastic job leading a sizeable project and making it a success from start to finish. Sean is showing excellent promise and I'm keen to see what he makes of the next system! – Adam Greer
Sean Spallen - Sean has done a fantastic job over the past few months, taking over as tech lead for a sizeable project. His work has been of an excellent standard, and he has gone above and beyond in communicating with the client to ensure their needs have been met as we approach the go live. During the final sprint, Sean's focus and dedication have been instrumental in delivering the project within a demanding deadline. Great work. – Simon Wright
Our May 2023 Notables
---
Matt Chapman – Great work getting Netmatters on Microsoft Intune, which should allow for much quicker laptop setups going forward. – James Street
---
Josh Kimble & Ho Kyung Hoebeke – Some more nights out on the road, doing a great job on the Hales site audits. – James Street

---
Alex Jones – Does an exemplary job in managing service delivery of the Telecoms department. Alex is always positive, hardworking and approaches things from a commercial viewpoint. Good team manager who provides a high level of customer service but knows when to be firm with clients. Well done, Alex, excellent work! – Chris Gulliver

---
Kieran Sprouse - Kieran is always positive around the office, he always goes above and beyond for his customers and is always a pleasure to deal with. He has also been completing some cross-over works with telecoms recently and his attention to detail is next to none, Great work Kieran and keep it up. – Alex Jones

---
Kayleigh Hall – Working incredibly hard to juggle a varying and often complex workload, assisting in managing the Scions and continuing to produce great work for her teams' customers. – Simon Wright

---
Drew Halls – Always keen to share feedback and make sure we stay on the right track – Drew consistently catches dropping plates before they smash – throwing his hat in the ring to solve problems and ensure we stick by our true values. – Simon Wright

---
Sam Driver – Always gives an exceptional performance, turning his hand at anything thrown his way – Sam is patient, kind and helpful to anyone that asks, a real asset to the team. – Simon Wright

---
James Mackay – providing invaluable support in his systems architect role, clearly sharing technical knowledge to assist in the production of a complex specification. – Simon Wright

---
Tessa Dempsey – doing a fantastic job with shaping up our marketing and dealing with our PRTA submission. – James Gulliver

---
A huge congratulations to all of those nominated for our May notables - keep up the brilliant standard of work! The Notable Employee Scheme is just one of a range of benefits here at Netmatters, available to all employees.

If you would like to be a part of our fantastic team and be in the running for some extra treats each month, view our open job vacancies today. We are currently on the lookout for intelligent, motivated individuals to join our ever-growing team!
You can always contact us via the form below, or ring us on 01603 704020 today.