Posted by Netmatters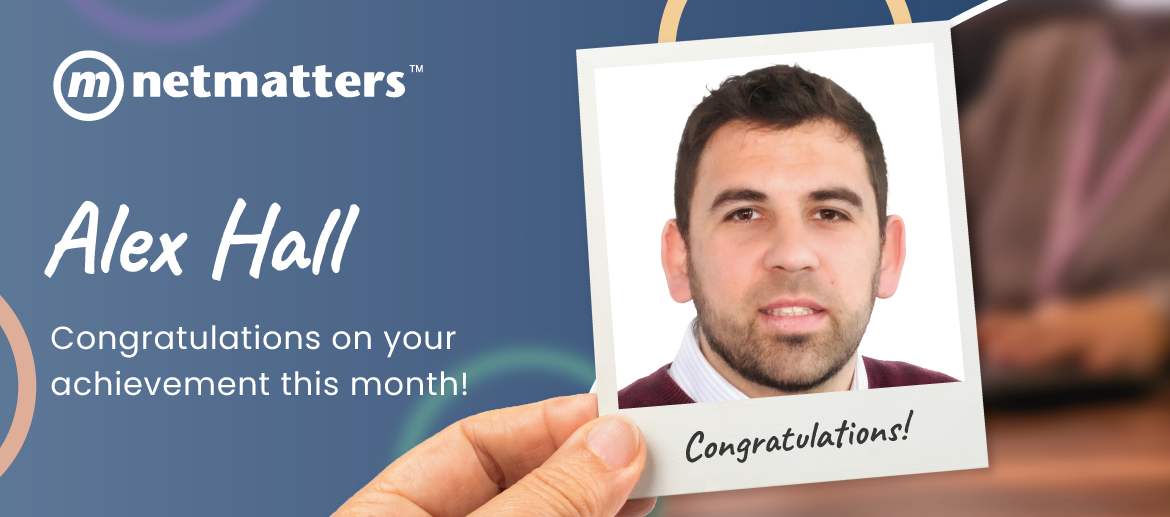 Each month, various departments recognise those employees who have excelled in their work and helped Netmatters deliver excellent service to our clients. Our T.R.U.E values are how we started as a company, and we continue to strive to uphold these as we grow. March was another busy month for Netmatters, with some fantastic contributions from each of our team members along the way.
Each department has continued to meet and exceed our expectations, driving results both internally and externally. As a company, we love to celebrate each success to ensure that every employee gets the recognition they deserve.
Congratulations Alex Hall
Alex Hall – has really stepped up! Secured 2 new development contracts in the space of a few weeks. Both are fantastic new businesses to be partnering with NM. His diligent, thorough and measured approach in discovering client needs and problems and delivering the right solution, paired with ongoing service is fantastic! Excited to see him further develop! – Elliott Peacock

Alex Hall – Came in with some big wins for the Web team at the start of the month. - Robert George
Alex Hall – Doing a great job progressing some excellent opportunities. Keep up the good work. – James Gulliver
Our March 2023 Notables
Faizel Desai - Securing Wave 4 Bootcamp funding for the Scion scheme against a lot of competition. – James Gulliver
---
Rebecca Moore – Becky never ceases to amaze me with her thoroughness and consistency to do great work. She brings a smile to all rooms she walks in, and her work ethic never falters. She is creative and always has a thought on how we can solve any problems or quandaries. Keep doing what you're doing Becky, you're a star! – Bethany Shakespeare
---
Ben Revell – Busseys have recently given us some feedback that the management of their account from a digital marketing point of view is the best they have ever had. For a customer of over 6 years, this is a testament to the excellent work that Ben is doing on their account. Great work Ben, keep it up! – Jim Palmer

---
Ollie Thompson – We recently onboarded our largest spending digital customer in March and a key part of getting this customer onboard was Ollie's involvement at the pitch. His enthusiasm and passion really came across, with the business owner citing this as one of the reasons they signed off with us. He's also always tabling new ideas and suggestions to help improve our processes and offering, which I have a huge amount of time for. Well done Ollie! – Jim Palmer

---
Jasmin Rusted – Jasmin did a great job of managing the KPIs when I was off and ensured they were all in green on my return. Thanks, Jasmin! – Jim Palmer

---
Elliot Norman – Over the last 9 months the department has changed significantly for the better and a large part of that is our approach to processes, procedures and checklist items, all of which Norman is leading. He has made a big impact internally and is an indispensable asset to the team. He's also been doing a great job on GA4 rollouts alongside Haydn. A specific mention of Gravity's GA4 rollout which he has firmly gripped and almost completed. Well done Norman, keep up the good work. – Jim Palmer

---
Devon Maidment – Devon is making a big impact at the moment. She is the lead of one of our largest clients, leading meetings and answering questions with confidence when put on the spot. I've also had some great internal feedback about Devon and the customer meetings she has been involved in. Keep it up, Devon! – Jim Palmer
---
Gary Cullen – Gary has some great new wins under his belt and is on course to have a personal record month. He's been working hard with Ollie/Mark Reilly to look at one-off campaigns that can be run to add value to existing customers, alongside his account management which is second to none. His work ethic is exemplary and his ability to be loaded up with work sets the bar, he doesn't get the nickname pack mule for nothing. Well done Gary, you're doing a great job. – Jim Palmer
---
Jaz Instone-Brewer – Jaz has been working more closely with myself and the digital team over the last few months, on both existing clients and new ones. Jaz has taken a leading role in shaping our brand management offering so that we now have a solid product that can provide huge value to a business. She's also doing a great job of adding her creative flare to existing and new projects, and this is evident in the recent photography work we have won. Thanks for your help Jaz, keep it up! – Jim Palmer

---
Sophie Maxam – Goes about her work quietly but effectively. Raises issues where she identifies them and then helps to find and implement solutions. – James Street
---
Tom Craske – Knowledgeable and polite, always great to speak with. A great addition to the team. – James Street
---
Tessa Dempsey – Has been doing incredibly well in her new Marketing role. She's been very involved in all aspects of the business and has been very proactive! – Adam Greer

---
Mark Reilly – Has been looking at all areas of the lead process recently and assisted in several improvements in the process to the team. He and his team have been taking on additional training and it's showing with the high-quality leads getting passed over, fantastic work! – Adam Greer
---
Jaz Instone-Brewer – Jaz has been doing a fantastic job recently advising customers on their branding as part of website builds to identify further opportunities which have also resulted in us helping with photography or branding management services as a result. – Tom Lancaster

---
Samantha Lupton – Sam has been doing a great job recently with her customer involvement and has won additional work across multiple projects she has been involved in by identifying areas we can add further value for customers. – Tom Lancaster
---
Luke Keable – Being diligent in his work and supporting the wider team. Also taking on some technical work. - Robert George

---
Rebecca Moore – Always pleasant to speak to and managing the never-ending IT Recruitment well. - Robert George

---
Adam Jaggs – Doing a fantastic job all-round in being diligent, being on his workflow, providing great customer service and closing tasks. Smashing it! - Robert George

---
Joe Trower – Smashing the new 3CX systems with some big names coming in. – Chris Waldie
---
Adam Jaggs – Being diligent and always doing a thorough job. – Chris Waldie
---
Alex Jones – Keeping the telecoms ship sailing straight. – Chris Waldie
---
Elliot Tarling – Taking on more advanced tasks and projects, proving to be a very reliable Product Specialist. – Chris Waldie
---
Tom Craske – Constantly learning and improving on his skills, always ready to help. – Chris Waldie
---
Sophie Maxam - She's had several very challenging projects and tight timelines to turn around. Clients are always well informed of issues and she always comes to me with suggestions rather than just problems. Big time save and very much appreciated. – Matt Hurst
---
Deo Matthews - He's taken over all responsibilities for running the pod now and KPIs are all up with fallout down. – Matt Hurst
---
Faizel Desai – With vigour, passion and energy plenty, played a vitally important role in the securing of the Bootcamps Wave 4 tender and secured more slots for NM than was expected. A great win, not just commercially, but also aids in our ongoing recruitment needs and relationships with the wider business and economic community. – Elliott Peacock
---
Ollie Thompson – Passion! You can't buy it, you can't teach it, and the guy's got loads of it. Pleasure to work with, his energy and enthusiasm shines through. He cares about what he is doing and delivering, something you love to see. – Elliott Peacock
---
Tessa Dempsey – Is making real strides with our branding and marketing efforts. Always delivers beyond expectation. Listens, understands and delivers in an incredibly effective manner – I'm really excited to see her progress in the role. – Elliott Peacock
---
Tomas Leigh - Has been incredibly swift, instrumental, and supportive in helping members of the web team get set up and working with specific customer servers. – Simon Wright
---
Jordan McDowall – Working hard to manage expectations with new project work, solve problems and impress members of the team with training sessions. – Simon Wright
---
A huge congratulations to all of those nominated for our March notables - keep up the brilliant standard of work! The Notable Employee Scheme is just one of a range of benefits here at Netmatters, available to all employees.

If you would like to be a part of our fantastic team and be in the running for some extra treats each month, view our open job vacancies today. We are currently on the lookout for intelligent, motivated individuals to join our ever-growing team!
You can always contact us via the form below, or ring us on 01603 704020 today.