Posted by Netmatters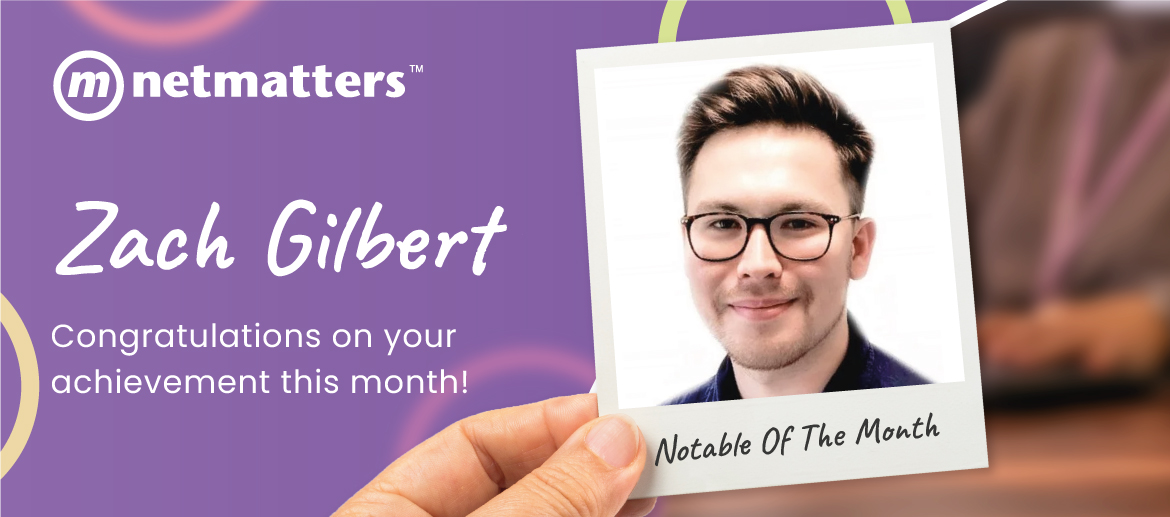 Each month, various departments recognise those employees who have excelled in their work and helped Netmatters deliver excellent service to our clients. Our T.R.U.E values are how we started as a company, and we continue to strive to uphold these values as we grow. January was another busy month for Netmatters, with some great contributions from team members along the way.
Our teams have continued to meet and exceed our expectations, driving results both internally and externally. As a company, we love to celebrate each success to ensure that every employee gets the recognition they deserve.
Congratulations Zach Gilbert
Zach Gilbert - Fantastic work from Zach recently; including a very late night, debugging an issue on a customer's website that he was not familiar with. Zach brought a great attitude to the process and dived into various approaches to solve the issue with the lightest of guidance. Great work! – Adam Greer
Zach Gilbert - for going the extra mile in preparation for a new customer app project. – Simon Wright
Our January 2023 Notables
Jaz Instone-Brewer – We have recently onboarded a couple of new customers for website development and maintenance and in both instances, Jaz has done a great job of ensuring the customer gets immediate value from the service by ensuring we've got a clear plan for development priorities, and also getting relevant recommendations for improvements out to them. - Tom Lancaster

---
Dan Marshall-Bull & Rob Anthony – Dan & Rob have both done a great job in the last weeks before Christmas / throughout January in helping get a customer moved across to a new back office system which is integrated with their website. What initially was suggested to be a relatively simple thing became more involved and left us with a fairly tight turnaround, but between them, they have ensured we have delivered this ready to go live at the end of the month and kept the customer updated throughout. – Tom Lancaster

---
Sam Driver - Sam had to pick up some very short notice issues with an IT customer had on-boarded onto a new bit of software and needed help resolving some issues with data imports that were present in the live system. Sam got up to speed very quickly and was able to ensure we solved the problems in a quick and safe manner sot hey could be confident in the data on their live system. – Tom Lancaster

---
Scott Hellings - Scott has done a great job of picking up a customer account that he hasn't worked on before, and I have been very impressed with his enthusiasm to learn something new and not be phased with fixing something he hasn't come across before. He has taken on every task with care and diligence. – Tom Lancaster

---
Tessa Dempsey - has hit the ground running with her new role as Marketing / Brand Manager for Netmatters. Keep up the good work. – James Gulliver

---
James Street – doing a great job progressing all things compliance and operations. No drama just results. – James Gulliver
---
Ben Revell & Ollie Thompson – Both these guys have done a great job onboarding ESE Direct for both PPC and SEO. This customer have used several agencies before and although it's early days, the customer has given us positive feedback and they're about to hit their monthly online sales target for the first time in a long time. Well done both of you. – Jim Palmer

---
Matt Wastell – Had a sensational start to 2023, welcoming onboard some fantastic new clients and far surpassing his targets. – Elliott Peacock

---
Jim Palmer – doing a excellent job growing the digi department whilst creating a fantastic team culture and environment. – Elliott Peacock

---
Ash Ward – been incredibly helpful and impactful on across a number of new business opportunities – his ability to grasp complex needs and provide solutions is a real value to the business. – Elliott Peacock
---
Maxwell Jermy - getting stuck in, learning on the job and raising for help in a good timeframe to deliver a solid foundation for the new customers system. – Simon Wright

---
Alex Hall - Being a great person to work with who's always happy to help. Great at communicating and understands what we as developers need to be able to do our jobs. He always wants to fully understand and better himself in his understanding to deliver a top service for customers. – Simon Wright

---
Elliot Tarling – Elliot is always willing to help out and will often go above and beyond. His knowledge and intrigue to research problems and identity solutions has helped out the Operations Team on numerous occasions – James Street

---
Adam Jaggs – A genuinely nice guy, his positive nature and attitude towards his work are brilliant. Always a pleasure to speak to – James Street
---
Jamie Slater – doing a solid job managing the Gorleston pod and really bringing the Netmatters way of working to the forefront. – Rob George
---
Richard Phillips – taking on some demanding customers and smashing it on all levels. – Rob George

---
Sophie Maxam – Done a great job in juggling numerous projects whilst keeping consistent with the usual attention to detail. – Rob George

---
Tom Craske – Brings a positive attitude to the role and is also willing to help. – Rob George

---
Ho Kyung Hoebeke – Going to extra mile to help resolve complex networking issues for a client beyond his normal working day. – Rob George

---
A huge congratulations to all of those nominated for our January notables - keep up the brilliant standard of work! The Notable Employee Scheme is just one of a range of benefits here at Netmatters, available to all employees.
If you would like to be a part of our fantastic team and be in the running for some extra treats each month, view our open job vacancies today. We're currently on the lookout for intelligent, motivated individuals to join our ever-growing team!
You can always contact us via the form below, or ring us on 01603 704020 today.