It's in the Bag - Netmatters Supports The Hygiene Bank' Chrismas Campaign

Posted by Netmatters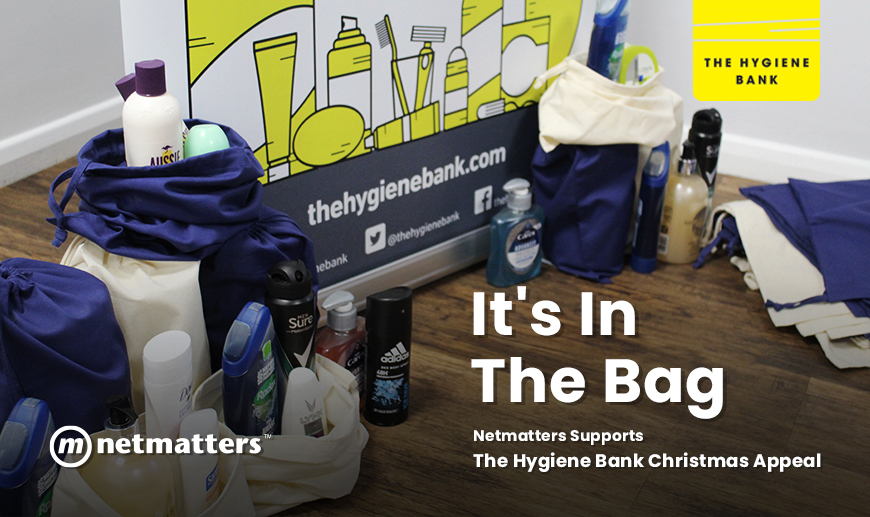 Hygiene poverty is a "hidden crisis" in the UK today. It is estimated that in the UK, nearly 4 in 10 of 1,000 surveyed by a charity in 2017 and 56% of 18-24 year olds said they'd gone without hygiene or grooming products or been forced to cut down on them for financial reasons.
"Basic hygiene goes to the core of self-worth, self-respect, confidence and dignity" says Lizzy Hall, the founder of UK based charity The Hygiene Bank. "With hygiene poverty comes isolation, exclusion and shame and these impact our ability to participate in society and therefore what it means to be human"
The Charity
The Hygiene Bank is a UK-wide registered, people-powered charity. They collect and redistribute donated toiletries, hygiene, beauty and personal care items to UK charities, voluntary organisations and schools. These in turn are given to their beneficiaries.

Their passion stems from a sense of injustice for those that have to face hygiene poverty in the UK. Their mission is to bring communities together to tackle hygiene poverty and provide personal care items to those needing help, regardless of race, national or ethnic origin, citizenship, colour, religion, sex, sexual orientation, income source, age or mental or physical ability.
How we are helping
We are pleased to be in a position where we can do what we can to help those that are in need of a little extra support.

As a business, it's extremely important for us to provide community support and give back where we can. As part of our on-going efforts, we are supporting The Hygiene Bank to help their cause of tackling Hygiene poverty.
This Christmas, Netmatters are pleased to be participating in the Hygiene Bank's Christmas Appeal, Its in the Bag. We will be providing and filling 50 washbags with items our staff will donate, including deodorant, hand wash, shower gel, shampoo, conditioner and toilet rolls with many more to come as the word starts to spread.
All of the goods we collect will be given to The Hygiene Bank project operating in the Waveney area, who will specifically donate our washbags to Outreach on the Streets, one of their charity partners, in time for Christmas. Outreach on the Streets are a group of volunteers based in Lowestoft who are passionate about helping the homeless and less fortunate by providing essentials and support.
How you can help
You can help the charity's work in Waveney too, in a multitude of ways.

- Join the Hygiene Bank Waveney's facebook page - https://www.facebook.com/thbwaveney/
- Visit our wishlist on Easho and donate products that will be sent directly to us - http://www.easho.org.uk/apps/giftregistry/registry/81940
- Collect items we need and donate them to one of their drop off points in Beccles – at Tesco, the Library, Odd Socks Children's Clothes and Rosies Beauticians. These products can include:
Shampoo/Conditioner Deodorant Shower Gel Hairbrushes/Hair Ties Razors Shaving Foam Moisturisers
You can also set up monthly cash donations and purchase official It's In The Bag duffle bags to pop all of your products into. Alternatively, you can volunteer for the charity, create a drop off station for members of the public to donate or put on your own fundraising events to do what you can to help the charity tackle this rising issue.
For more information on the charity, their Christmas campaign and what you can do to help, visit their website today:
https://www.thehygienebank.com/
Find them on Facebook: