Happy 40th Birthday Chris!

Posted by Netmatters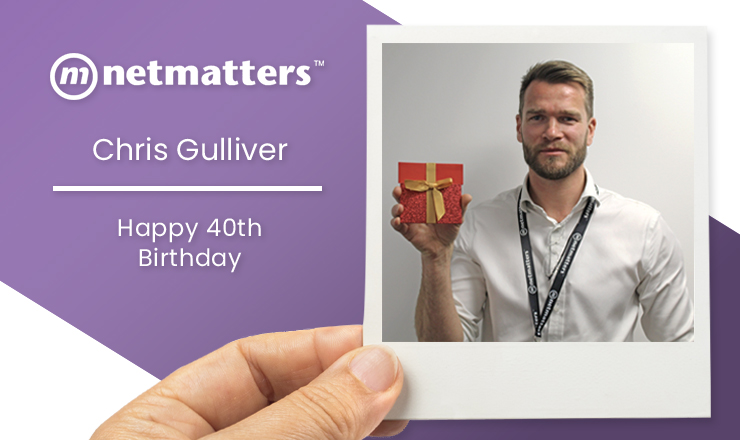 Happy 40th Birthday Chris!
The celebration of big birthdays is a huge thing for us at Netmatters. Our staff are important to us and birthday mentions are one of the ways we showcase our appreciation for their hard work and dedication.
Today we celebrate a very big birthday of one of the longest standing members of our team, our Operations Director, Chris Gulliver! Chris is turning the big 4-0 and we are taking this opportunity to wish him the biggest of Happy Birthdays.

Chris is one half of the Gulliver duo, who are responsible for starting Netmatters and everything you see today. It was his vision that brought Netmatters to life over 10 years ago, and since then, his influence on the company has seen it go from strength to strength.
Since the company began in 2008, Chris has helped transform the business from a 2-man IT Support company into the digital powerhouse that it is today. With so much more to come, we feel lucky to have him at the helm, helping guide the ship. Chris is hugely involved across the business with a specific focus overseeing the finance, administration, human resources and accounts departments, along with remaining heavily involved in our expert IT department.

He's also an advocate for supporting employee progression and bringing new ideas into the business.
On this special birthday, we wanted to take the time to say a huge thank you to Chris for all of his hard work and all that he does to make Netmatters the success that it is today. We should also mention it's our managing directors, James, birthday too – however, he is slightly older…
"I wasn't too impressed when our parents announced that my brother had been born on my birthday, but now, it's great to be able to share both our birthday's and our professional lives together – Happy birthday Chris!"-James Gulliver
Happy birthday Chris, we hope you have a great day celebrating the milestone!