Faizel Achieves the Long Service Award

Posted by Netmatters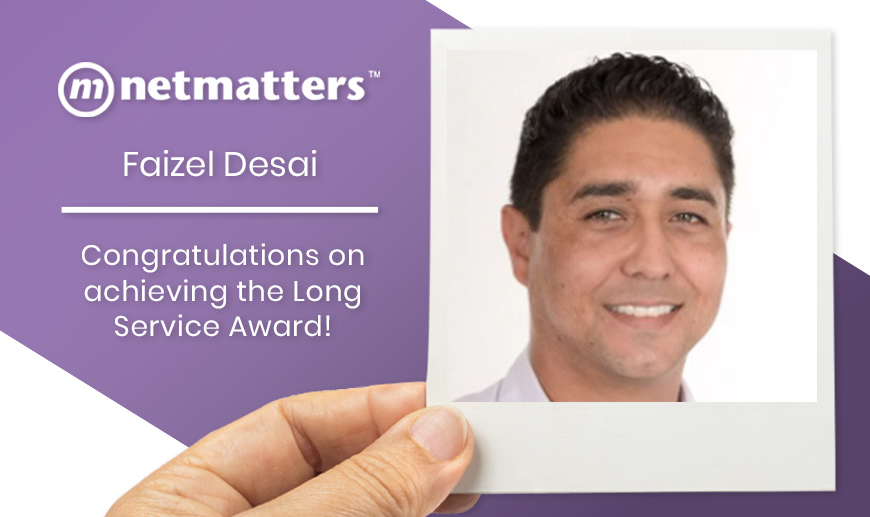 Netmatters would like to take this time to congratulate our Commercial Head of Web, Faizel Desai, on gaining the 'Long Service Award'!

Faizel's name will now be added proudly to the ever-growing list of employees who have worked for the company for 5 years. In the last 5 years, he has showcased an incredibly positive and determined attitude towards surpassing customers' expectations at every opportunity.
Faizel joined us in 2015 and has been a Notable Employee multiple times since joining the team, as well as being promoted to Commercial Head of Web in 2020. Faizel has also been instrumental in the ongoing success of the award winning Scion programme.
We feel very proud and lucky to have Faizel as part of our team and look forward to the next 5 years!
"It's fantastic to have another colleague surpass the 5 year service marker. Faizel has consistently demonstrated a terrific work ethic and customer centric approach to all tasks he undertakes. His role has grown and diversified over the years, branching out to take lead on our Award Winning Scion training scheme – an area of key growth looking ahead. He is a tremendous asset to the company and really epitomises the Netmatters TRUE Values. Here's to many more year to come!" – Elliott Peacock, Director
The 'Long Service Award' is just one of the ways that we ensure that all of our employees feel valued for their hard work and dedication.
Are you interested in joining a company that can provide you with a great career opportunity? Maybe you could be a recipient for the award in years to come…
Netmatters are always looking to hire bright and talented individuals so if you'd like an informal chat – even if we're not advertising for your specific role – don't hesitate to send your CV and cover letter here. Find out if you'd be suitable for any current vacancies today!