Dieter Harper - Netmatters 5 Year Legend

Posted by Netmatters
7th November 2023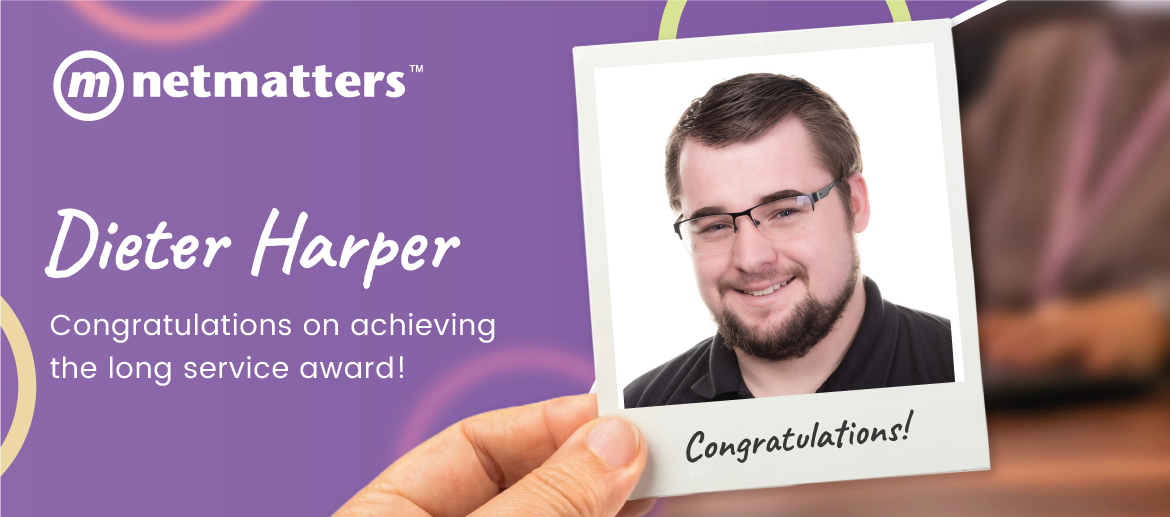 Today we celebrate the amazing achievements of Dieter Harper as he champions the Netmatters Long Service Award and becomes our latest 'Legend'.
Dieter joined Netmatters in 2018 as an IT Technician. Today, Dieter has progressed to a 3rd Line IT Technician and is now leading his own team as a POD Leader. Moving into more complex product specialist roles, Dieter has mastered Azure to help develop platforms and optimise online processes and procedures.
Some of the ever-shining characteristics of Dieter that we see every day are his attention to detail and enthusiasm to deliver outstanding work, no matter the task at hand.
Receiving numerous praises from clients, the last 5 years have seen Dieter consistently provide excellent IT support, leading complex projects, and going the extra mile by helping clients out of hours for urgent work. A "real team player", Dieter makes sure he is available to deliver the best possible service to all clients – bringing to life the T.R.U.E values that are at the heart of Netmatters.
Thank you for all your hard work and dedication Dieter, and congratulations on becoming a certified legend!
"Since joining Netmatters, Dieter has become an integral part of the team, displaying a fantastic work ethic not just personally but instilling this enthusiasm throughout his team. Dieter's dedication helps build fantastic relationships with his clients, and he is always ready to provide sound technical advice regarding what is best for the client, keeping in line with our TRUE values". - Robert George
As part of Dieter's 5-year Legend status, Netmatters have planted a further 250 trees in our Ecologi Forest to help improve our Carbon Footprint. Check out the latest progress of our Ecologi Scheme.
The 'Long Service Award' is just one of the ways that we ensure that all our employees feel valued for their hard work and dedication.
Netmatters are always looking to hire bright and talented individuals, so if you'd like an informal chat – even if we're not advertising for your specific role – don't hesitate to send in your CV and cover letter today!