Optimising the Value of your SharePoint/Azure Platform

Posted by Netmatters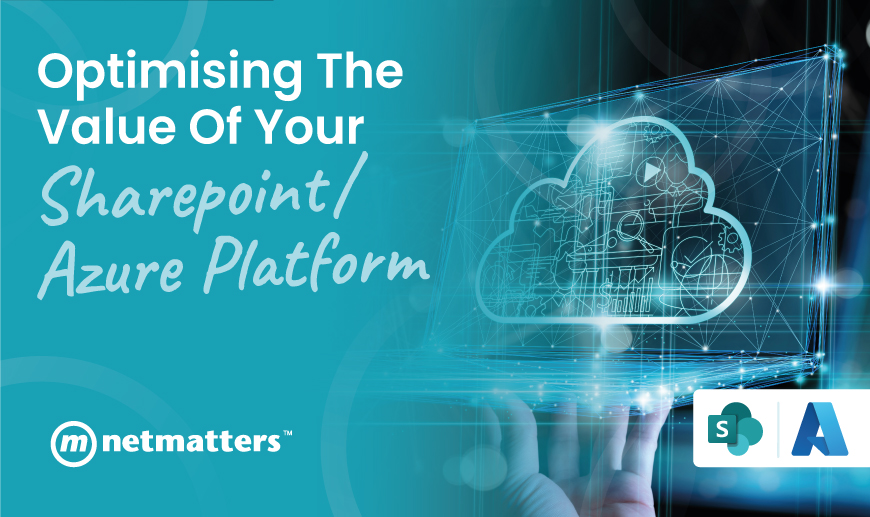 Here at Netmatters we are proud Microsoft partners and really believe in the value of the platforms on offer, specifically both Sharepoint and Azure. But how can you optimise this for your business, to really make the most out of both platforms? We have extended experience in using both SharePoint and the Azure environment and have highlighted the benefits of each to optimise your business.

What is Microsoft Azure and SharePoint?
Firstly, let's clarify what Azure is, and how this differs from SharePoint. Azure is a public cloud computing platform offering a collection of vital services including analytics, storage, networking and more. It's an incredibly efficient program at an affordable cost making it the perfect business management supplement.
SharePoint also includes many different cloud-based services, such as file management which is supported by one drive sync, designing software, servers and more. SharePoint creates a centralised management system for your business in one platform, and Azure works perfectly alongside this.
Both platforms do differ from one another but both are fantastic virtual business management solutions.
Optimising Azure For My Business
With the assistance of the Netmatters team, enhancing the many provisions under the Azure platform and ensuring this is set up as well as it possibly can be is simple. We have a proven track record of assisting many of our existing clients in implementing Azure platforms, creating the maintenance of workloads, server provision and more.
At Netmatters we have experience with working alongside our clients to optimise the full value of the Azure platform. A key example of this being when one of our customers who heavily relied on an SQL server running on their onsite servers, where the application that used the SQL was unable to be upgraded to cope with the growing needs of the business. To resolve this, our team created an Azure IaaS environment hosting the new Windows Server 2019 which met the demands of the original server where their previous application could not cope.
The key benefits for using Azure in this instance were:
Location Independent: The physical site only needs a stable internet connection to connect to Azure.
Scalable: We can upgrade the Virtual server resource provisioning at any time to meet the growing requirements.
Cost effective: In many cases of deploying Azure, this is cheaper than purchasing an on-premise server outright, with no CapEx required with a basic Azure setup, its only OpEx and on a Pay as you use billing model.
Discounts: If one of our clients wanted, we are able to provide further savings on monthly billing by introducing a "Reservation" on their Azure Virtual Machine generating large savings for a fixed contract term of 3 or 5 years.
Optimising SharePoint For My Business
SharePoint, creates centralised management of all the necessary workplace operations of your business. Through the implementation of this platform, your business can benefit from several key advantages including managing, implementing and carrying out core strategies. Through SharePoint you are able to manage:
Content: SharePoint works alongside cloud based storage systems to securely upload and share documents across your organisation. This enables collaboration without the need to send across multiple documents but rather keeping all notes in one core document.
Through collaborative work across documents, your business is able to create a community feel when working on projects, bringing employees together as a team.
Data Analysis: Seamlessly, additional Business intelligence and data analysis apps can be used in conjunction with the core SharePoint program to pull all information into new business strategies and tactics.
SharePoint is a diverse program allowing your business to really step into the next phase and update the way you work to become more efficient, and in the long run more successful. Providing clever functionality and proposing the ability for enhancement, SharePoint is designed to be optimised and developed in order to help you gain more leads.
As a team of qualified SharePoint experts, at Netmatters we are able to integrate SharePoint into our clients workflows showing the true value of the platform.
Is SharePoint/Azure Suitable For My Business?
Both the SharePoint and Azure platform is best suited to those who are already using Microsoft Office 365, with ease of working across all Microsoft platforms. SharePoint and Azure are a guaranteed suitable option for any company working online and for all businesses out there, as workflows adapt to becoming more and more online, should naturally be a choice in platform that is to be considered.
If you are interested in the multitude of benefits these platforms have to offer, get in touch with the team at Netmatters via the contact form below. With Netmatters you are in safe hands, and guaranteed to squeeze the maximum value from each platform for your business.
Get in touch with our team and find out how SharePoint and Azure can maximise the way that you and your business are working, today.