Netmatters Sponsors Local Beer Festival

Posted by Netmatters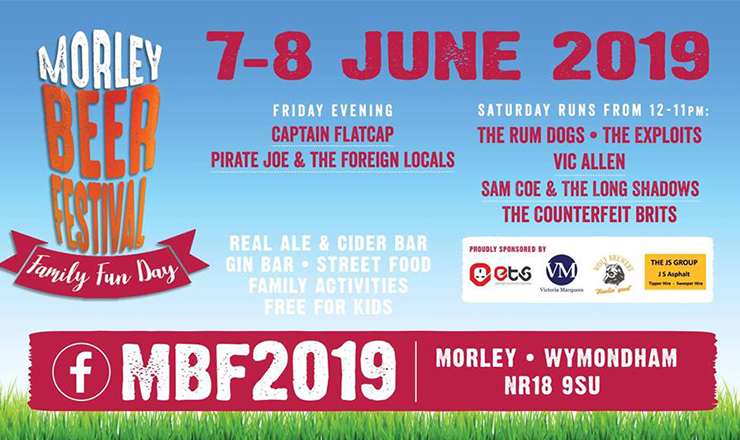 BeerMatters – We are sponsoring the Morley Beer Festival this weekend!
We are proud to announce that this weekend, the 7th and 8th of June 2019, we will be sponsoring the Morley Beer Festival, taking place at the Derek Daniels Playing Field in the grounds of Morley Village and Sports Hall.
The two day, family friendly festival celebrates Norfolk Real Ale, Cider, Gin, food and brilliant local bands with lots of activities including the circus! Who wouldn't want to attend?
Whilst we love beer, music and generally having a great time, there is of course a bigger as to why the festival is happening.
Netmatters decided to sponsor this local event to support local charity Star Throwers. Star Throwers is a Wymondham based charity that is dedicated to providing holistic support to people with cancer and their loved ones. The charity empowers people to take control of their cancer journey by helping them to understand their cancer and their treatment options.
The event is also supporting the Morley Village & Sports Hall community venue based in South Norfolk. It is one of the largest sports halls in the area and is entirely run by volunteers who work hard to upgrade the facilities for local residents.
Last year an incredible amount of £7000 was raised, however, this year we want to do what we can to beat that target!
Our dedicated team at Netmatters will be marching proudly down to the festival to do what we can to help and we hope that you will too.
The festival is taking place from 5pm to 11pm on Friday and from Midday-11pm on Saturday.
The not-for-profit event will be providing drinks from local brewers, distilled gin providers and tasty street food including wood fire pizzas, topped chips and churros. We don't know about you but we can't wait to tuck in!
There are still tickets on sale through the website which has also been designed by the Netmatters web development team as part of our sponsorship. For more information, details on how to get there, payments and parking, you can find everything on their website.