Netmatters Notable End-of-Year Staff Awards 2019

Posted by Netmatters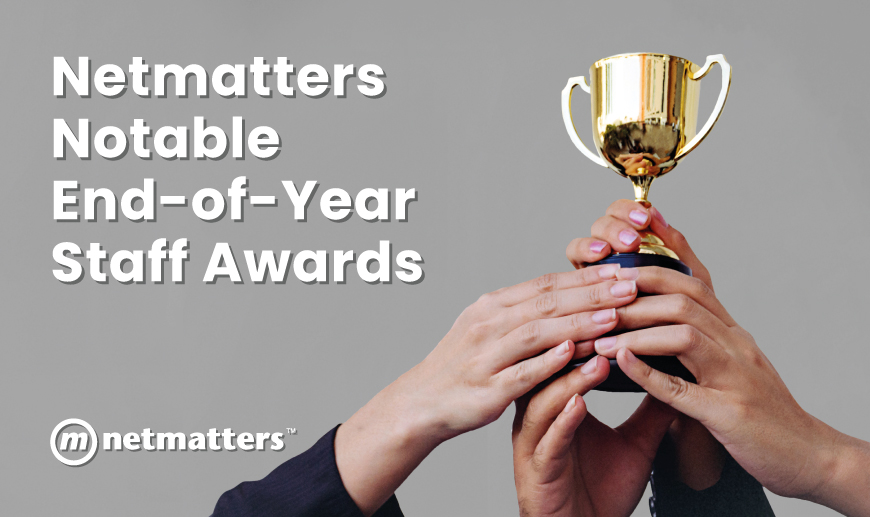 It's safe to say that 2019 was a blinding year for us here at Netmatters. Our business has continued to grow throughout the years and 2019 was no different. We on-boarded more clients than ever before, hired more staff to join our already fantastic team and delivered more solutions to our customers.

We were also involved with significant charity work, sponsored multiple local events, promoted a new director, and became champions of the East Anglian Dragon Boat Race once again!
None of which could have been achieved without the continuous hard work and dedication from our staff, who are the driving force behind what makes us successful.
At the start of every month, we look back at the previous and celebrate one employee who has shined throughout. However, in January we do things a little differently.
Every December, we get all of our staff together and take a look back at the year, along with announcing 6 winners of our special, company briefing categories. These awards are given to those who have gone the extra mile throughout the year, helping others, their departments and the business overall to achieve our goals.
Join us in congratulating our winners!
Best Newcomer: Mark Reilly
Mark joined us in October in our business development department. Since joining he has really hit the ground running in assisting to grow the business whilst also absorbing our T.R.U.E values.

Notable Nominees: Charlotte Gubbin, Jamie Thurston, Tessa Woodrow, Jamie Slater
Most Improved: Ashley Ward
Ashley has really stepped up to the plate this year. He has worked with a challenging account, handling the pressure and a few late nights with a great, can-do attitude! A great team player overall.
Notable Nominees: Robert Hitchcock, Chris Raby, Lewie Carton, Holly Leech.
Unsung Hero: Kayleigh Hall
Kayleigh is always on hand to help, sharing her understanding with other members of the team to assist the web development department. Kayleigh is also heavily involved in our Scion scheme, overseeing their progress, boosting their confidence and being on hand to assist them whenever they need it.

Notable Nominees: James Mackay, Lewie Carton, Frank Desai, Leon Burnham, Richard Dent
Most Versatile: Chris Waldie
Chris is an asset to the IT team and Netmatters as a whole. He continually works above and beyond in his role and willingly takes on widely varying extra work to ensure the job gets done.
Notable Nominees: Simon Wright, Drew Halls, Jim Palmer, Ashley Ward
Peer's Peer: Bethany Shakespeare
Bethany just doesn't give up! She will take on any task given to her with determination and commitment to get the work done. She has been given a number of challenges this year and can be relied on to get results. She consistently delivers results effectively with no drama.

Notable Nominees: Chris Waldie, Drew Halls, Josh Ralph, Mark Reilly, Tessa Woodrow, Matt Hurst
Notable of the Year: Samantha Lupton
Sam continues to excel at managing some very large projects with finesse and alacrity. She is an asset to the PM department, a good team player and an excellent project manager.

Notable Nominees: Jim Palmer, Matt Chapman, Rob George, Dieter Harper, Tessa Woodrow
We are proud of everything that we've achieved this year and as we enter 2020, we know that there are many more great things to come.
Thank you to all of our staff and our customers in supporting the Netmatters journey… Here's to the next decade!
If you are looking for a full service digital agency to assist your business in 2020, we encourage you to get in touch with us using the contact form below.