Netmatters End-Of-Year Staff Awards 2020

Posted by Netmatters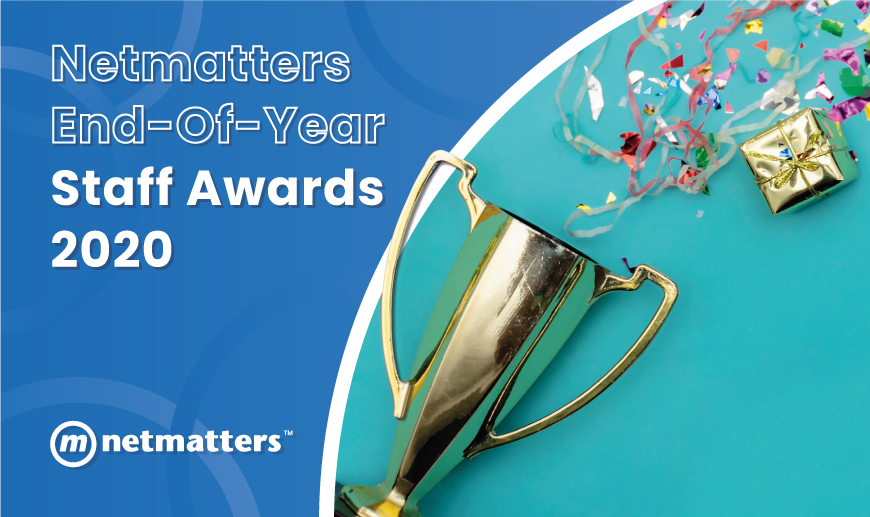 2020 was one of the most unique and challenging years that the business world has faced. Businesses across the country were forced to adapt everything from their working practices to the products that they produced.
The staff here at Netmatters demonstrated their tenacity, grit, and can-do attitude by adapting to the situation with aplomb. We worked remotely to deliver the same fantastic service that you would expect from us, helping our clients to adapt to the changing situation too.
We continued to grow, rolling out our now multi-award winning Scion Scheme to individuals in Suffolk, Cambridgeshire, and Essex and celebrating success at the Norfolk Business Awards with not one but two category wins.
Traditionally we would end the year with a company-wide briefing which would include our staff awards – but of course, we had to make amendments to this process. It was more important than ever to celebrate our fantastic people, so we took our awards online!
Join us in congratulating the winners of the 2020 Netmatters End-Of-Year Staff Awards!
Best Newcomer: Rebecca Reynolds
Rebecca joined the team earlier this year and has been an effective member ever since. She is always positive and really owns her projects. Rebecca has worked hard to understand the parts of the role she was less familiar with and has embraced the Netmatters culture and become an ambassador of the brand. Her crowning glory this year is securing not one but two of the EDP Business Awards for Netmatters. Obviously, we had to be doing a good job to get these awards but as Rebecca will attest winning awards is in no small part down to the marketing. Rebecca orchestrated our submissions and managed the interview process to ensure everyone was briefed and prepared.
Notable nominees: Luke Youngman, Aaron Cook, Dominic Slater, Jack Chambers, Craig Ward
Most Improved: Jamie Sutherland
Jamie has really turned a corner this year and developed immeasurably. He has taken direct feedback with alacrity and honed his Account Management and Pitching skills to a level that is delivering success month on month. He is a solid dependable member of the team and is tireless in his pursuit of self-improvement.
Notable nominees: Chris Raby, Stef Lynn-Smith, Ruth Edwards
Unsung Hero: Jamie Thurston
Jamie is a true unsung hero. He quietly delivers solid work products day in day out. He has taken on more and more projects and delivered above what is expected time and time again. He doesn't need to be told twice and consistently exceeds expectations.
Notable nominees: James Mackay, Charlotte Gubbin, Matthew Chapman, Kati Leeson, Drew Halls
Most Dependable: Tessa Woodrow
Tessa is incredibly capable and conscientious in all aspects of her role. She takes responsibility for her projects and works very hard to ensure everything is kept running as smoothly as possible. You know anything passed her way will be done to a good standard and she is always happy to take on more responsibility. Tessa manages the day-to-day organisation of the award-winning Scion Training Scheme and has not once balked at the modest expansion plans in play for next year.
Notable nominees: Chris Waldie, Frank Desai, Mark Reilly, Joe Trower, Lewie Carton
Delivering Customer Experience: Chris Waldie
Very capable and a rounded Senior IT technician, great with customers - extensive technical knowledge but with commercial awareness which he has fed into the Netmatters telecoms offering and been instrumental in shaping this. Chris has taken on and delivers on the many Product Specialist Roles he is responsible for. He became a POD leader this year and is performing well, a good leader.
Notable nominees: James Mackay, Jim Palmer, Emily Mackley, Matt Chapman, Chris Raby
Most Versatile: Kayleigh Hall
Kayleigh manages an emerging squad of new developers working with a multitude of technologies alongside delivering the technical course management for the award-winning Scion Scheme. Kayleigh is helpful and always willing to roll her sleeves up and get stuck in. During the year she has delivered a massive amount of overtime which has helped support the company through these tumultuous times. She is a very capable and a true asset to the Netmatters team.
Notable nominees: Bethany Shakespeare, Amanda Sharp, Simon Wright
Peers Peer: Michael Grimshaw
Always helpful and supportive, explains technical issues in a way where you can understand easily, and is just a pleasure to work with on a daily basis. Willing and wanting to take on more responsibility and the next challenge. Never complains and asks how he can improve and work on a problem when he faces something that is beyond his current skills so that he can learn for the future. He is considered in high regard across the company by all who have the pleasure to work with him.
Notable nominees: Chris Waldie, Jamie Thurston, Matt Hurst
Notable of the Year: Dieter Harper
Dieter Joined Netmatters just over 2 years ago. Since he arrived, he has shown a relentless work ethic, ensuring tasks are done and done well. He loves a bit of overtime to support his personal ambitions and has a great drive to see things through. He is an excellent technician; great with our clients and a thoroughly nice chap. Dieter has been promoted multiple times and is the product specialist for "Mail Security & Archiving" and our resident "Public WiFi" specialist. He is the technical lead for many IT clients including one of our largest, from where he has received an abundance of positive feedback. He is also very supportive of other team members offering help and guidance as needed. He is a considerate and principled chap who is quick to offer assistance and a joy to work with.
Notable nominees: James Mackay, Tessa Woodrow, Rebecca Reynolds
As we look back on the challenges faced as a team in 2020, we could not be prouder of the hard work and energy put in by our team. Judging these awards has never been harder with every member of the team delivering sterling work in challenging circumstances.
We are excited to see what 2021 has to offer and if you are looking for a new role this year keep an eye on our careers page.