Netmatters Announced as Double Winners in the 2020 Norfolk Business Awards!

Posted by Netmatters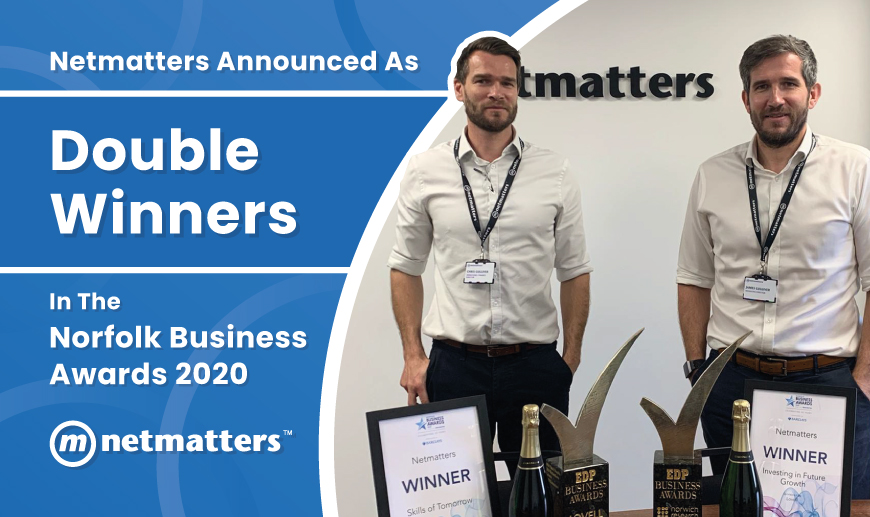 Despite the fact the current circumstances meant the traditional awards ceremony for the 2020 Norfolk Business Awards was swapped for a, no-less exciting, virtual announcement! Netmatters were absolutely thrilled on Tuesday to be announced as winners for not 1 but 2 categories in the awards!
Whilst no one would claim that 2020 has been easy for businesses here in the region, the business awards have gone out of their way to help showcase some of the resilience, flexibility and tenacity demonstrated by businesses all over Norfolk this year.
Here at Netmatters we were proud to be shortlisted for 2 categories – Investing In Future Growth and Skills of Tomorrow. Sponsored by Lovell, the investing in future growth award is designed to celebrate those businesses that are making investments for the future, whether that is in people or technology. The sponsors for the Skills of Tomorrow award were Norwich Research Park and they were looking for an organisation that is doing what it can to equip the next generation with both the right skills and attitude to meet the challenges of tomorrow.
It means so much to us here to not only have been shortlisted for these awards, but to win them both:


"These awards show just how resilient and agile our business can be. The work that goes into both the Scion Scheme and the every day work here at Netmatters is amazing. Our people do us proud every day, it means so much to be able to accept these awards on behalf of every single member of staff here" - James Gulliver, Managing Director.

Alongside the silverware for the awards we were also named as one of the finalists of The Business Of The Year category. This is a non-entry category and the finalists for this award are chosen from those businesses who are finalists and winners in the other categories in the awards. The worthy winners for this category were TaxAssist and we would like to congratulate them and the other finalists – Cornwall Insight and Abel Homes – for a fantastic year!
Listed below are all the winners at the Norfolk Business Awards 2020:
Business of the Year – TaxAssist
Outstanding Achievement - Midwich
Breaking Boundaries – PlantGrow
Customer Care – Indigo Swan
Employer of the Year – East Anglian Air Ambulance
Investing in Future Growth – Netmatters
Knowledge Pioneer – Broads Authority
Large Business – Black Swan Care Group
Skills of Tomorrow – Netmatters
Small and Medium Business – E-Surgery
Tech Innovator – Beattie Passive
Changing Lives Special recognition – Jark Norfolk, Iceni Diagnostics, Panel Graphic, Norwich City Club and Community Sports Foundation
A huge congratulations to all winners at this year's Norfolk Business awards, and congratulations to all those who made the finalists for each category!
As we come to the end of an incredibly busy, strange year, it has been a fantastic exercise to reflect on what has happened and what has been achieved. We'll have to wait until we are able to celebrate with our team properly, but we are grateful for all of their hardwork that has seen us achieve these accolades!
Do you want to join an award-winning team? See our Careers page and you could be part of our exciting 2021!
Alternatively, if you are looking to work with an award-winning team, call us on 01603 515007 to discuss your requirements, or leave your details in the form below and one of our team will come back to you.