Netmatters Achieves Gold Partnership with Vipre

Posted by Jake Tuley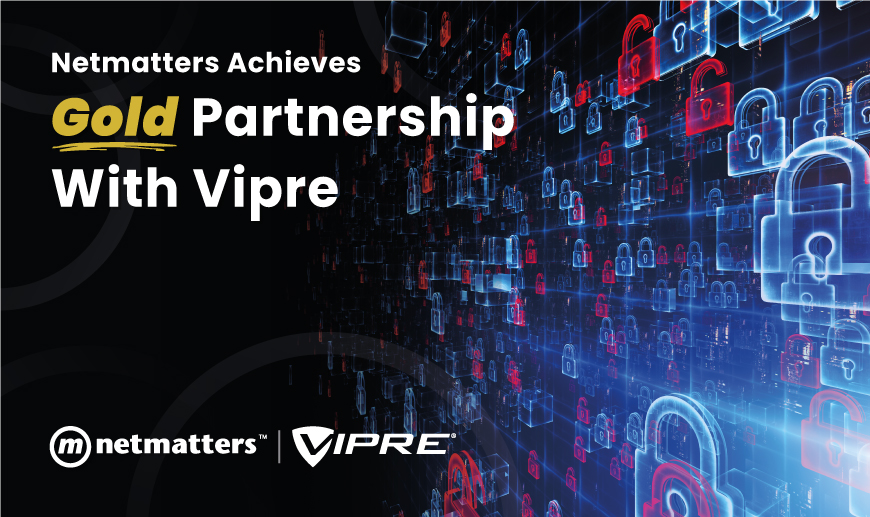 We are happy to announce that here at Netmatters we have achieved the Gold partnership with Vipre!
Vipre is an award-winning cybersecurity, privacy, and data protection company, which has been operating to keep online companies safe since the early days of the internet! With team members across 11 different countries, they offer almost global support to online brands.
Our journey with Vipre began three years ago, however as working from home rose during the start of the Covid 19 lockdown, the need for their services also grew.
As more and more people turned to their home offices, communication via email was on the rise, and with these threats of Spoof emails and Spear Phishing. It's important for all of us working online to know whether an email is legit or not, and with the use of Vipre's products, we have implemented a successful filter as the first line of defence against malicious emails.
Obtaining a Gold Partnership with Vipre provides us with even more benefits, including:
Better costings
Partnering alongside Vipre at this level means that we can obtain better pricing. This isn't just a benefit for us but, in turn, allows far better value for money for any of our end users. We look to ensure that any software we use is of the highest quality but at a fair and reasonable price. When it comes to keeping your online business safe from aggressive online threats, we want to ensure that the protection you receive is guaranteed without putting you out of pocket, and through this partnership, we can do just that.
Faster Support
Due to our new partnership level, any technical support from Vipre themselves will be prioritised to us and our clients. Meaning that if and when a client may require further support, we can rely on the technical support team to be there as soon as possible, keeping all of our online businesses safe and secure.
Training
As a team here at Netmatters, within every department we are always looking to better our own knowledge. With our new Gold partnership, we are provided with better access to training materials, from a top company with over thirty years of experience. We are then happy to allow this to be shared with our end users too, spreading the benefits where we can!
At this level, Netmatters is now recognised as an expert in using all of Vipre's products, such as Vipre email spam filtering or Vipre Security Awareness training. With an extensive array of products on offer to keep online businesses safe, we want to offer nothing less than an expert level of knowledge to ensure these products are well applied to our client sites.
We couldn't be happier to have achieved such a high level of partnership with a leading cybersecurity company. We are looking forward to where these benefits will take us as a company and better our ability to protect our clients from malicious email threats.
Looking to improve your cyber security? Visit here to find out more about our cyber security process and how we can look after your online business. Get in touch with us below or give us a call on 01603 704020 today!