Navision Integration Solutions

Posted by Netmatters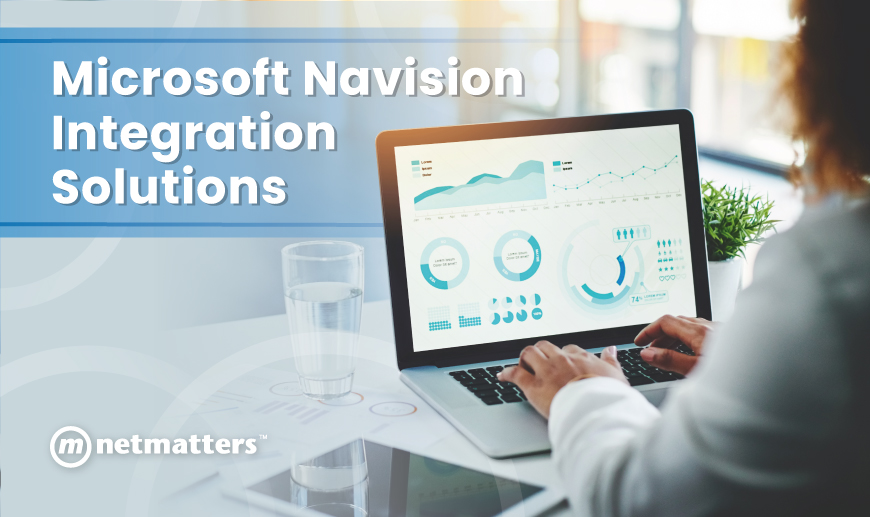 Firstly you might be wondering, what is Microsoft Navision? Microsoft Navision or more recently named, Dynamics Nav, is an Enterprise Resource Planning – or ERP solution. This essentially is a business management software that manages all of the core processes that your company needs, this can be anything from the financing process of your company to other more internal business functions.
As a business develops the equipment or technology that is used will also grow and evolve with it. By making use of Navision software, allowing you to stay on top of the technologies that are being used, utilising all of the data collected correctly, and integrating any differing systems that may be in place as one.
At Netmatters, we are experienced Navision developers. We have worked with a number of businesses to help harness the full potential of this tool and how it can manage the data load that is produced by your Business.
What are the benefits on offer from Microsoft Navision?
Adaptable
As your business grows, Microsoft Navision grows with it. A bespoke system is designed to suit you and your business with software and apps tailored to you. The software you require may be industry or sector-specific, and when managing this alone there can be a real struggle to change systems or add in potential new tools.
Using Navision ensures that when the business needs to expand the software it is using, the correct tools are efficiently integrated to cover every area needed.
Dependable
From the beginning of the Navision lifecycle, from the starting Concept all the way through to the final User Testing, we guarantee that every step of development is well tested to ensure that every part of your software is accurately managed. Within this we find which systems best suit you and your business, noting the best options when it comes to software and apps to manage this data.
We have extensive experience when it comes to using Microsoft Navision, and consider ourselves experts when it comes to providing solutions to manage your company's data.
Contemporary
Ensuring that your company is managed with bespoke software such as Microsoft Navision – or Dynamics Nav, is a modern step in combining all of the data your company produces.
There is a wide range of data that can be collected, ranging anywhere from production and sales, information collected through the website, all the way to the spreadsheets that are produced internally by staff.
With such a range of information to collect using an up-to-date system that ensures everything is logged and managed is vital to keep your businesses running smoothly and efficiently.
Contact the experts today
Here at Netmatters, we are always looking to help your business realise its full potential. By mapping out old data from your existing system to the new, we will provide a streamlined approach to make sure you are up and running as quickly as possible.
If today's article has piqued your interest and you are a business in need of the expert benefits on offer through Navision's bespoke management software, then get in touch with us today.
We are more than happy to answer any questions you may have and begin driving your business growth.