Microsoft Office 2010 is Nearing the End (Upgrade Now to Keep Your Business Safe)

Posted by Netmatters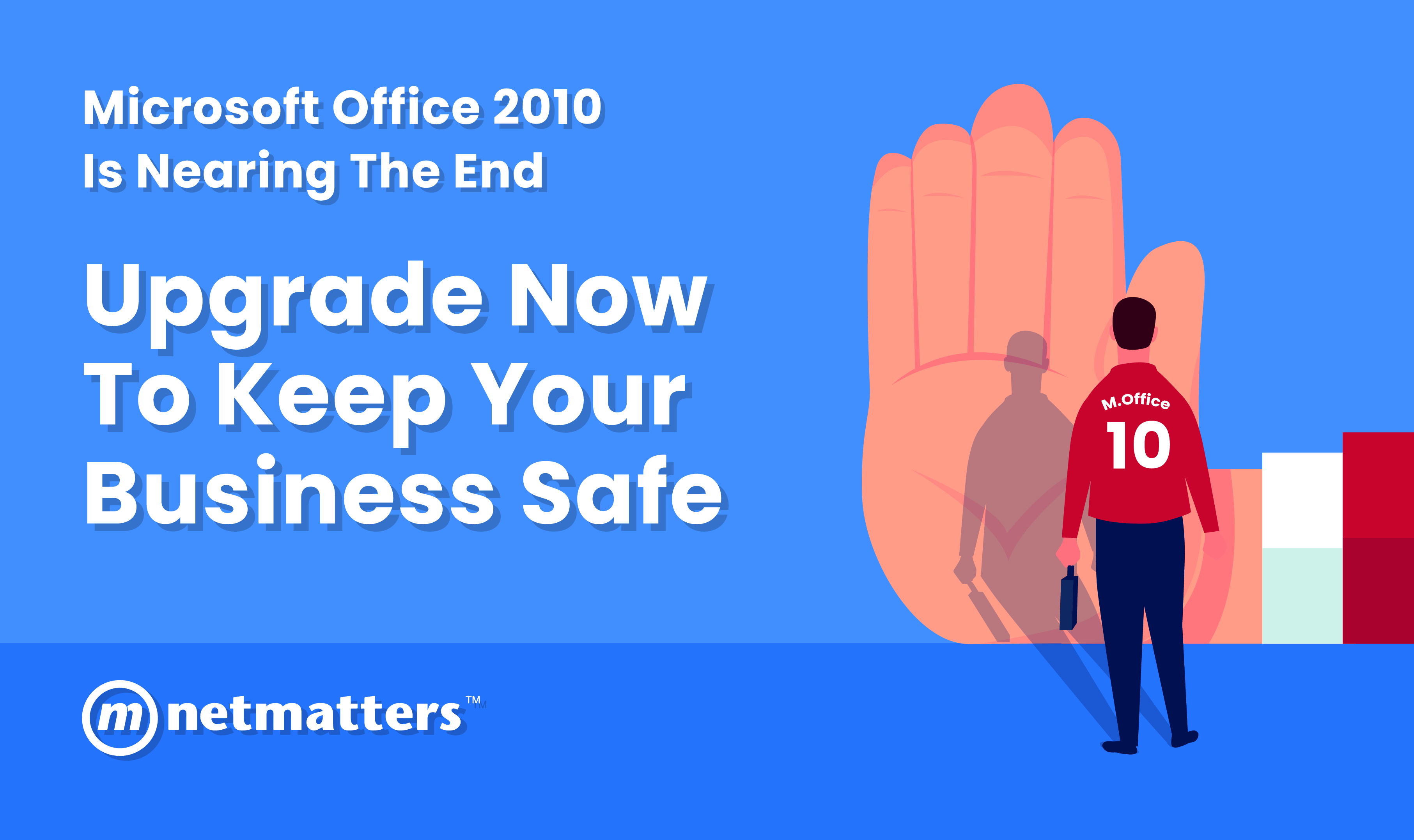 To this day, Microsoft remains one of the largest companies in the world. Since it started in 1975, its product range has expanded every year. Of that product range, Microsoft Office was launched in 1990, initially with Word, Excel and PowerPoint.
Since then it has now become one of the most largely used programmes across the globe with 1.2 billion users currently registered.
However, with time comes growth and in turn, change. Changes to the programme, how it works and the support that is offered.
With this in mind, a recent announcement has determined the closure of Microsoft Office 2010.
Let us talk you through it.
End of Life for Office 2010
From October 13th 2020, the use of Microsoft Office 2010, will no longer be available.
Product development will no primarily focus on other versions of the programme and as a result, no support will be provided to anyone that has not updated their software.
No need for panic stations though! There's still plenty of time to get your Office 2010 environment updated, although we do recommend you get started now.

What does 'End of Support' mean?
The 10-year life cycle is coming to end – This means that once the deadline is reached, Microsoft will no longer be able to provide support for this product including:
Technical support for issues
Essentially there will be nobody on the other end of the line should you end up in a situation where you need assistance. If you are to contact Microsoft through any channel, you will be met with a closed door for this version of the software.
Bug fixes for issues that are discovered
Any new bugs that arise for users and in general for this programme will not be rectified. The bug will remain whilst the programme is in use and Microsoft will no longer provide a fix.

Security fixes for vulnerabilities that are discovered

Similar to bugs, any vulnerabilities that arise because of outdated software will not be fixed, which could result in security risks for the end user.
What does it mean for the business?
As to be expected, with the end of support, the problems and vulnerabilities you may face are intensified.
The primary concern users should be thinking about if they are resistant to upgrade is the security aspect associated. As mentioned, security fixes will no longer be provided as a result of the end of life and the larger the number of users in the business, the bigger the risk of threats there is to it.
The beauty of staying up to date with software is consistent security updates, preventing breaches, hacks and invasions. Particularly if you store sensitive data, can your business afford to have this compromised?
Many business also rely on the functionality of Microsoft office to perform day to day tasks. Whilst this outdated programme will still run to a degree, eventually, the usual tasks you need to perform using them will become more difficult, potentially halting your operations. How long could you go without the ability to work?
With security risks and operational activity compromised, of course, the overall impact will also cause loss of revenue and stunt the growth of the business. Something every business owner wants to avoid.
Getting ahead of the change before it is implemented, minimises the risk of this happening.
What are the next steps?
The good news is, if you're concerned that your business is going to be effected by this change, we can provide you with the support required to update your Office environment, efficiently and smoothly with minimal disruption to your business.
There are multiple Microsoft Office programmes available to you depending on your business requirements and our specialists can advise you on the best set up for you to maximise your business operations.
We can also tie the software in with any current Office 365 subscriptions that you may already have as part of your business.
For more information on how we can help you, we encourage you to get in touch with us before the October deadline.