Michael Grimshaw Achieves Long Service Award

Posted by Netmatters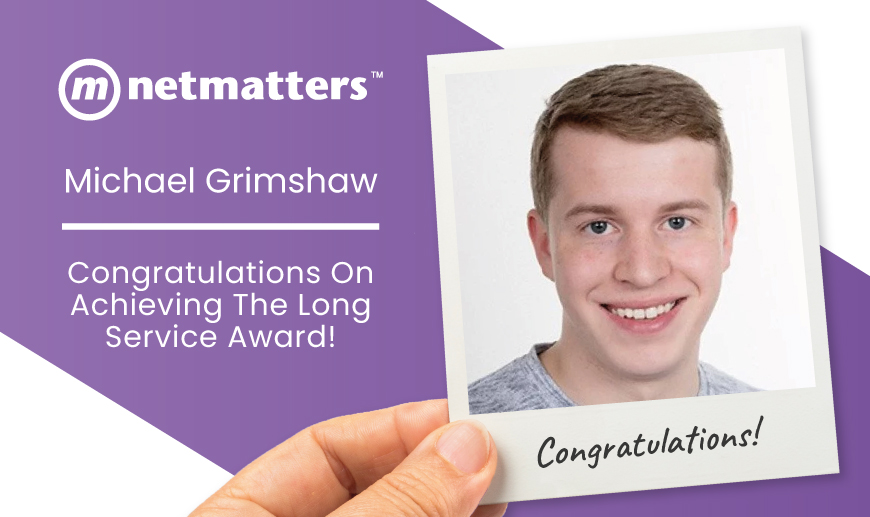 The team at Netmatters are happy to congratulate Michael Grimshaw for achieving the Long Service Award – becoming one of the ever-growing list of Netmatters Legends! Starting out as one of our first web development scions, during his five years with us Michael has really come far, even becoming a squad leader of his own POD.
Always up for taking on more responsibility, Michael consistently improves his skillset offering a great level of knowledge to his team and peers.
"Joining us from the first group of Scions - Michael has grown into one of our most trusted senior members of the team. Achieving Squad Leader and growing his skillset at an impressive pace - Michael is always willing to lend a hand and get involved with new technology or mentor his team" - Simon Wright
Simon went on to say:
"A great asset to the team and the company as a whole, I'm always impressed with Michael's tenacity in times of high pressure. Thank you for your hard work and dedication, Mike! I look forwards to seeing where your career leads with us - here's to the next 5 years!"
The Netmatters Scion Scheme in which Michael originally joined Netmatters, offers a chance for any individual, no matter their experience, to enrol and kick-start their own career within the tech industry. We provide training courses for a number of faculties including: Web, Software, IT and Digital Marketing. With a 95% pass rate for our SCS graduates, we are confident that we can help you get the training you need. You can find out more about our Scion scheme here.
We are always looking for talented individuals to join the team, if you think this could apply to you then get in touch with us via the form below, or send your CV and cover letter here.