Posted by Netmatters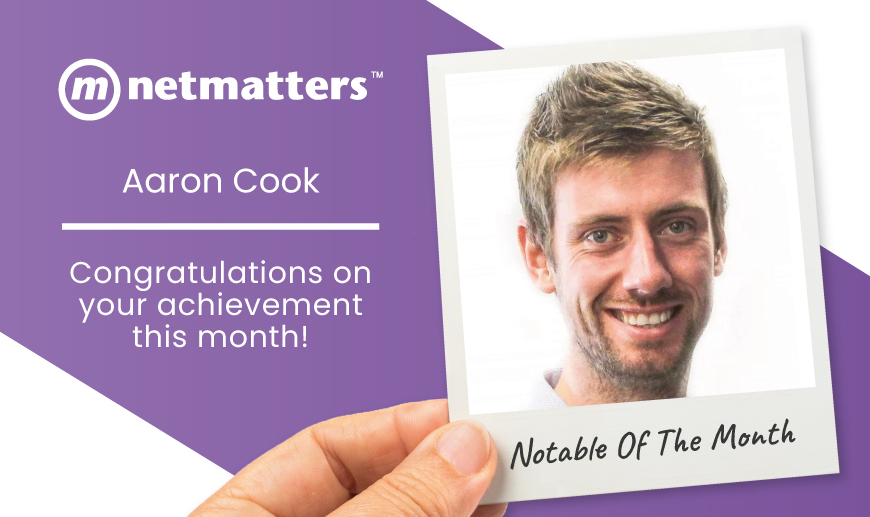 Each month, every department recognises those who have gone above and beyond to deliver excellence within their work and helping Netmatters deliver the best services for our clients. Our T.R.U.E values are how we started as a company, and how we strive to continue as we grow further. May has been yet another busy month for us here at Netmatters, from events for Mental Health week to the Queen's Jubilee - another month comes the celebration of our monthly notable employees.

May has been no different, our teams have continued to surpass our expectations and consistently propel – delivering results both internally and externally. As a company, we love to celebrate each one of these to ensure that each employee gets the recognition that they deserve.
Congratulations Aaron Cook!
Excellent customer service, great onsite manner so much so that clients go out of their way to provide positive feedback. Aaron has also been assisting the business development team with attending meetings which has helped alleviate client concerns about making a change of provider, Aaron has a level of credibility which gives our clients confidence. – Chris Gulliver
Aaron Cook - He has been fantastic throughout May, with more responsibility, multiple phone system implementations an increase in builds plus the internal, product specialist and day to day tasks he has been actioning he has really stepped up and gone above and beyond so thought it would be worth mentioning to you. – Alex Jones
Aaron Cook - Done a fantastic job regarding an important project ensuring the client with positive feedback received from the client. - Robert George
Our May 2022 Notables
Scott Covey, Luke Foster, and Lewis Andrew - for their hard work moving the Cambridge office. The guys moved all the furniture, stock, and equipment quickly and efficiently into the new office, minimising disruption for the team and getting the project back on track after delays by a third-party supplier. – James Street
---
Deo Matthews and James Corner - for staying behind to move the internet equipment over into the new office at Cambridge. Both only joined Netmatters in the last couple of weeks but were happy to step up and complete work that could have caused some major disruption had there been any issue. – James Street
---
Matthew Wastell and Chris Waldie - for their support during the Cambridge Office move. Matt has been vital in coordinating the works within the office and Chris has provided technical support, which has helped to ensure there was no disruption to the wider team. – James Street
---
Courtney Noel - for how well she has settled into the role and into the team. Courtney has quickly got to grips with the responsibilities of the role and has already started taking on additional work to help support other team members. She has already proved to be a great addition to the admin team. – James Street
---
Dieter Harper & Matthew Harrop - Both have been instrumental in completing a long-term Network Overhaul Project for ZSEA. The project which has been spanning over the past months has not only run relatively smoothly, but also came in under budget. They have ensured the client has had a fantastic experience on this. - Robert George
---
Ho Kyung Hoebeke - Ho went above and beyond with helping his colleagues troubleshoot and resolve the issue with one of our largest clients. Ho showed a high standard of technical skills, logical thinking, and perseverance for the customer. - Robert George
---
Dieter Harper – for going above and beyond assisting a fellow team member during a medical crisis. Thanks. – James Gulliver
---
Jake Tuley – doing a great job on the Netmatters Digital Marketing. Taking feedback well and working towards targets. – James Gulliver
---
Jim Palmer – working very hard to develop the digital marketing department. Picking up new responsibilities and communicating well with wider management team to solve problems and move things forward. – James Gulliver
---
Alex Jones – diligently going about his role with a real can-do attitude. Taking over the rate review project and progressing it really well. – Elliot Peacock
---
Craig Ross – really found his feet with a number of new client system wins. – Elliot Peacock
---
Kate Batchelor – Kate continues to impress me every day with her determination and alacrity. Kate's keen eye for detail has proved an incredible asset already and she brings nothing but good vibes and cheer to the department! – Bethany Shakespeare
---
Elliot Norman – Elliot has been a sturdy pillar in the Digital department, taking on new clients/tasks with ease and being sure to excel in everything he's involved in. – Lydia Whitney
---
Jake Tuley – Jake has been an inspiration from day one (do you know anyone who has their own hashtag? #JakeTuley). Jake is constantly looking to step up, take on more responsibility and move his and other accounts forward. – Lydia Whitney
---
Oliver Thompson – Following an outstanding 3 months so far and interview process, we are happy to see Oliver step up to the Marketing Executive role. – Lydia Whitney
---
Xiaoxia Chen – As the newest member of the Digital team, Xiaoxia has been taking on a range of new SEO tasks and being sure to provide high quality feedback/support to others in the team. – Lydia Whitney
---
Maxwell Jermy - Whatever is throw over to him, he reviews, asks for the clarification he needs and smashes through it, to a high standard. Reviewing the work he's done recently, it's always exactly what has been asked of him. Great work Max! – Simon Wright
---
Zach Gilbert – Recently he was tasked with processing a large amount of data from sources with significantly different formats. Zach's work has been effective and thorough throughout, catching the many edge cases that were possible and handling them well. The result has been identifying and, in most cases, automatically correcting thousands of differences in the data sets. Excellent achievement! – Simon Wright
---
James Mackay & Michael Grimshaw – Overseeing the department whilst I was on annual leave, ensuring everything was running smoothly and keeping a keen eye on things. Thank you, guys! – Simon Wright
---
Kate Batchelor – Kate has hit the ground running from the start, she is smart and methodical in her approach to the task at hand. She has provided much needed support to Bethany which has meant the HR department has been able to fully assist the business with bringing on a record breaking number of new team members across all departments and sectors. Excellent start Kate, big impact. – Chris Gulliver
---
Courtney Noel – Another new team member who has picked things up quickly, she has shown confidence in taking on new tasks and is happy to get stuck in to help the team. She fulfils a key role for the business so having someone who is a safe pair of hands is vital, great job Courtney. – Chris Gulliver
A huge congratulations to all of those nominated for our May notables - keep up the brilliant standard of work! The Notable Employee Scheme is just one of a range of benefits here at Netmatters, available to all employees.
If you would like to be a part of our fantastic team and be in the running for some extra treats each month, view our open job vacancies today; We're currently on the lookout for intelligent, motivated individuals to join our ever-growing team!
You can always contact us via the form below, or ring us on 01603 704020 today.