ZSEA IT Support Case Study

Posted by Netmatters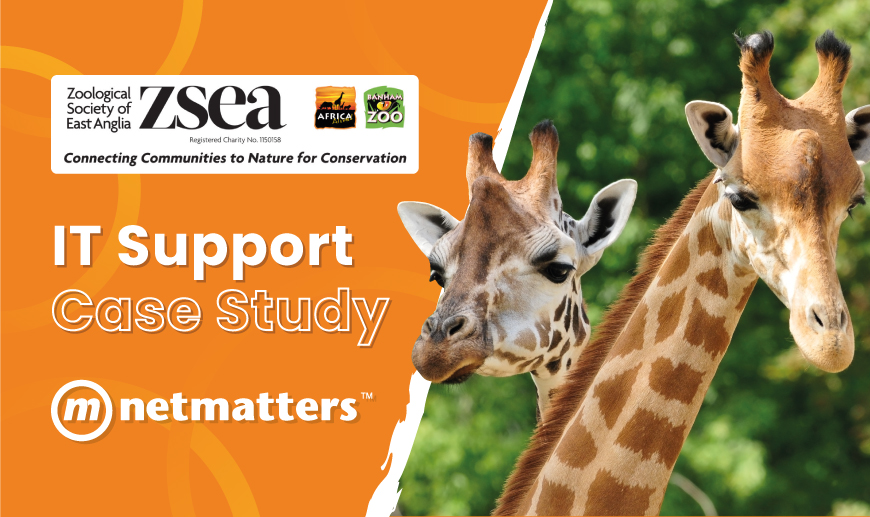 As the world continues to change, and businesses evolve, they need to look to ways of futureproofing themselves, to ensure that they can continue to operate well into the coming years. Whether that is the way that they do business, to the software and equipment that they use.

Over recent years, our client has done both.
The Zoological Society of East Anglia (ZSEA) is the conservation and education charity that leads well-known, local zoos Banham Zoo and Africa Alive! ZSEA is committed to not only providing award-winning visitor attractions right here in Norfolk and Suffolk, but in actively helping to protect endangered species from extinction and help to conserve the world we live in for future generations. Their goal is to deliver education about nature and conservation and to work closely with the local communities to help them understand our connection with the world around us.
The Need:
One of the missions of the creation of the charity was to future-proof both the zoos and their conservation work. ZSEA also understood the need to future proof their systems and infrastructure to ensure they could continue to deliver against their mission.
They contacted us to help them to achieve this. They had a whole shopping list of things that they wanted to change, upgrade or update and our IT Support team were able to help with all of it.
What we did:
It was important that we started the project by mapping out where it was the client wanted to be. We carried out an audit of the situation they were starting with and made a plan.
One of the first big pieces of work we carried out was a full server room move from one part of Banham Zoo to another.
One of the key deliverables that the team at ZSEA wanted to achieve, was to better optimise the usage of the assets that they have. This included hardware, software and storage. This was particularly important as, as part of their marketing and promotion the teams at both zoos were producing significant amounts of video content. It was important that this was well-stored and organised, along with all other assets.
We worked with the client to migrate to Office 365, which included optimising cloud-based solutions for both storage and software solutions. Alongside this we have deployed, and now centrally manage, their anti-virus software and have implemented a robust back-up process for them.
One of the other projects we have worked on is the implementation of a hardware upgrade scheme which will see us migrate all computers over to Windows 10 in the foreseeable future.
Along the way we were able to help deal with a number of small issues that had begun to pile up and look at the way that tasks were logged and handled to ensure that our delivery of IT Support was as smooth as possible.
The results:
For ZSEA working with Netmatters has helped to facilitate and streamline the activity that they carry out. Importantly, given the current situation, they are also able to carry on their work online, completely independent of location.
There have been some high-profile internal wins, as well as the less "public" solutions that have been put in place.
"In order to provide innovative customer services, operational efficiencies and better management business insights, ZSEA has embarked upon a Digital Transformation Strategy. Upgrading out IT infrastructure is a fundamental element of our DTS programme and we needed a long-term partner that could help us deliver our objectives. Netmatters has proven that they have the skills and commitment to help us do exactly that!" – Clive Haden, IT Director
The ongoing digital transformation strategy at ZSEA has reached a critical milestone with the implementation of these projects, but there is still more to come and we are pleased to be able to continue our partnership with ZSEA to deliver against these objectives.
If you would like to talk to someone about your own large-scale digital transformation project, or your day to day IT Support needs (or both) contact Netmatters on 01603 704020 or fill in the form below.
As Netmatters marks its 15-year milestone, we reflect on the incredible journey of the past fifteen...
Read More

Posted by Netmatters
29th November 2023
Salary Range £26,000 - £34,000 (DOE) + Bonus Hours 40 hours per week, Mon - Fri Location Wymondham,...
Read More

Posted by Rebecca Moore
27th November 2023
Today we celebrate the remarkable achievements of Rebecca Brine as she takes centre stage, championi...
Read More

Posted by Netmatters
24th November 2023