Posted by Netmatters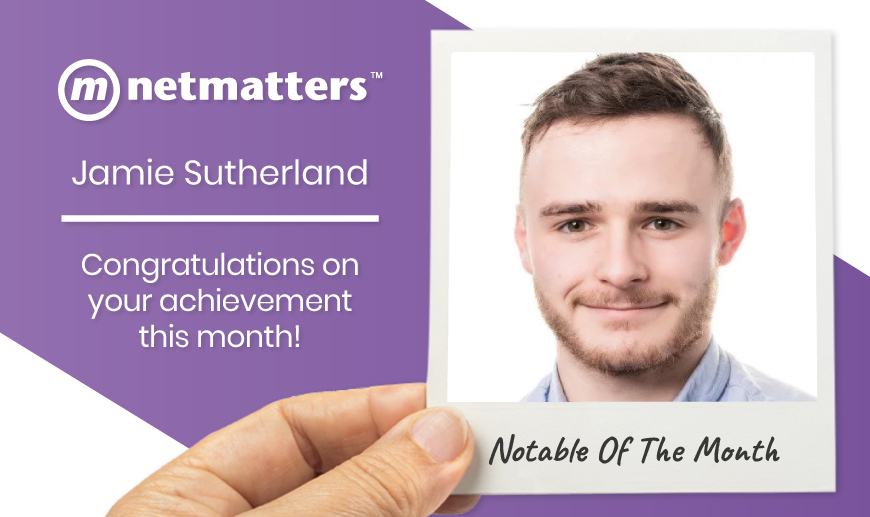 Every month we celebrate the most notable of employees here at Netmatters. Each department head is asked to nominate individuals they feel have gone above and beyond in the previous month. We have continued to see some fantastic examples of notable worthy behaviour again this month with staff doing their utmost to continue to deliver at every turn.

We saw some fantastic work in May and particularly from our most notable of employees who has had an amazing 2021 so far. This month we celebrate a team member who works hard to keep his existing clients happy as well as working with a number of new clients that he is bringing on board, going above and beyond to deliver beyond expectations.
The Most Notable of Notable Employees
Jamie Sutherland

Continuing to step up, delivering above and beyond both targets and expectations. - Elliot Peacock
Amazing performance this year so far! Securing many new clients and managing existing clients to ensure we deliver an excellent service. – James Gulliver
Congratulations on your achievement Jamie!
This month's other notable employees are:

Matt Harrop – grips anything thrown at him with alacrity. Very helpful and has excellent relationships with all clients he works with – been really impressed with him over the last few months. – Elliott Peacock
---
Jim Palmer – steering the digital department to continued growth, getting more involved in the strategy and management of the department, adding a lot of benefit and value. – Elliott Peacock
---
Sam Driver – excellent testing feedback, questions are always really detailed so it's super easy to respond to. He's been debugging and stepping through complex areas of projects and understanding how they're working (or not quite working in some cases) and just generally being awesome – Simon Wright
---
Henry Hardwell & Adam Ferguson - delivering good work and taking each task in their stride. Asking good questions via the system using notes, images, videos and commits which helps to respond to their queries. – Simon Wright
---
Drew Halls – going above and beyond in picking up a hosting issue with the team, out of hours whilst on annual leave and spending 4 hours of his evening working on it. – Simon Wright
---
Jimmy Wright – Making himself available to resolve a critical issue for a customer outside of his normal working hours to ensure that they were still able to receive and process orders. – Simon Wright
---
Matt Harrop - Matt has really stepped up taking a lead with the team and proactively implementing improvements by helping to manage KPI's within the team, along with ensuring the smooth management of his projects and clients' packages. – Robert George
---
Jake Seaman - Really positive feedback from colleagues in regards to him partaking in a New Business meeting with a client where he came fully prepared and installed confidence in the client when asked about our support offering. – Robert George
---
Andrew Hogarth & Cory Rogers - Both are impressing me with how well they methodically approach their work and provide excellent customer service to clients. When passed tasks outside of their comfort zone, they both approach with a "can-do" attitude. Great work guys! – Robert George
---
Amanda Sharp - Helping provide constructive feedback on how we can help improve our internal processes for the better. Amanda also does a great job in managing the stock and supporting the department in her role. – Robert George
---
James Mackay – Being very self-sufficient and managing his largest development project with professionalism and the needs of the customer in the forefront of his mind. – James Gulliver
---
Bethany Shakespeare – Embracing her new role and pushing forward to keep pace with the ever-increasing business requirements. – James Gulliver
---
Chris Waldie – Excellent technical ability and really gaining the trust of the customers with his clear advice and wider thinking. – James Gulliver
---
Drew Halls - I'd like to nominate Drew Halls. We've recently had some challenges with a large website who've grown incredibly popular over the lockdown period. Not only has Drew done a lot of work to help them scale, including putting together a plan for some new AWS tech, but he also jumped in to help for 4 hours in the evening whilst on holiday this week. A big thank you and well done to Drew for his excellent work! – Adam Greer
---
Peter Holmes - I've had really good feedback from the team on the work he's doing on his projects and the extra responsibilities he's taking on for them. I always find Pete incredibly helpful whenever I'm interacting with him on anything. – Tom Lancaster
---
Rebecca Reynolds - Rebecca has continued to provide quality support to the wider digital team, as well as taking the time and consideration to ensure the team are thinking strategically to help achieve the client's wider business objectives through their various marketing channels. – Lydia Whitney
We would like to show our appreciation to all nominees of this month's Notables award! A huge congratulations to all of those nominated for May, keep up the brilliant standard of work! The Notable Employee Scheme is just one of a range of benefits here at Netmatters, available to all employees.
If you would like to be a part of our fantastic team and be in the running for some extra treats each month, view our open job vacancies today; We're always on the lookout for intelligent, motivated individuals to join our ever-increasing team! You can always contact us via the form below, or ring us on 01603 704020 today.